Home
›
Classifieds: Vehicles
SOLD 2010 Chevy HHR Sport Wagon LT SOLD
barlow46
Posts: 312
Deckhand
For Sale by Private Owner:
I am posting this for a close friend and neighbor who has limited computer access. If this is in violation of classified rules, please let me know and delete the ad. You may PM me for the owners phone number if interested. Again, I am helping out a friend and neighbor but the sale decision is between the buyer and seller. Vehicle can be viewed in Edgewater, FL Thanks.
One owner, 2010 Chevrolet HHR Sport Wagon LT automatic transmission with 43,400 miles on it.
Optional equipment includes moon roof, roof rack, leather seats, power driver seat, alloy wheels, power windows, power door locks, bluetooth wireless, cruise control, running boards, flex fuel engine and gray in color.
This would be a great vehicle for a student. It has been well maintained.
Service has been regular with oil changes every 5,000 miles and tires were new 6 months ago.
Vehicle is in very good condition with one slight dent in rear cargo door. (see pics). Driver is a retired lady and car is located near Edgewater , FL. 32141 in a retirement community. Thanks for looking.
.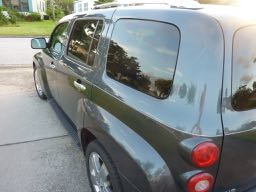 East Coast Florida