Home
›
Southwest General Fishing & The Outdoors
6-22, 6-23, 6-24 Offshore BLACK GROUPER GAG ARS

Capt Dan Medina
Posts: 655
Officer
Hey guys... the streak of nice fish continued from 6-22 thru the 24th with limits of american red snapper coming on all trips.
6/22 Friday
Had a group of 4 guys who met me at pineland at 6AM. We procured a bunch of pinfish and misc other baits before heading off into the blue. Two hours later pulled back the throttles on the Salty Beast as we arrived at our destintion. The sounder lit up like an xmas tree and we set up for our drifts. The water was flat calm, and very little tidal flow. Baits went down and the bite was decent... nothing on crazy fire this trip, and in fact not as busy as you would expect with the screen looking the way it did. We picked up a legal red snapper on just about every drift not keeping anything under 20" We had some VERY LArge hits that unfortunately got the best us. We were kind of stuck at 7 nice red snapper towards the end of the trip, and with an hour or so left before needing to make the run back, made a quick move.
IT was 100% the right decision. Over the next 45 minutes, we boxed some trophy size fish. First was a solid 37" Black Grouper who inhaled a pinfish. Next was a Gag just short of the 30" Mark. Next was a solid and our largest red snapper of the. And in the closing minutes, a 24" Red Grouper was added to the box. It was a great flury of action.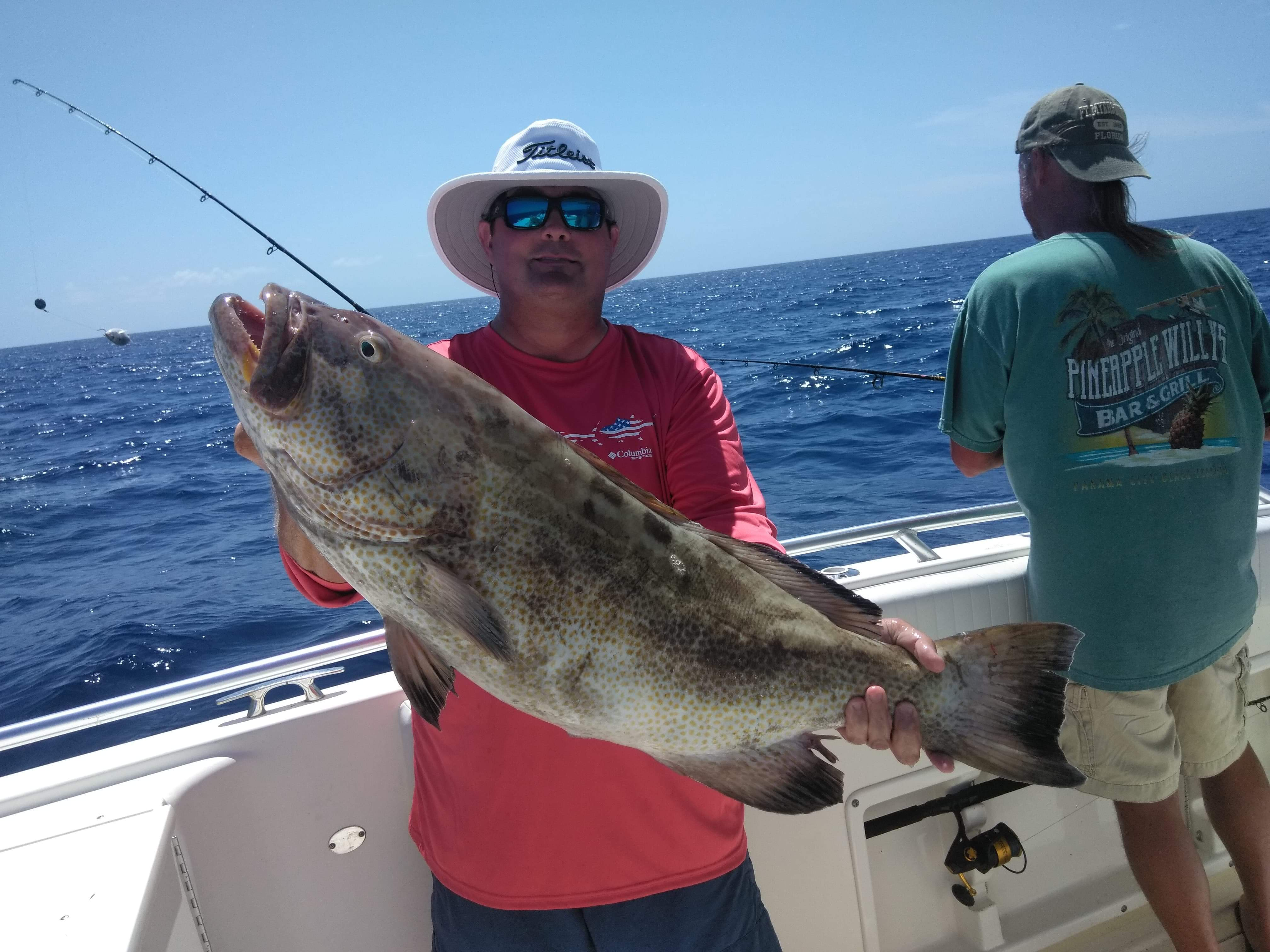 6/23 Saturday
Had a group of 6 join me for the run offshore. The depth ranged from 160 to 170 today, and the bite was pretty decent. We had our American Red Limit relatively quickly. We caught a monster triggerfish which had to be let go due to being out of season. We had a few monster hook ups that got back to their holes (big grouper). Bite kind of slowed down so made a quick move. We picked up a stud Mangrove, and a handful of Lanes and Verms before heading back to the barn.
6/24 Sunday
Had another group of 6 heading offshore looking for some fun. We had to wait for the growing thunderstorm to pass us to the north before heading out. We picked up our bait and then made the run out into the blue. First spot we pulled up to looked fantastic on the sounder, but couldnt get anything to eat/one big break off. Tried the drift twice more with no results. moved to another area and found some ARS willing to chew. Fish started coming up and over the rail quickly. Fished ranged from 18-23 inches. A couple really big hits off the bottom that couldnt be turned. Had a monster hit, ran of drag, and then was able to subdue... thought it was a giant grouper, turned out to be a 7-8 ft bull shark.... Sweet catch on a 6500 spinner with 60 lb mono leader... circle hook got him just right... Saw some really nice Mahi swimming under the boat but they didnt want to eat, not even live threadies.... Had a Tripletail that was floating with the boat and also didnt want to eat anything... very finicky.
Younis has his rod double over and he picks up a stud red grouper. Once we had our limit of ARS, we switched gears and moved to a grouper/lane snapper area. Our lanes were pretty big, averaging 16" ot so. A few porgies were added. Caught a ton of red grouper, but they were nursery size at 16-19 3/4 inches. Had a few large breakoffs here as well. John finally managed a keeper red grouper before heading to the barn.
We did get caught in that big thunderstorm in the afternoon. We set up the eisenglass and still punched thru the 4-5 ft seas at a comfy 25 mph. The boat instills more confidence with every trip.
The bite is hot and heavy so get out and fish!!!