Home
›
General Hunting
My visit to MINWR
spangler
daBurg
Posts: 619
Officer
Before, wednesday's meeting, having never been to MINWR (at least since I was a kid too young to remember) I was lucky enough to spend the day checking things out. It's ironic that I've spent no time there because as a kid, my grandparents lived in Merritt Island I I was right there all the time.
I barely scratched the surface, I know, but I did cover a lot of ground trying to see as much as possible. I stuck to the south of haulover canal for the most part.
I started on wildlife drive and that was really cool. At the little lookout tower at the end, I had a woman ask me if I knew why it was so dry. I said, 'Is it?" lol because I had no clue if what I was seeing was normal. She said she has been going there for many years and has never seen it so dry. I'm glad I saw it like it is because, well, it was pretty cool. But I'd like to see it wet next time.
I really wish I would have taken more pictures. But I got a few good ones.
This was driving in on Wildlife Drive, before you get to the first parking pull off area.
Where there was water, it looked like this
Right before the first pull off is where you begin to see some flooded marsh. Only inches deep. Quite a few ibis, egrets and herons actively feeding. It actually cracked me up. I don't know if I just never took notice before, but the egrets where running around chasing minnows or shrimp in these inches deep flats. Having watched turkeys chasing grasshoppers this season, it's exactly what it reminded me of! Never noticed it before and it was kinda funny. There was this one juvenile blue heron that was chasing bait too. But he would tilt his head one way and circle in that direction, and then flop his head over and turn back the other way making S's as he herded? chased bait. When wind gusts would come through he'd stick his wings out, running head tilted, running this little S pattern jabbing his beak in the water. Hilarious.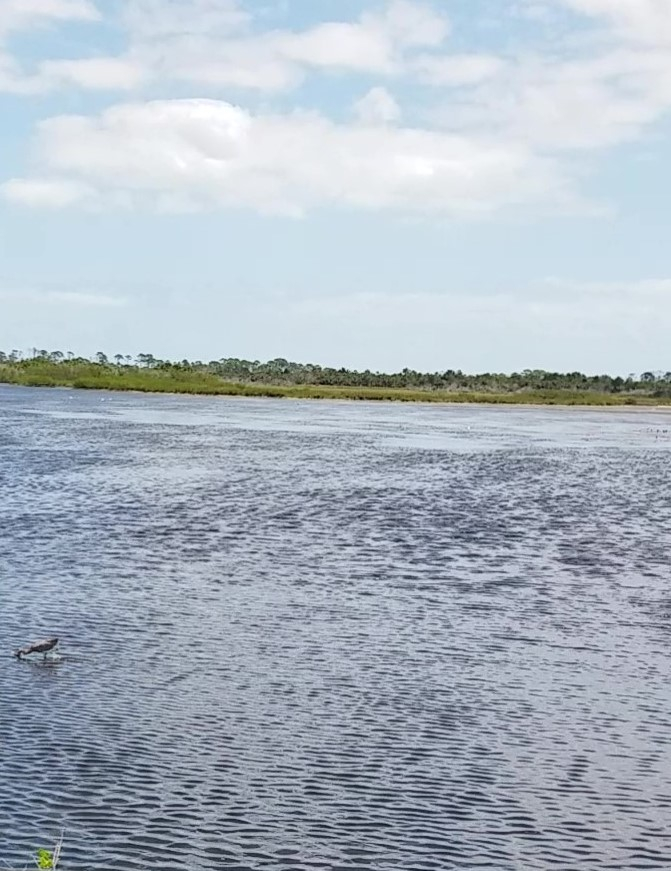 After that I headed up to crossover canal. Stopped at the Manatee viewing platform then headed across the street and took the north haulover canal road out to the end. Wetted a line driving back along the canal but no action. I drove to Biolab boat ramp but the road was closed.
The next stop was Scrub Ridge Trail where, if I had to guess, they had done a burn this season. I walked it for a stretch, along a thin pine stand against the marsh. I thought, this would be cool to hunt deer here. A far departure from my normal hunting area, and having grown up on a coastal area, one I am also far more comfortable in. Where I'm from though, the thought of seeing a deer near the beach or mangrove marsh is foreign to me.
Here's a pic of the marsh directly east of where you park at Scrub Ridge
I drove down an unnamed dirt road before heading out on Peacock's Pocket Road. When I got to the end, I waded the shoreline for maybe an hour tossing a black and gold spoon with no results. There's a canal on the other side of the road/levy that I tried as well with no luck. Didn't have my phone on me so unfortunately I didn't take an pictures. Inside the impoundment, other than the canal, it was pretty dry.
As you can tell, it was a beautiful day and I had a great time checking it out. Bought an annual pass so I will definitely be back. Hopefully for waterfowl season
My gf and I are already looking at when we can visit for a launch. I might even pull the boat over.
Funny thing tho, and I don't know enough to know what to think about it and maybe there's good reason?? but, I didn't see one duck.