Home
›
Southeast General Fishing & The Outdoors
3/16 BBI to LWI Mahi and Tuna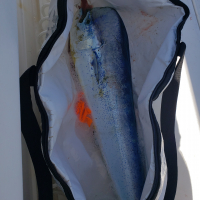 JWPB
Posts: 262
Deckhand
Cutting to the chase, Mahi in 800' due east of WPB Both small and returned to grow, one hit blue and white, the other purple.
Tuna hit a little deeper and further north, but still south of LWI.   Skipjack hit silver mylar rattle jet.
Seemed like a perfect day to trail a bird shotgun and mine was ignored by all fish all day.  I also fished a few baits deep on way out and nothing, so switched to surface only when I got around weed.
Left BBI around 10:45 and inlet was roughest part of the day with some traffic in there.  Nice blue water around 50' and then lots of boats lined up along 100' to 120' right off the inlet.  Assume thermocline or something there, my water temp is broken and fair number of boats, so I kept going east. slowly put out lures around 150' and kept going east.  Found a nice rip and weed line at 650 and started following north.  Lots of Flyers all day, small and large, and lots of footballs breaking the surface around the weed lines and jumping with gulls diving on the scraps. 
Not a lot of current out till 650, then 2mph north on the outside of the rip and trash line.  Lot's of bubbles in line as well so at first I thought it was a boat trail.
Would have been a great day to cross to Bahamas.
I used to be good at catching Tuna and failed miserably circling and circling multiple schools, probably skipjack but maybe super small blackfin literally 5-10 different schools of them as the weed line stretched from 650 to 850' further north.
Finally I caught 2 peanuts on the East side of the weeds heading north.  First 18 inches but not a lot of meat, second was super small bright blue and white.
Further up the weed line I broke of east on a rip and saw what I assumed were more mahi so started casting at them while still trolling, so never saw the skipjack hit the mylar outrigger on far side away from weed line.
Will upload pics from phone if I can.
Jupiter 29FS