Home
›
East Central General Fishing & The Outdoors
Mosquito Lagoon Seagrass?
hunterjw
Posts: 328
Deckhand
I normally fish the north end of the lagoon/edgewater but a few weeks ago I went over to the north end of the pole and troll. Much to my surprise all of the grass was gone and the bottom was sand?
I was here back in July and grass was there and even checked google maps to see recent photos of areas with grass that I was in. Yes I know a lot of seagrass has died off from algae blooms in the past but I was in these areas in July and we didn't have an algae bloom between now and then
I was told that it all disappeared after the hurricane this year?
Anyone else seeing something similar? There is also a weird green algae further north that looks similar to something that I saw in an article about sewage eating algae.
"He who hoots with the owls at night will not soar with the eagles at dawn"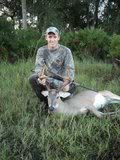 "