Home
›
West Central General Fishing & The Outdoors
Another Fun Day
Bassin Assassin
Posts: 1,276
Officer
Got to my spot at 12:15pm. Water temp was 74. Pretty strong wind out of the SE. Started off with a Lunker City Swimmin' Ribster in Watermelon Red. Off to a pretty good start with a 24" snook at 12:34pm. Switched back to the 3" mullet in killifish. Missed a fish, but hooked up with a nice snook on the same cast. She jumped and spit my lure at 12:49pm. She was mid-20s. Re-tied and caught a small snook on the next cast.
A bit of a lull and got back in the game with a small snook at 1:34pm. Another small snook 7 minutes later. Got into unproductive water and made a move. Caught another small one at 2:16pm. Caught a slightly larger snook on the next cast. A decent 22" snook at 2:26pm. Another small snook at 2:35pm. Lost a small snook on the next cast.
Took a ride over to some deeper water. Switched up to the Rage Tail Menace and got crushed at 3pm. It was a nice snook that fought well. She came in at 26.5"
Missed a fish and lost a pretty good fish that came unbuttoned. Another pretty nice snook of 24" on the Menace at 3:24pm. Five minutes later lost a nicer snook that spit my lure. Getting frustrated losing the better snook. Caught a 21" snook at 3:33pm. Another small snook 10 minutes later.
Took a ride and back to the killifish. Cast into a shady pocket at 4:02pm. It got nailed when it hit the sun. It was a very good snook. Fought it for 15 seconds and it got airborn to spit the lure back at me. ****! Upper 20s for sure.
Back to catching small snook. Another one at 4:09pm. Caught a solid 25" snook at 4:28pm. Another small snook 5 minutes later.
Kind of tired of the snook and really wanted to catch a red. Went shallower and was rewarded with what else, a small snook at 5:15pm. Another one 4 minutes later. A snooklet at 5:22pm. Another snooklet at 5:28pm.
Back to the Menace and it got blasted at 5:40pm. Set the hook on a decent fish. She stayed down and saw a red back. Nice! The fish went for the mangroves and had so much fight. She just wouldn't give up. I finally lifted her in the boat. She was a healthy and multi-spotted red of 24". Very cool!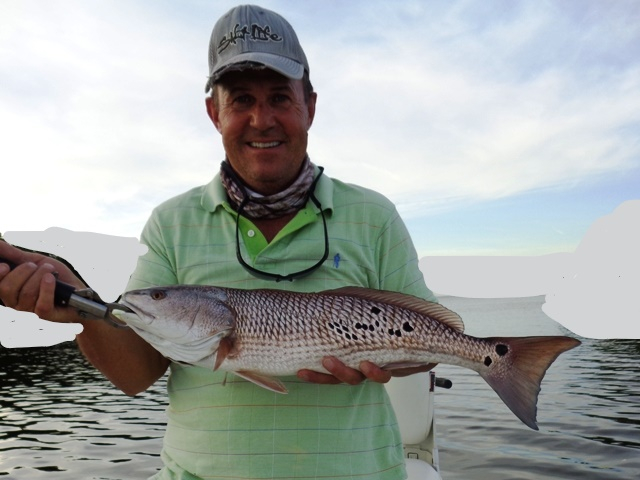 A 22" snook on the Menace at 5:54pm. Another small snook at 6:05pm and 6:11pm. That was it. The sun was setting and I had to head for the ramp. It was one of those days you wish wouldn't end. It was very good, but could have been much better.
Improve Our Fishery - Practice Catch and Release