Home
›
General Paddle Craft
Would you Kayak Here?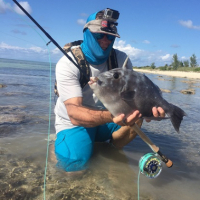 Docked Wages
Posts: 3,167
Moderator
This is the Bayside of Old Bahama Bay. Ocean side you can be in 1000' of blue water in half a mile. Bayside is shallow flats and keys for about 60 miles.
I am working to bring a greater Kayak awareness and kayaker experience to this area. Next month we will be hosting Kayak Radio ( http://www.blogtalkradio.com/kayakfishingradio ) to broadcast live from the resort while spending the weekend fishing the bay and ocean sides. Host of this show is Redfish Chuck, one of our original FS EC forum members.
Jackson Kayaks has also jumped in on this new endeavor by becoming the official kayak sponsor of Old Bahama Bay and donated 5 of their top fishing Kayaks. These will be available for use by Resort guests.
Look for future Kayak boondoggles to be hosted at this location.
Mark Wilson
USCG 100t Master, Assist Tow, 200nm Coastal
Marine Surveyor, SAMS, ABYC, IAMI, FMIU
Wilson Yacht Survey, Inc.