Home
›
Ten Thousand Islands General Fishing & The Outdoors
Bayshore Rookie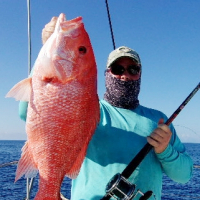 Shedhead
Posts: 62
Deckhand
Probably should have used the title as my nickname... but I digress
Last week.. yes late report, but rather this is more of a story than a report.. I went out of Bayshore Park, solo.* I'm still in lost mode but but decided to try something different and work off the beach.. maybe find some pompano or something of interest.* I tried fishing the "rocks" but weekend traffic was challenging my ability and patience to fish the area effectively.. so i shot out the gap and turned south..
I noticed a ton of corrmarants working in 10 fow.. so i powered down and decided to drift working jigs and whatever else I had in my limited arsenal.* I picked up a blue runner, which I promptly tossed off the back on a free line with a heavy leader.* Working the shoreline* there was a ton of bait, jacks busting on them and pelicans in large groups on the water.* I obviously stumbled into a large bio mass of life.* A few runners and jacks later, my flat line suddenly ripped out drag.. I grabbed the rod and was onto a large shark.* It bull rushed me, turned tail, jumped a few times and decided to take off to Fort Myers. . I was ear to ear grin . Then the hook pulled.* But alas I was onto something.
I continued drifting, catching runners and jacks.. had a grand time with something pulling on the other end with a free line out the back.* This time I had a perch swimming in distress and another shark grabbed the offering.* IInsert ear to ear grin and line peeled off my 6500 penn and 8" medium Shakespeare. But again the hook pulled. I believe it was a black fin or spinner as it jumped several time.. I'm my minds eye it was 6 foot, but likely under 5.
I made a decision to circle back and anchor up.* I took a bait bucket, cut a blue runner and let it bleed in the water while* my free line swam behind the boat.* I kept catching bait and* kept some alive, cut others up and slow chummed.
To shorten this story, I ended up hooking 6 sharks.* I had drawn the them in and every 15 minutes or so i got bit.* I only was tail whippped onceand cut my leader only once,* but i was using circle hooks and am certain the issue was the gap was too small..* I had fun nonetheless.
Next day I went out armed better, large j hooks, wire leaders and 5' section of heavy top shot.* What a difference a day makes.. bait was gone, but the bio mass haf moved on, but I setup confident i could draw in at least one shark.* I cutt up runners and perch with a free line out the back.. I hooked up only one shark, but I was able to get it to the boat and released it..* It felt good to make an adjustment and connect.* I ma thankfull i have a rod with alum butt, this fish bent the handle in the holder as it grabbed the bait and went to the front of the boat .. awkward angle for the rod.Next time I go shark fishing, I am going to seek out a bio mass and set up.. I'm looking forward to
Thanx for reading .. and if anyone is willing to take the risk to meet up with me, I'm game.* I need a little nudge in the right direction for together piecing together this saltwater stuff.
[email protected]