Home
›
Keys General Fishing & The Outdoors
Pre-Irma KL fishing trip---- 8/14/17

Gary M
Posts: 13,156
AG
Been a little 'busy' since our gang of 9 visiting New Zealanders left a few weeks back! We ended up renting a van to hold all 11 of us and we did a 'local' day trip (Bird Sanctuary, Robbie's, Rain Barrel, Lazy Days, Bud & Mary's, etc) as well as an all-day trip down to Key West and back!
Our brother-in-law Ian, always takes us fishing while we are in NZ so I was happy to be able to sneak out one afternoon with he and my sister-in-law, Delwyn last month.
Being blazing hot, we decided to fish around the frames of my retractable aft Bimini and just left it out!
Some blocks of chum and some shrimp and off we went to a spot in about 100' straight out from Key Largo. We had sort of a cross-current tidal flow that did not help with generating a nice chum slick but we picked off a few yellowtails with my 14" being invited home.
Moved in to spot in 30 feet and they loved the clarity of the water and the steady action with small yellowtails, grunts, sand tilefish, small grouper and a few very colorful parrotfish.
Storms were building inland so I showed them the main use of a radar! Here's Delwyn with a tasty Grunt and the 'action' behind her! :hairraiser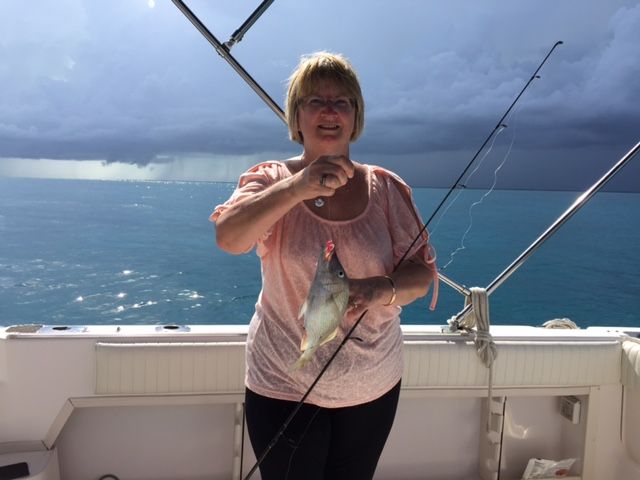 Keeping a close eye on the radar and the direction of the storm, we finally picked up and headed for the dock. We missed the rain, had some light tackle fun tugging on a bunch of fish and ended up with some nice fillets!