Home
›
South General Fishing & The Outdoors
Capt Yuri Dry Tortugas------ A wide variety trip!! July 28-30/2017

Gary M
Posts: 13,181
AG
Did yet another fantastic Dry Tortugas Trip with Capt Yuri once again this past weekend! Not as 'Epic' as last month's but another great trip regardless!
From the South Section of the Forum we had Alacrity/Rafael, Edk/Ed, VentureHo/Jeff and myself. From the Southeast Section we had firemedic1560/Mike. Also had my neighbor Tom, who's nickname of "Power Slam" we may need to change to something with the word 'shark' in it! :hairraiser
This was one of my All-Star Crews in that the 'newest' guy was Mike who was on his third trip with us. For several reasons, we six will all remember this particular trip!!
For the first time ever, I had no one overnight the night before in the Key Largo house but Mike backed his truck up into the driveway early Friday morning to load all the group supplies, grocery cooler, my gear, bait cooler, etc. With a quick stop at Key Largo Fisheries for some additional bait, four of us met up for breakfast out on the deck at Made 2 Order right off Tavernier Creek and that's always a fun way to start our trips.....
Loading at the boat went well and after Yuri showed up, we were off for our 4 hour run to the west. I had a nice chat with Capt Yuri up in the wheelhouse before I went below to get some of the gear ready, as did a few of the other guys.
The game plan was Grouper and Snapper. We were pretty sure that American Red Snapper were 'off limits' for us that weekend but Yuri checked back with another Capt, just to see if by chance the rules had changed but no luck, so we had to avoid areas with those fine eating fish........ so we thought.
Once the anchor was set, Rafael quickly pulled in what proved to be what was the largest Mutton Snapper of the trip!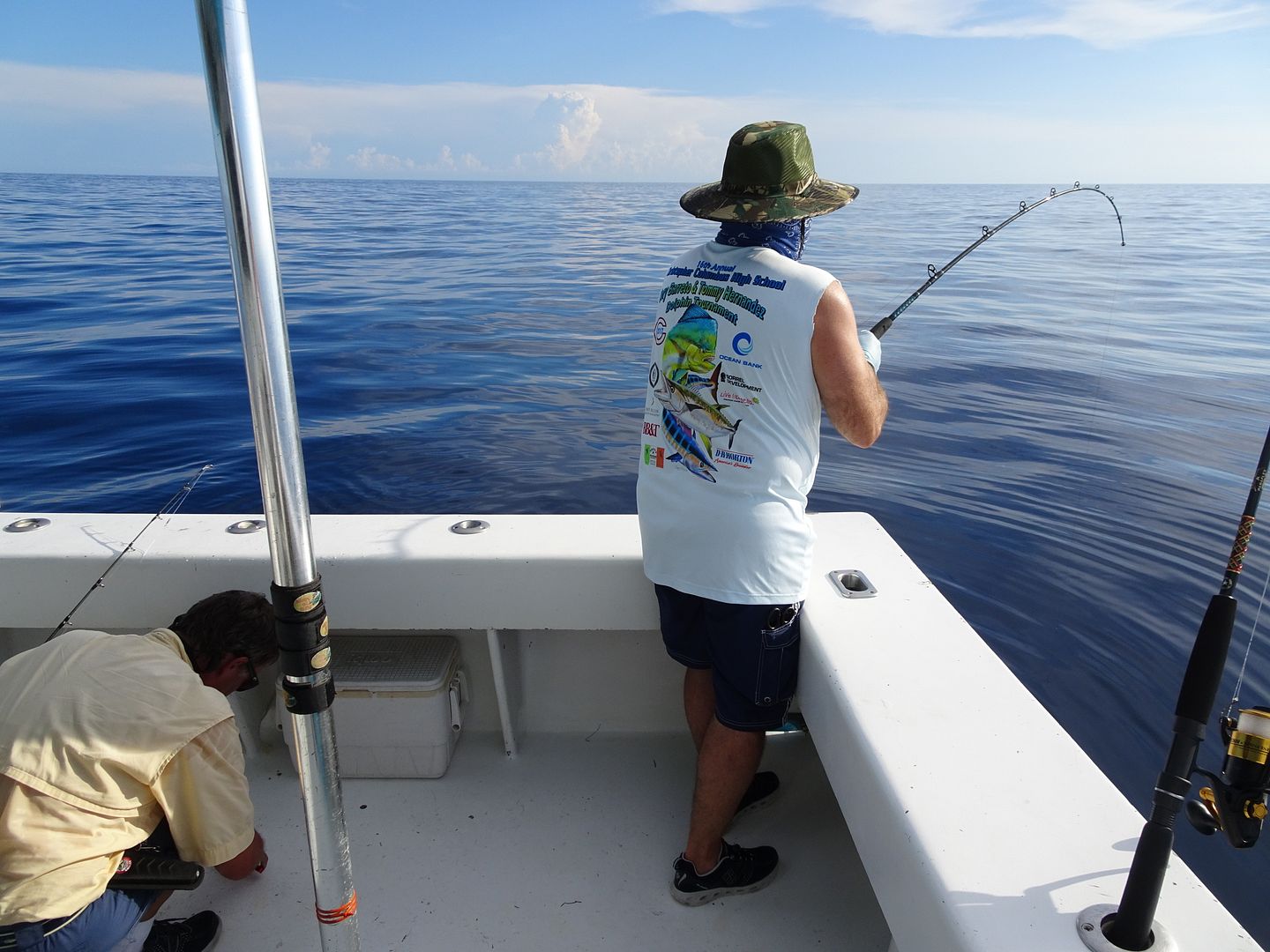 Very early in that first evening, I stuck my head into the cabin....... "Yuri, we've got visitors coming alongside".
As Yuri got out the boat's documentation, we told the Officers that we were sorry that they would only have three fish to look at! Two Officers came aboard and one looked in the fish box, the bait coolers, etc. He was maybe 21 years old.
The boat was a 38 footer with triple, big Mercs and they were all based out of Key West. Nice guys and as they slid away from us one shouted, "Maybe we will bring you some luck!"
Not sure if that was true or not but soon after they left, my 'experiment' paid off with this near, 10 pound Mutton! I normally use very light yellow, naked jigs tipped with shrimp for Yellowtail Snapper near the surface and on occasion, I knew that they sank close enough to the bottom for Muttons to come up and grab them. So, I brought a few heavier yellow jigs and tipped with a whole shrimp, I was hoping to cover the entire water column and sure enough as I was guessing that the jig was getting near the bottom, the rod bent over and I was 'On'! Fun! :grin
With no current, that first evening and night was fairly slow. Pick off a fish or two, move and repeat. The most consistent 'action' was unfortunately, the little gray reef sharks that pestered the guys using cut bait on the bottom. Poor Tom, he ended up being the Shark Magnet for most of the trip! :banghead Too bad they don't taste like lobster!! We could have had a Feast!
I set my alarm for 0545 to get out on deck on Saturday morning for my usual 'Dawn Patrol' and to see the wonderful sunrises out there! Here's the 'crew' at 0600! Thanks to Tom for leaving the deck clean! :USA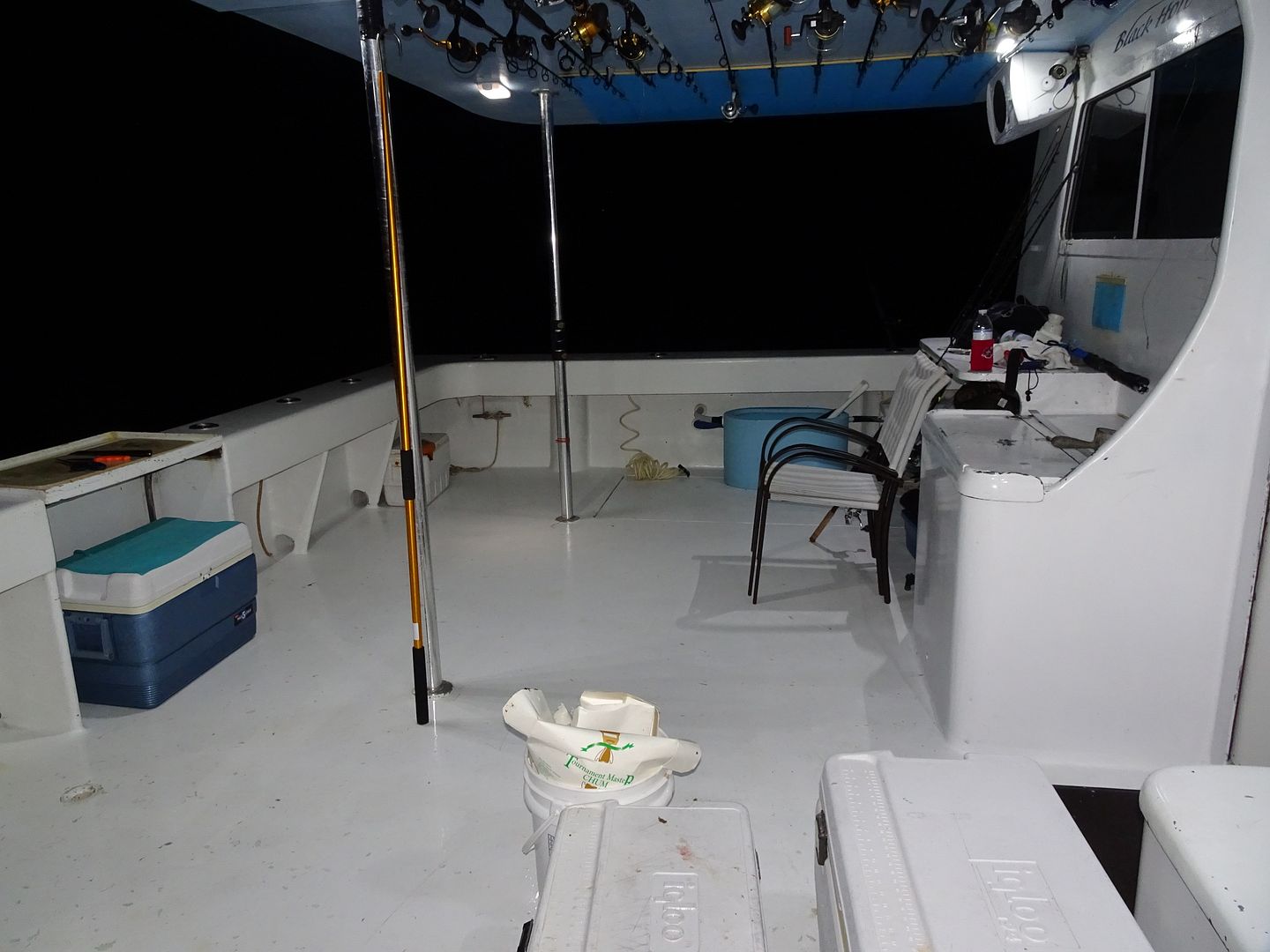 Above, that's looking across the cockpit with the transom and bait board to the left. The fish box is against the cabin wall and the built-in drink box is to the right of the Igloo coolers. Mike and I shared the blue 50 Qt cooler for our combined baits and it tucks under the bait board nicely.
Yep, another gorgeous sunrise! You can also see from the waves that the breeze has picked up...... thank goodness!
I took a peek to see how the box ended up after the previous day/night's fishing..... A bit slow, but steady..... The Mangrove Snapper bite was fairly good, as you can see here.
I caught about a half dozen Yellowtail Snapper in the 19-21 inch range. No real 'flags' but some really fine eating size. We kept mostly fish in the 14-17 inch range and only if a 12-13 inch fish was injured, did we keep those. On my light spinner, I had a blast with these fish!
Finally, Tom's patient battle with the pesky little sharks paid off with the trip's biggest Grouper, this really nice Red...
Here, I'm smiling because of the very fun and strong fight this Gray Triggerfish gave my on my little rod! I was sure glad then, that I'd had new, upgraded drag washers installed into my little Shimano reels after the
abuse
that they took on last month's trip! :willynilly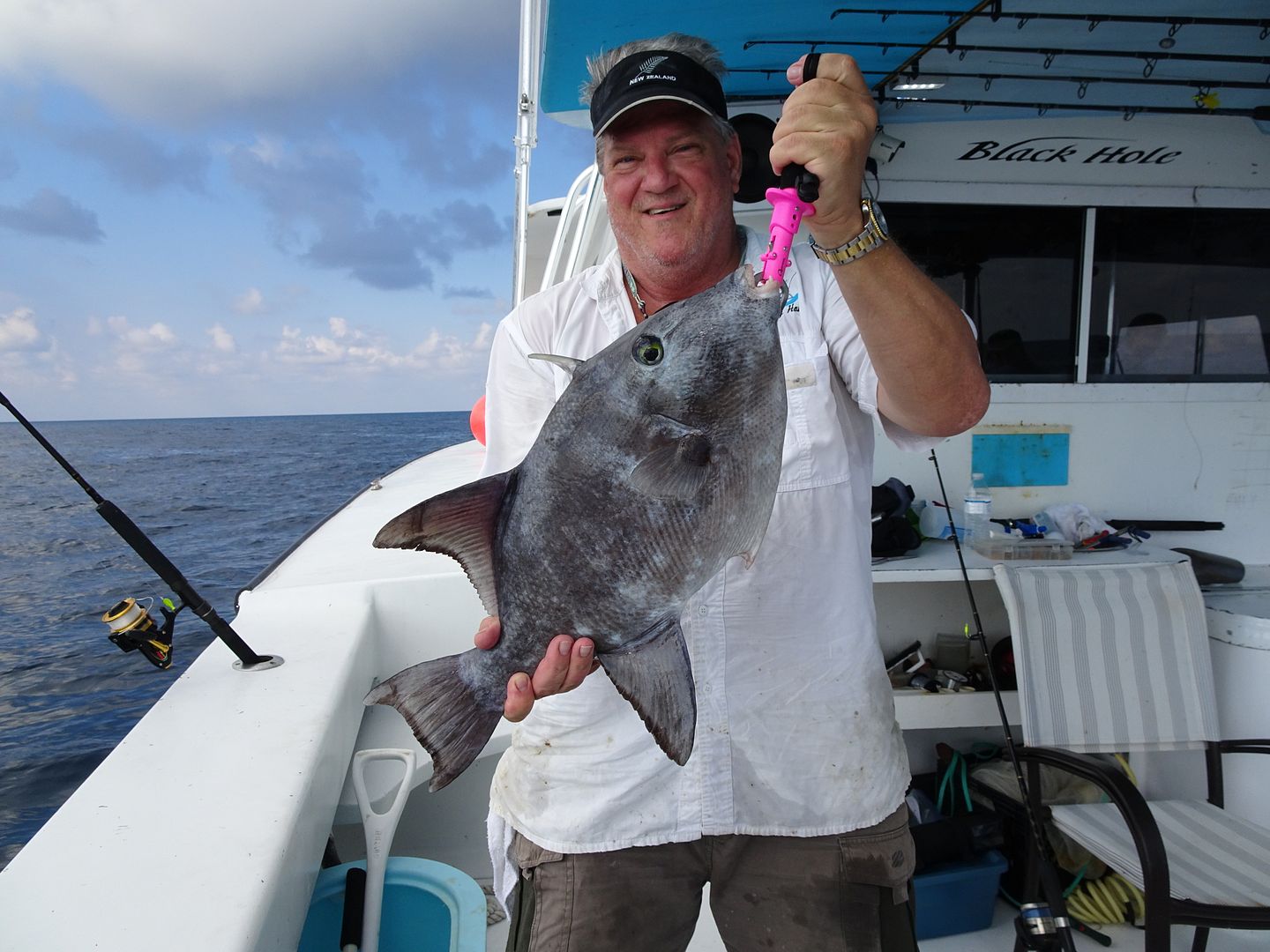 "Please don't be a shark", I think I heard Tom mutter..........
Oh yeah! A another nice Mutton Snapper!
Here's a scene that we saw far too many times from the shark pests! :banghead
My folding Stowmaster net got a pretty good workout as seen here with Ed'd nice Red Grouper.....
Mike was easily the best dressed, most closely shaved and nicest smelling (his after shave!) angler we've ever had aboard. We may have to break him of a few of those habits!:rotflmao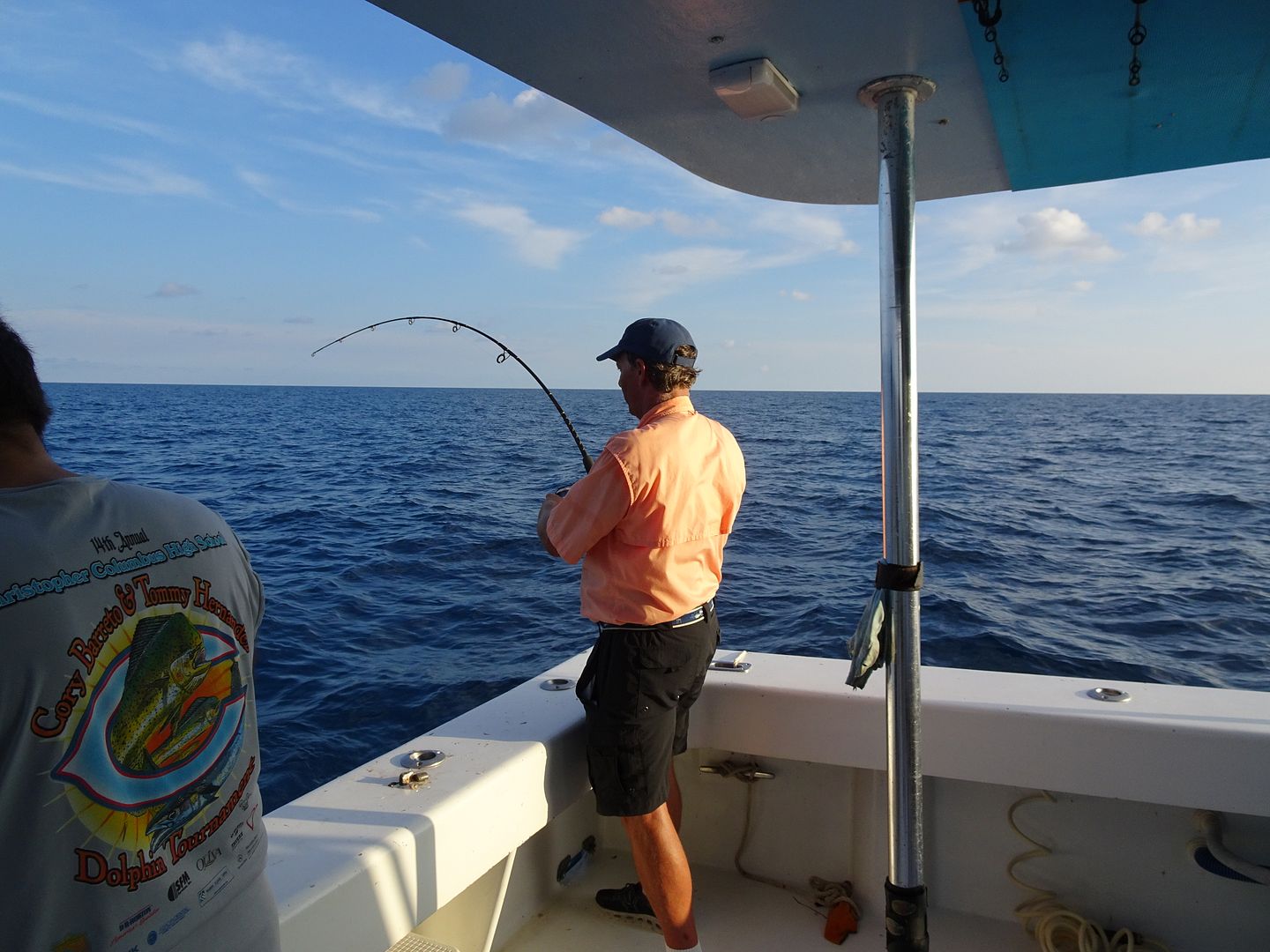 But as long as he keeps doing this, we might keep him on future trips! A very nice Mangrove Snapper caught on Saturday night.......
After our fried fish dinner on that second night, we all went back on deck and I went back to my Yellowtail fishing. Having only had about 3 hours sleep in the previous 40 hours, add in the nice meal in my tummy, the previous Rum and OJ, the gentle sea breezes, the comfy chair off to the side, about 11:30pm...... my eyes were getting
heavy
. And then, SLAM! My jig/shimp combo would get hammered and I'd spring out of the chair and announce "Fish on!". :fishing
Fight the fish, plop him in the box, re-bait, toss it way off to the side, sit down, rest the rod on the gunnel, doze back off..... until...SLAM and off to the races again! I might have done this 4-5-6 times but the great thing was that all the fish were fat 19-20 inchers! Eventually, the other guys noticed and the giggling started! I vaguely heard someone mention something like, "Gary's multi-tasking! He's taking naps between catching fish". Pretty funny at the time! :rotflmao
Sunday, Yuri told me that the game plan was to work out deeper and try a few deep drop spots as we made our way a bit towards the home dock. That sounded good to us!
First stop was in about 450 feet. A small Snowy Grouper and a small Yellow Edge Grouper.
Beautiful Snowy........
We moved out deeper...... 850 feet or so and using squid for bait.......
A very nice Golden Tile Fish! He went about 17 pounds!
We ended up with a pair of them.......
Rafael's beauty.....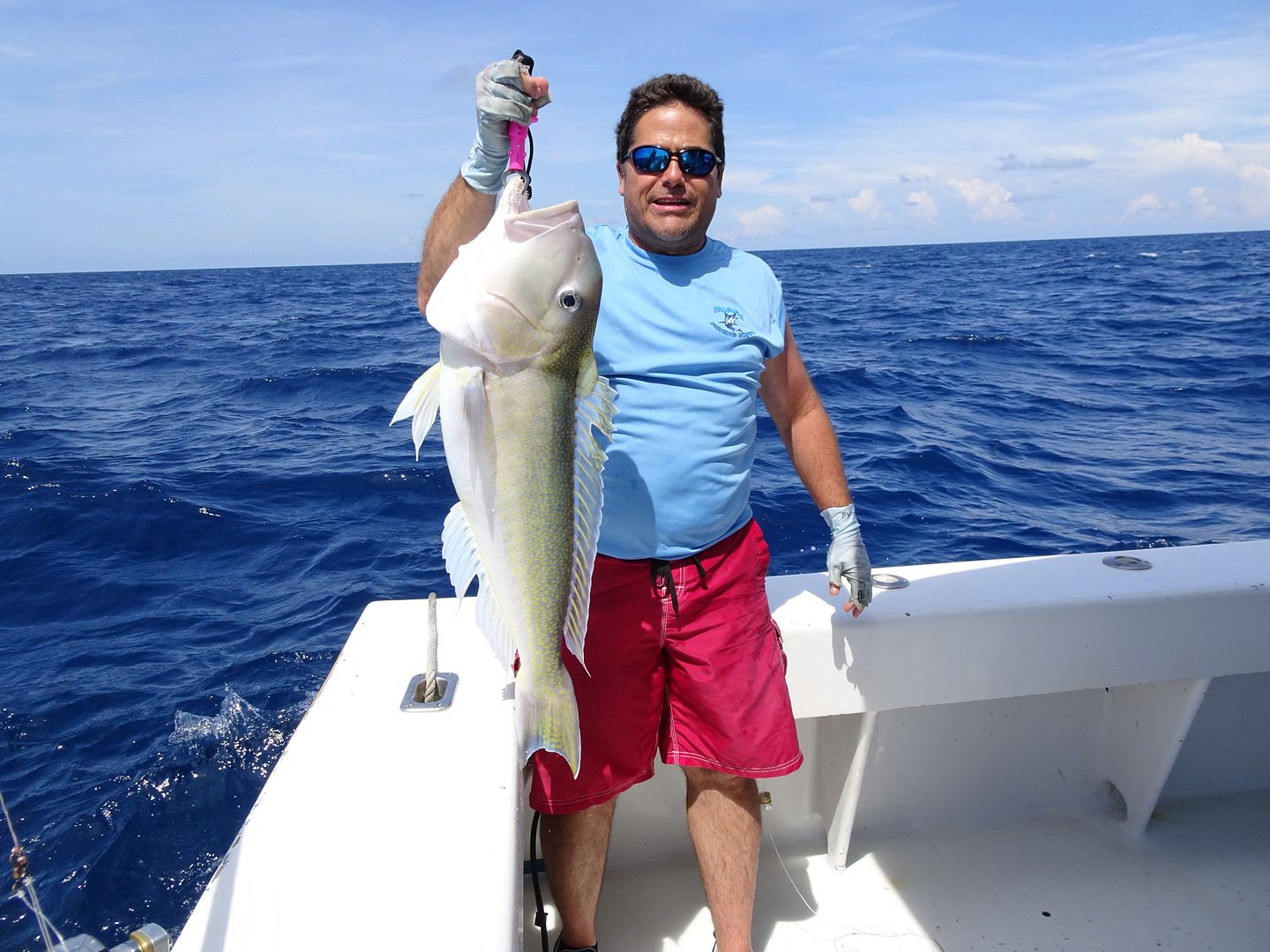 And Ed's off of the other corner........
It was finally time to head for the barn and with a 3+ hour run back, some sandwiches broke out and all of us also tried to grab a nap...... I got my rods and gear organized, packed my bag and managed a one hour nap before the throttles were pulled back as we entered the channel.
At the dock, the 'work' began. Unload the gear, wash the rods, get organized on who was going to do what during the upcoming Fish Production & Packaging. Local 'Stevie Wander' showed up to help us and that saves us an hour and he was able to try a few new jokes on us! What a character!
Yuri started loading the bins from the fish box. We never quite filled the cockpit fish box, but we sure had some varied, high
quality
fish to take home! Ed even pulled in a small Dolphin while deep dropping! Lucky me, I took that bag home!
Two of my nice Yellowtails from the 'Nap Night' episode! :banana
After we labeled, bagged and vacuum sealed the bags of fish, we cleaned off the nice fish cleaning table there and stacked the many species into 6 piles. Mike caught the only Porgy so he took that home. Same with Ed and his nice Scamp Grouper. Three of us split the two Triggerfish that we caught. I kept my one Cero Mackerel.
We then packed our own bags of fillets into our own coolers with plenty of ice and we all shoved off. Mike, Ed, Jeff and I popped into Tower of Pizza in Islamorada for dinner, so that was a nice break.
Next morning, I moved my fish bags into the big freezer in Key Largo and it turned out that I ended up with about 14-15 bags and that's a pretty good haul. I had the Triggerfish, the one pack of Dolphin and the guys saved up some bigger grunts for Jenn and that one was labeled,
"Happy Birthday Jenn From the guys"
.... They all know her and she'll love that!
The two upper racks are from this trip and those labeled in black are from last month's trip. I've shared many of those bags with various friends.........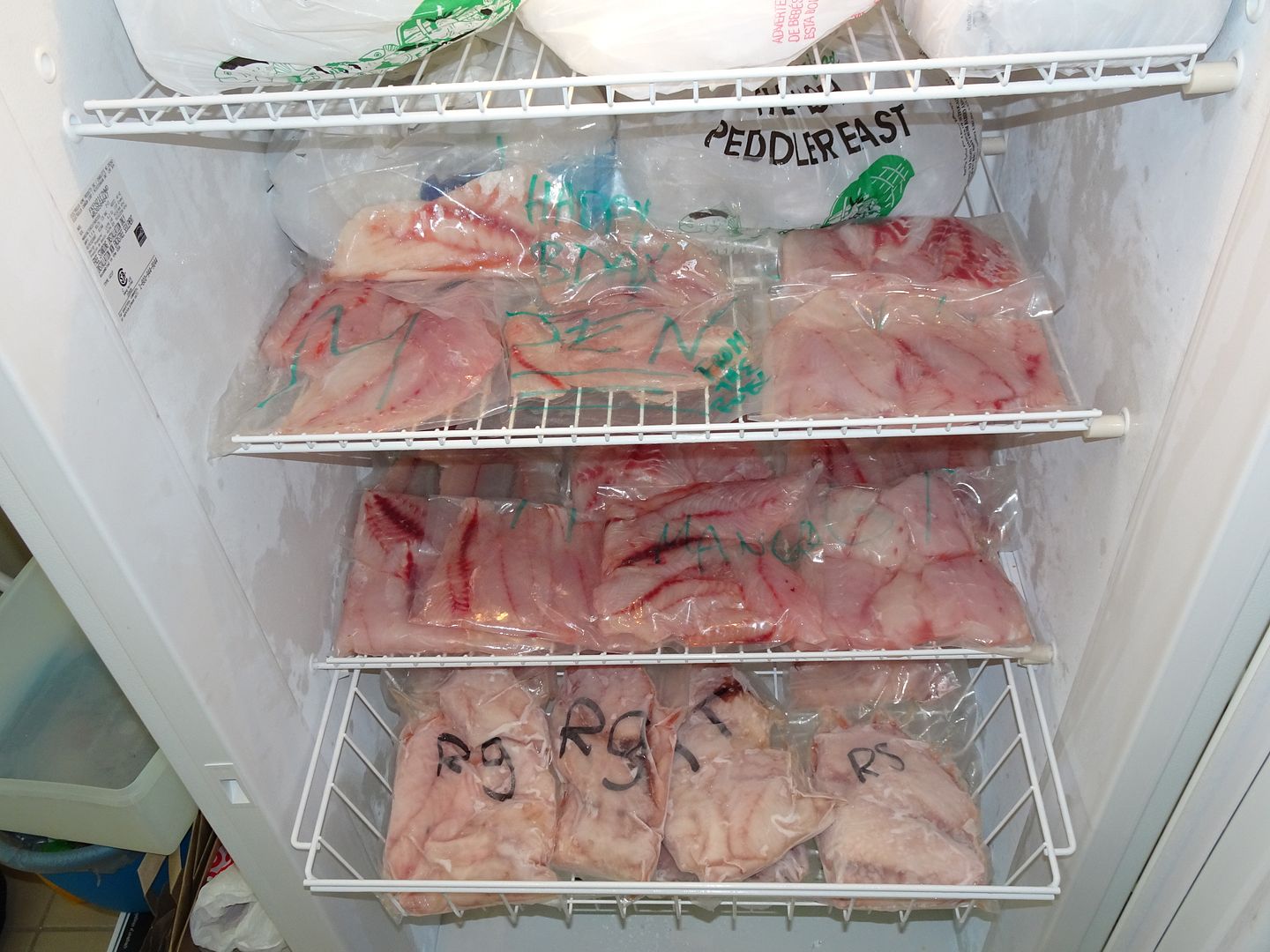 As usual, it was a blast fishing with Yuri and he worked his **** off to get us on the fish, even though conditions were a bit slow. We moved many, many times and it paid dividends in the end...... delicious dividends too!
http://www.tortugasfishing.com/home.html
Thanks to the guys too! Without them, "I" don't get to go! I learned a few things once again and they will be written down in my Post Trip Notes....... always trying to further fine tune these trips!
Time to get the 25lb spinners re-spooled before the August trip........ :fishing