Home
›
Southeast General Fishing & The Outdoors
EPIC Capt Yuri Dry Tortugas Trip (June 23-25th)

Gary M
Posts: 13,130
AG
Whew....... I'm still tired and sore but
what a trip!
:fishing
I'm posting this in the SE Section for the first time (I have about 8-9 Yuri Trip Reports in the Keys Section if you want to see them as well), because newbie Jim posts in this Section (as bambam78) and Rick is also on the Forum and he and his son live in Boca........
Rick and my neighbor Tom both have sons that love to fish and for a few years I have been bugging them to get the boys on the same trip together for a Dads & Sons trip. Rick and Tom have both done many Yuri trips with me.
With three trips booked for this summer, in January I went to Rick and Tom first to let them pick which trip the boys could both go on. With this trip settled, I then went on to invite other guys to fill in the slots for the other trips.
I had met Jim at a Pirate's Cove Forum Happy Hour in Stuart and he did not know it then but he was sort of being interviewed by me to see if he had any enthusiasm for doing a future trip! We like these trips to be more about FUN and not just about fillets!
Crew Comraderie
always makes these trips even better! With Jenn and I planning to buy a place in Stuart fairly soon, I told her back in January, "I need to get up there and start meeting some of these Stuart guys for future fishing after we get up there", and she easily agreed! Jim also Rec'd that I contact Sean (Shoeless on the Forum) and he now is on board for the August trip, so he'll be Stuart guy #2 this summer!
With one opening on this trip, Jim jumped all over my offer to come along with us! I sent him many detailed emails to accelerate his learning curve to make his first trip great right off the bat! He was by far, the most 'prepared' Capt Yuri
newbie
that ever come along with us! I've done about a dozen of these trips and I'm still 'learning' as you'll see! He no doubt also learned a LOT on this trip and that will mean an even a
better
trip for him next year.
For the first time, we had all six of us to meet up at our Key Largo home the evening before and to overnight there. Had a 'docktail' at the house first and then we all had a nice/fun dinner down at 'Snapper's' in KL (mm94.5 OS). We ate out at the 'The Turtle' which is always a blast!
https://snapperskeylargo.com/pages/bars
Friday was departure day and Yuri had told me to get to the boat around 1pm for a 2-3pm shove off. So, we had a combo of last minute bait buying, breakfast in Tavernier and then we all met up at the boat to start the loading. This always takes a good hour+ to stow your gear, get the rods and coolers aboard, park the cars, etc. Yuri has a loading cart on the dock that
really
helps us on both Friday as well as after the trip on Sunday to re-load the trucks.....
We shoved off soon after Yuri arrived...... all six of us full of excitement! We knew that we were going to have an Open Season trip for
American Red Snapper
and Yuri had told me earlier that he'd had no problem limiting out on recent trips. I also knew from my many trips that he had many spots to go to, to target this wonderful Snapper species...... as you will see.
With a 4+ hour run down, most of us hit the bunks for a nice nap. It was blowing a steady 14-16 knots but from the East so we had a following sea on our run west. The old Fort Jefferson in the Dry Tortugas is about 70 miles from Key West but we usually never even see the Fort as we fish in a very large area.....
I popped up to the upper bridge and had a nice chat with Yuri while we were running west. He enjoys reading my New Zealand fishing and boating magazines that I bring him and I had two with me on this trip for him. When I asked, "About how much longer are we running?", he replied, "Two minutes." I bolted out the door to get the guys out on deck to start getting ready! It was TIME to fish!
Here's Tom, his 16 y/o son Thomas, newbie Jim, Rick and his 14 y/o son Luke. Luke is a
Fishing Machine
as you will see!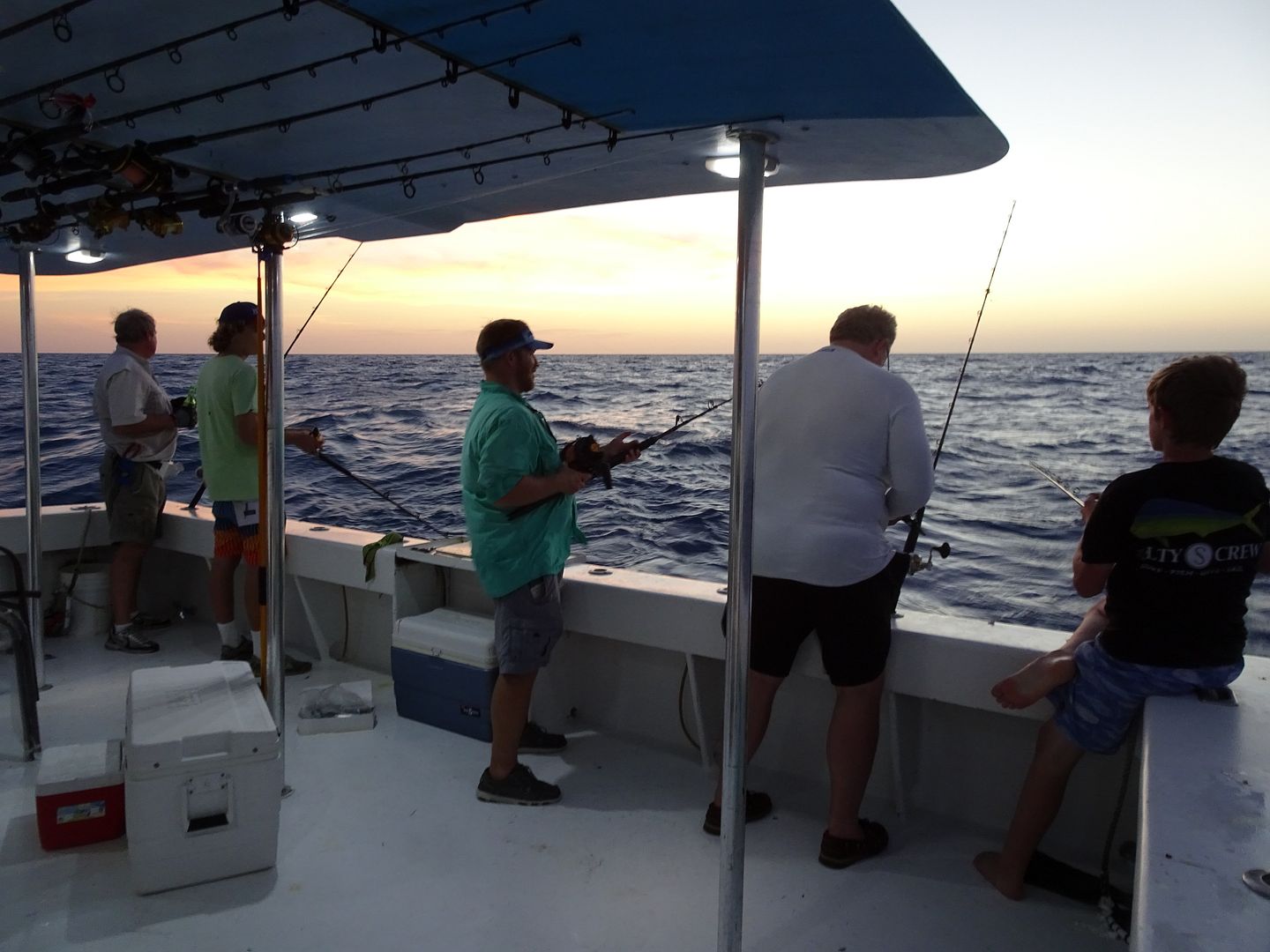 As the sun set, we slowly started picking off a few fish. Here's Tom locked into a nice fish with his son Thomas standing by.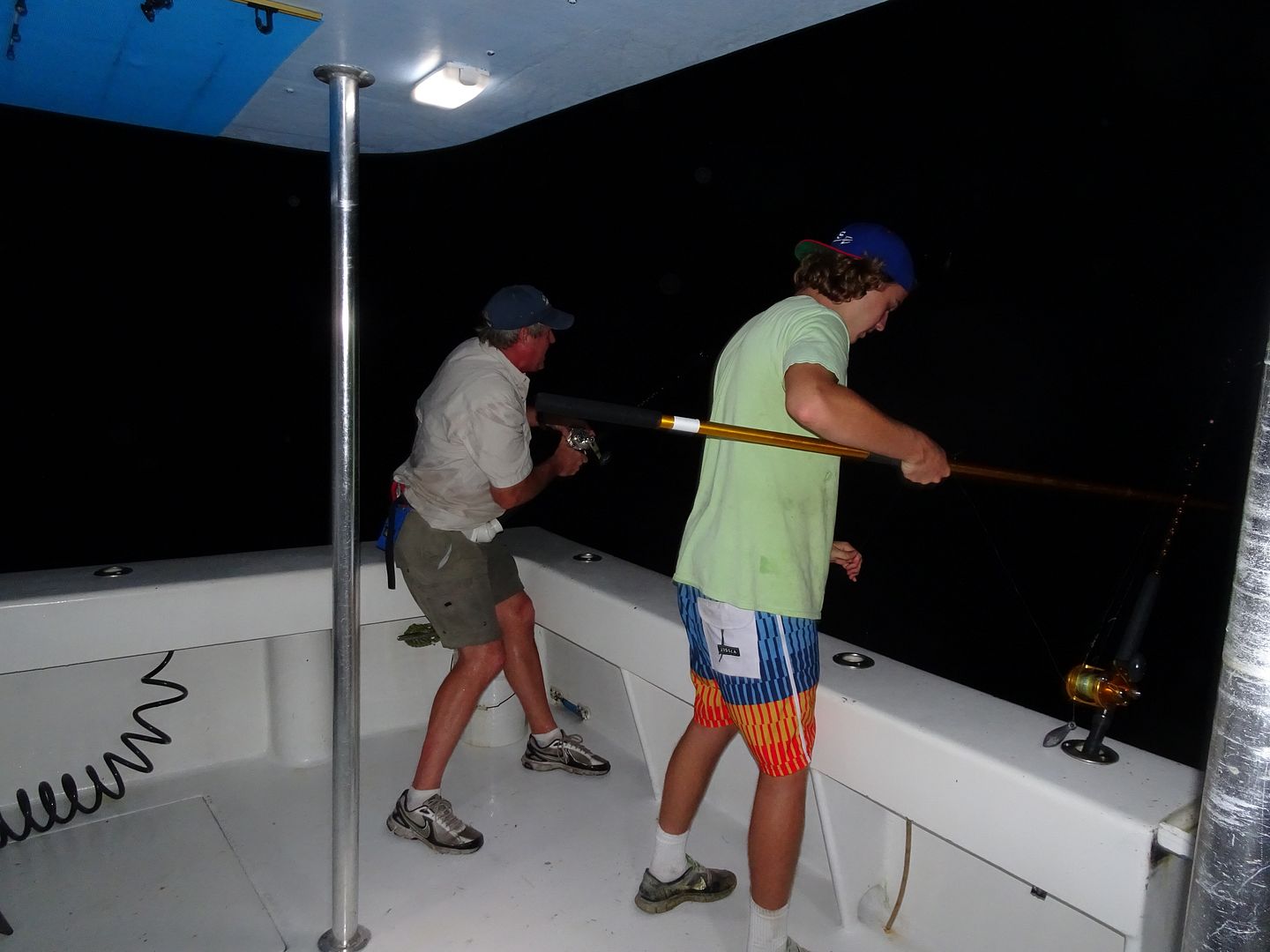 We moved a few times before our Dinner that Yuri **** up for us was ready and we moved a few times after that.....picking off a few fish, moving, etc until about 11pm when we anchored for the night. Green salad, rice and burgers for dinner. Chocolate chip and Heath Bar cookies for dessert.
Jim had mentioned that he'd love to see 'dawn break' as I call it, as I usually am out on deck early each of the two mornings. I was on deck first and Tom and had left the cockpit last and nicely cleaned things up out there. Always appreciated. I plopped a fresh block of chum in the bag and as I started to open the salon door to go get Jim he opened it. Yep, he was ready!
We both enjoyed seeing the sky to the east come alive as the sun slowly rose and right after we had first light, Jim's rod doubled over. With my handy Stowmaster net at the ready, I scooped up his new, Personal Record Yellowtail Snapper that nosed out as just a tad over 23 inches!
Nice
fish!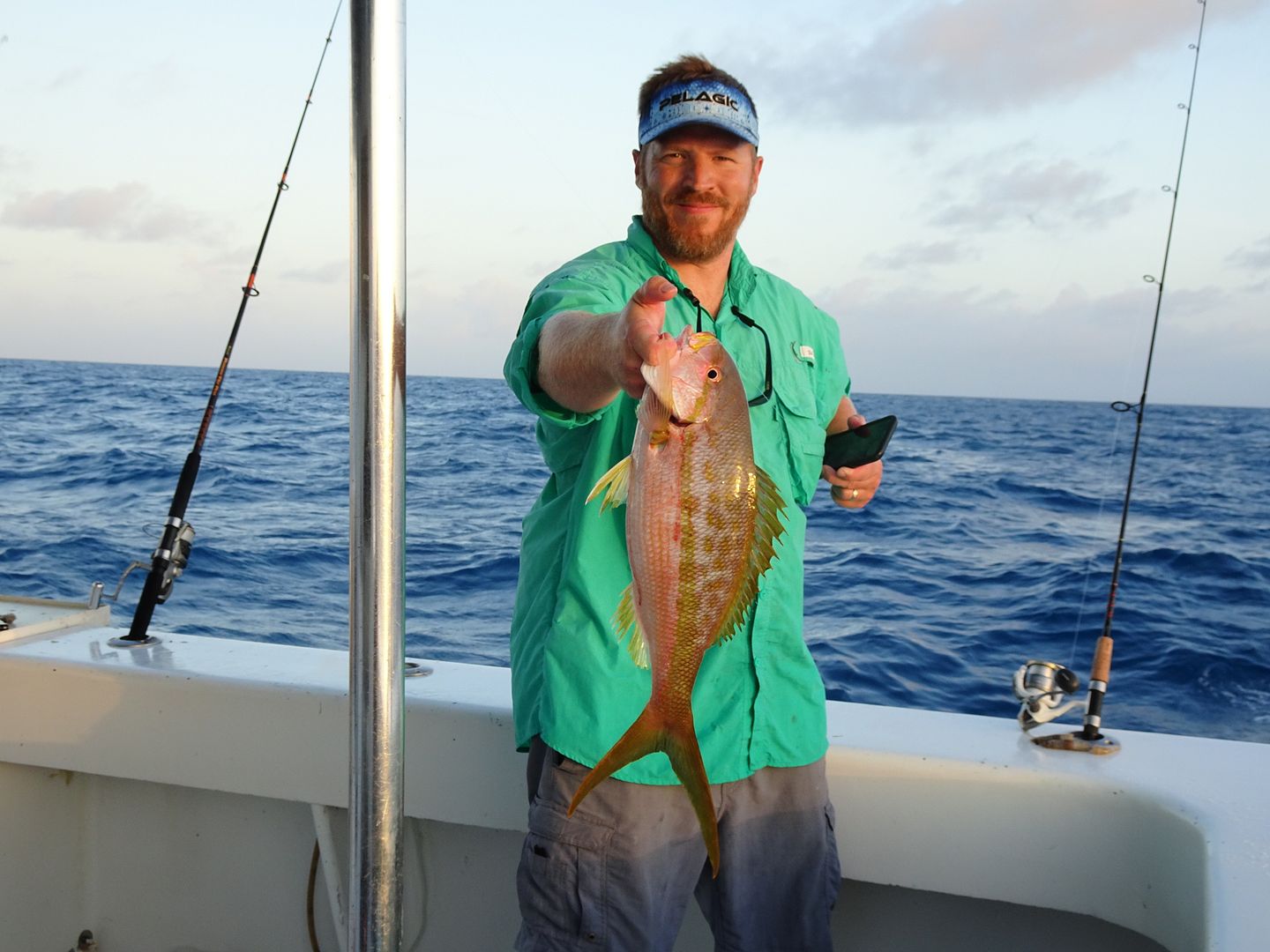 He'd set another new Personal Record later........ as I, Rick, Luke and Thomas would also do! :grin
Take note of the light spinner beside Jim's left arm. That's the rod that I call my 'Buggy Whip' and it is paired with a Shimano Stradic 5000, loaded with 15lb mono. After this trip, it may need an overhaul! :willynilly
Along with Jim's nice yellowtail, I managed to work this nearly 12 pound Mutton Snapper close enough to the boat with the buggy whip, for Jim to slide the net under it! Jim and I had a VERY nice morning on deck that morning! What a BLAST to fight and catch nice fish like this Mutton on a light rod! What did he eat? My trusty naked, yellow jig with half of a large, whole shrimp on it! It must have drifted down deep enough for him to come up off the bottom to grab it! Not my first Mutton caught this way! :grin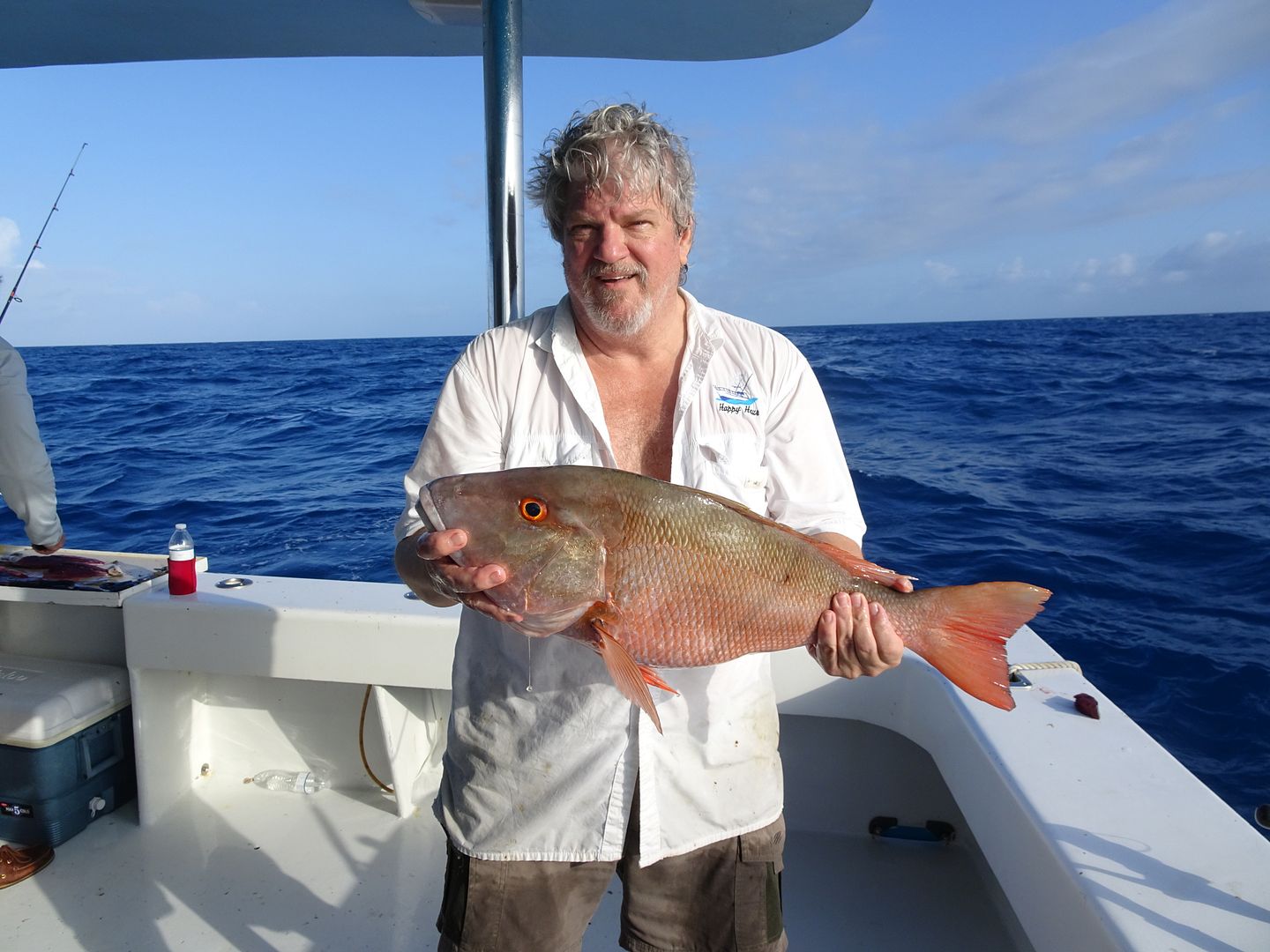 Later that Saturday morning Luke got slammed by a
big
fish. Jim had one on so there was a little over/under going on in the corner to keep the lines off each other!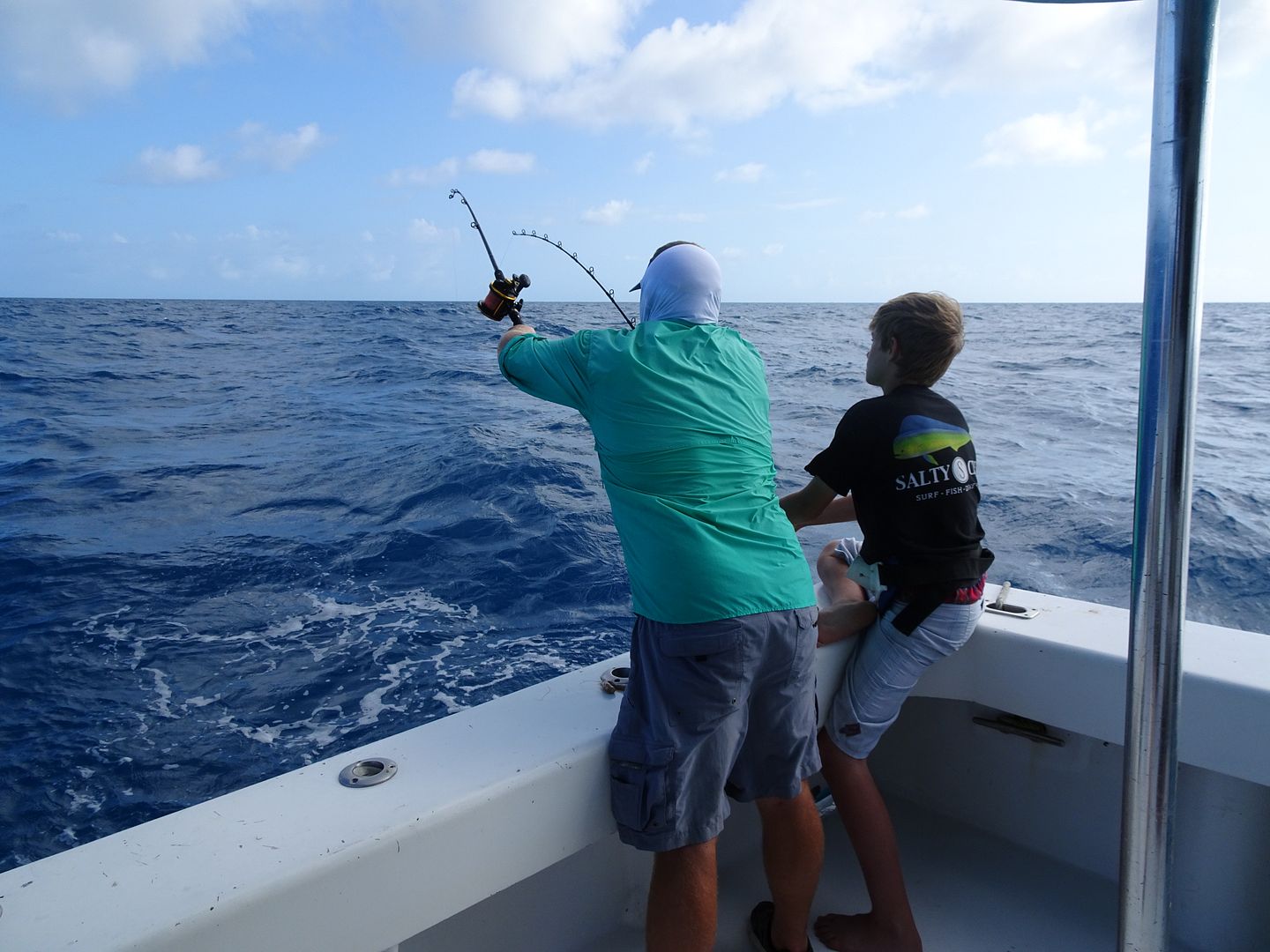 Can't recall what Jim's fish was because after about 15 minutes of grunting and groaning as well as some heavy rod bending, Luke finally convinced this 75-80 pound Goliath Grouper to give up! :hairraiser Luke's new Personal Record!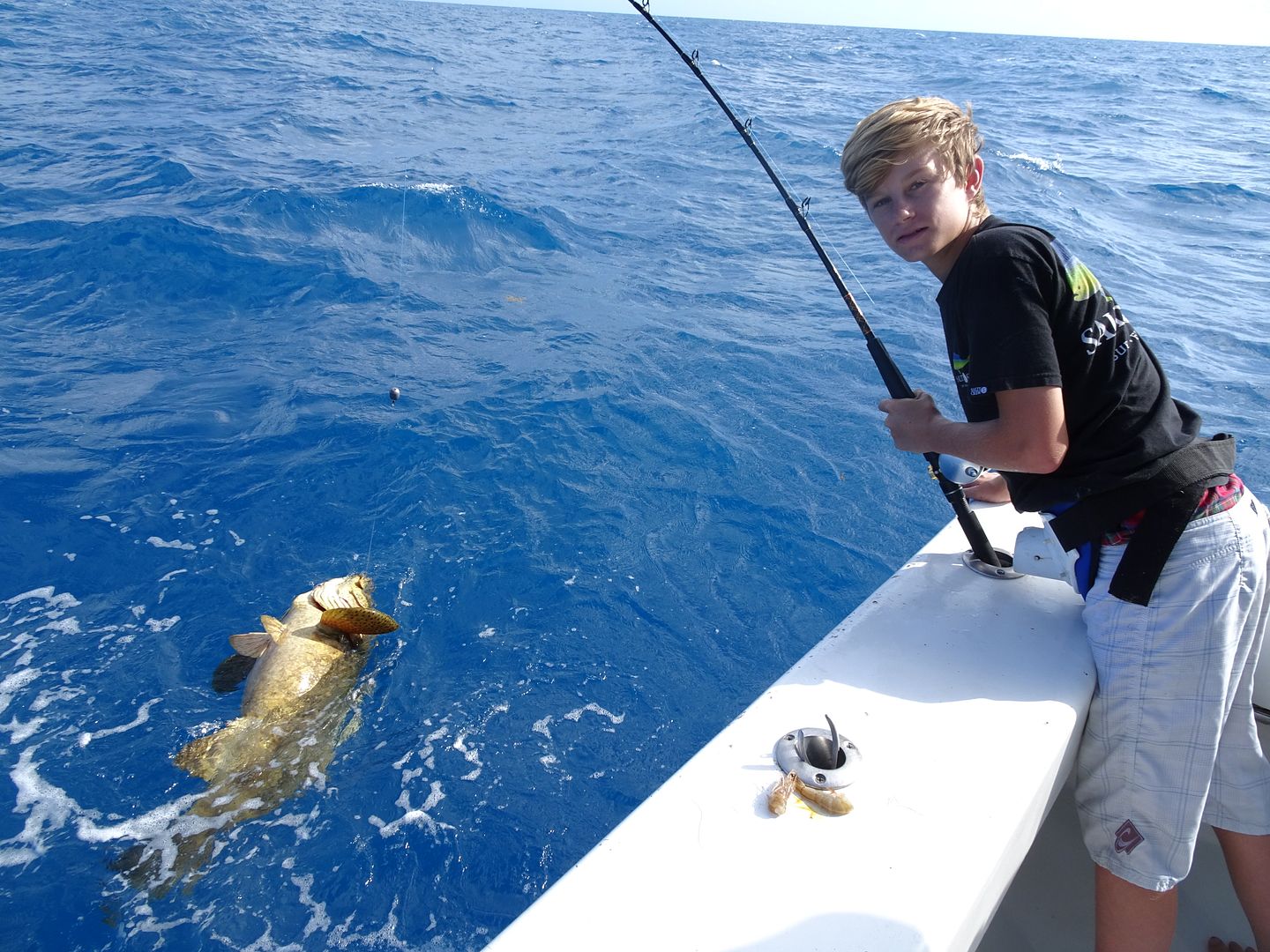 And here, Luke shows us just what all of us were doing steadily during the day!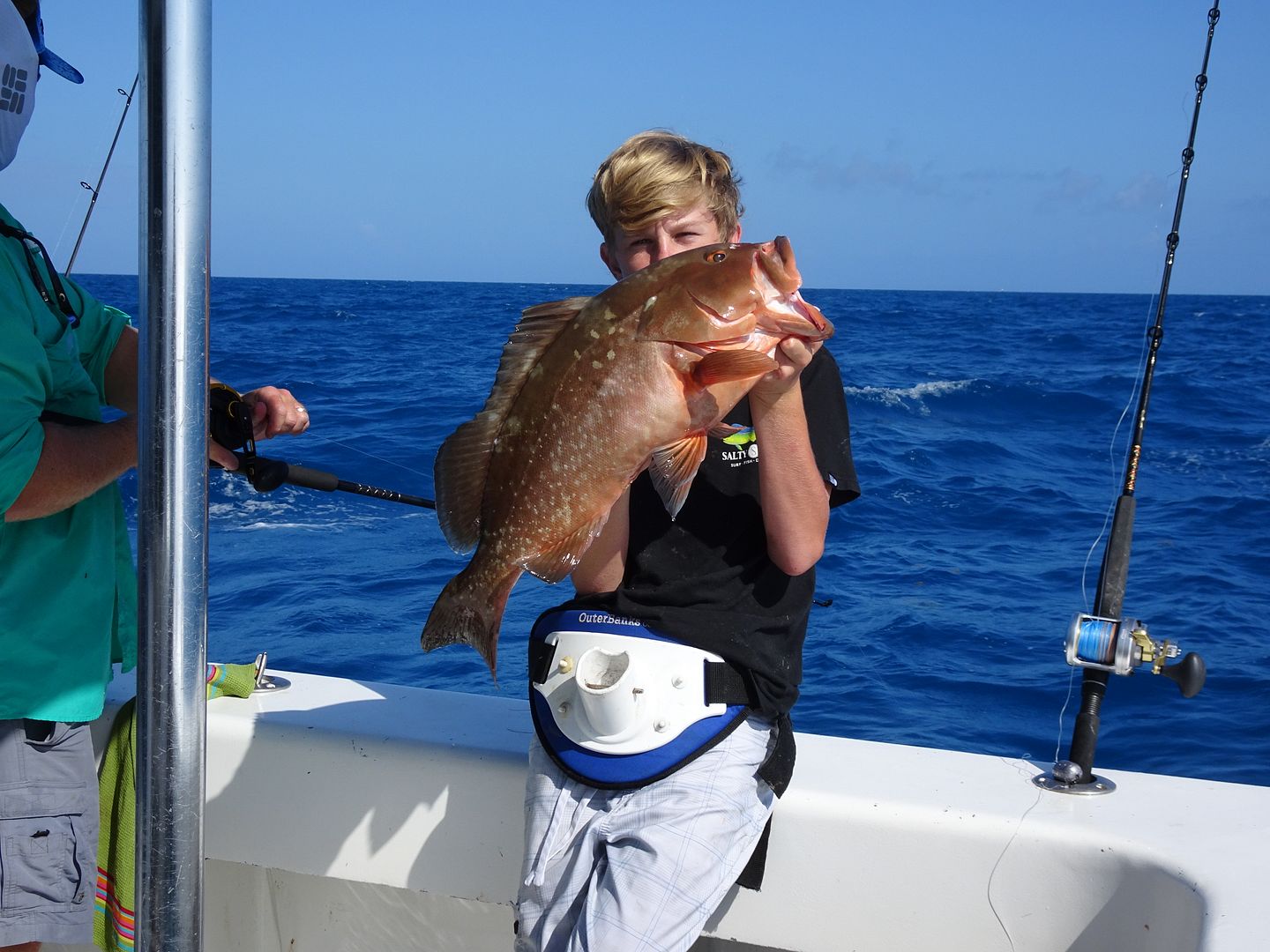 We lost track of the number of species that we caught but here's Tom and Jim with a Mutton and a very nice Porgy! And Thomas locked up in the background!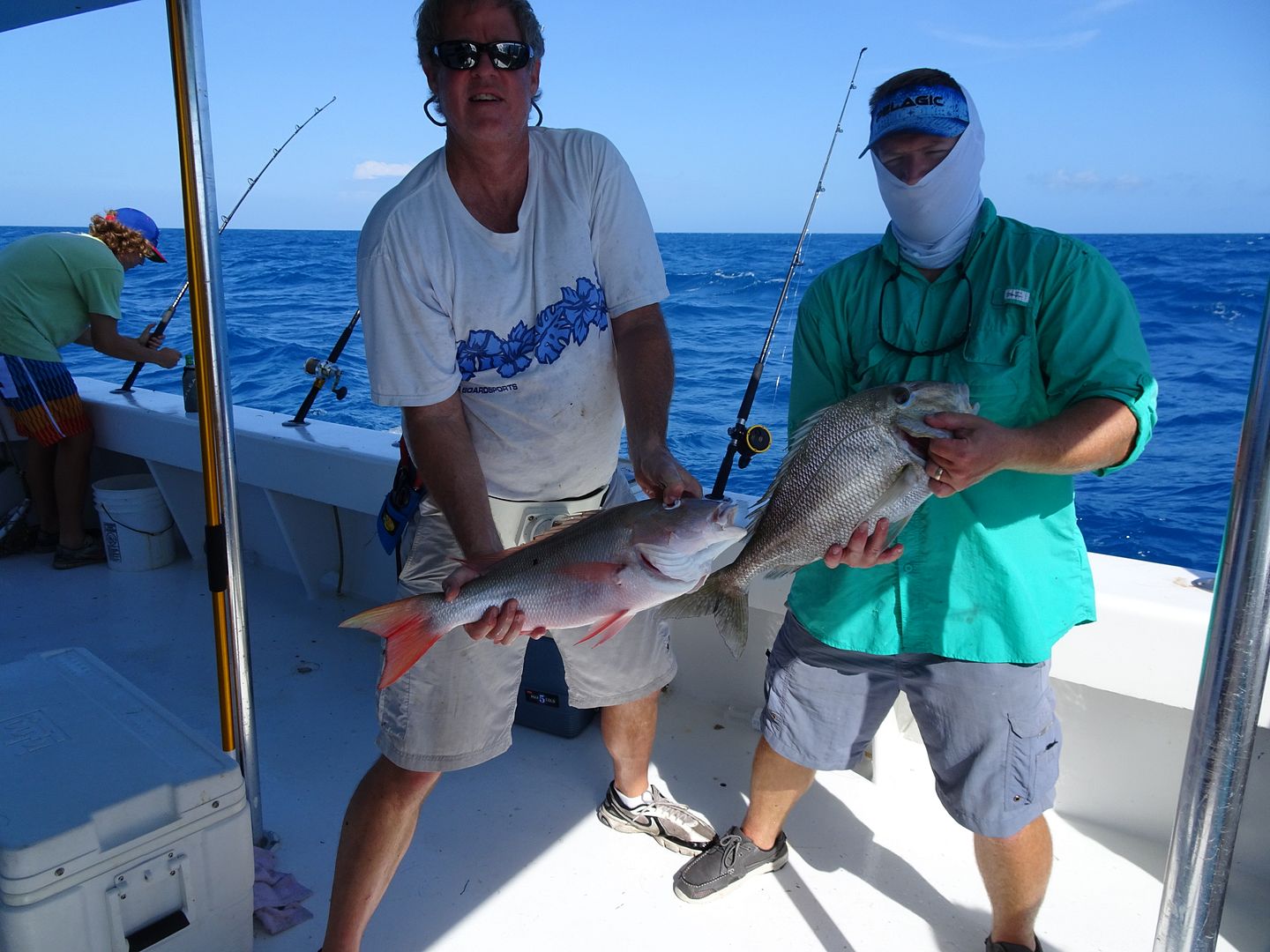 Luke watching Dad work a fish up.......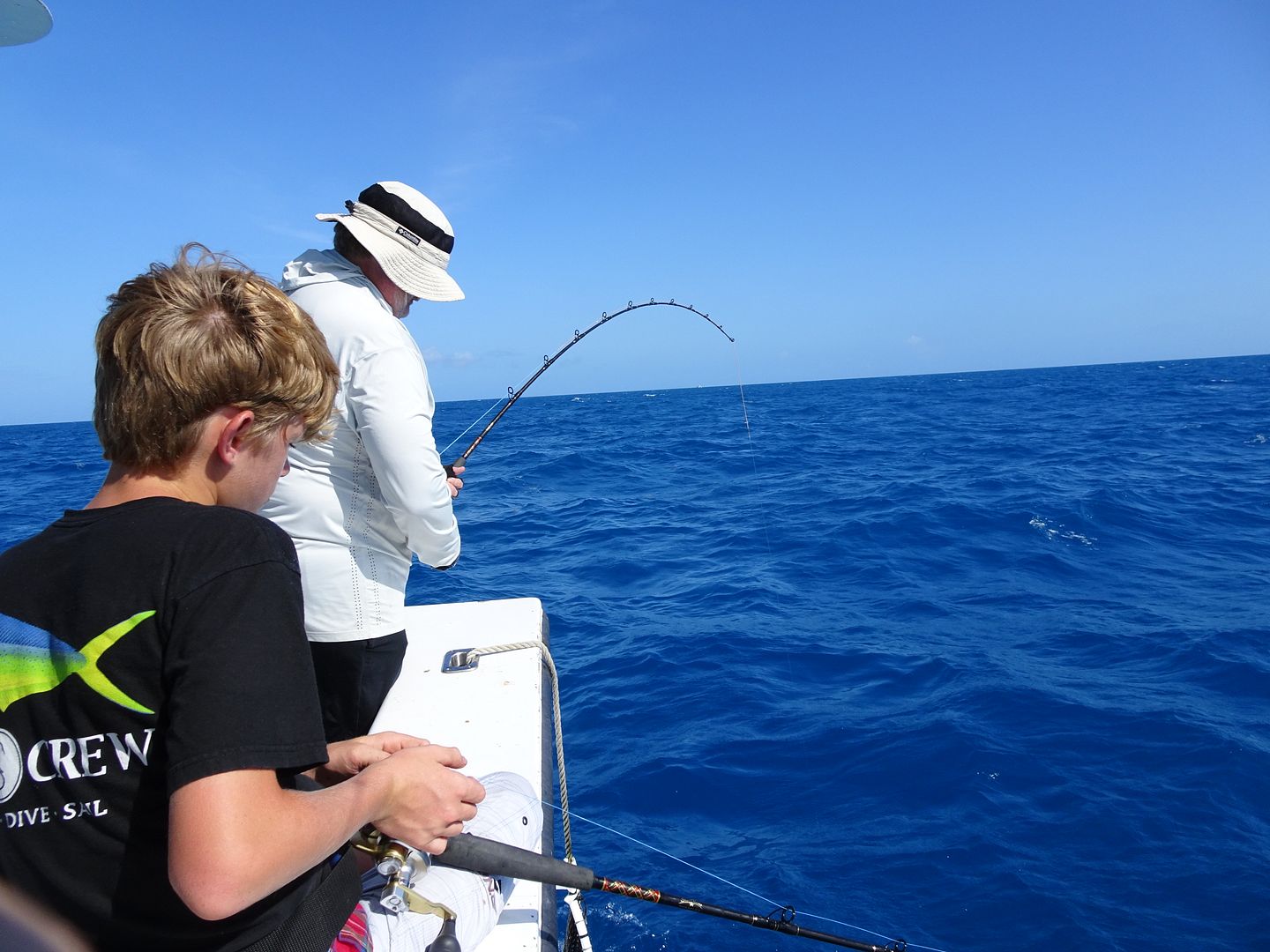 Yep, another nice Red Grouper a few minutes later!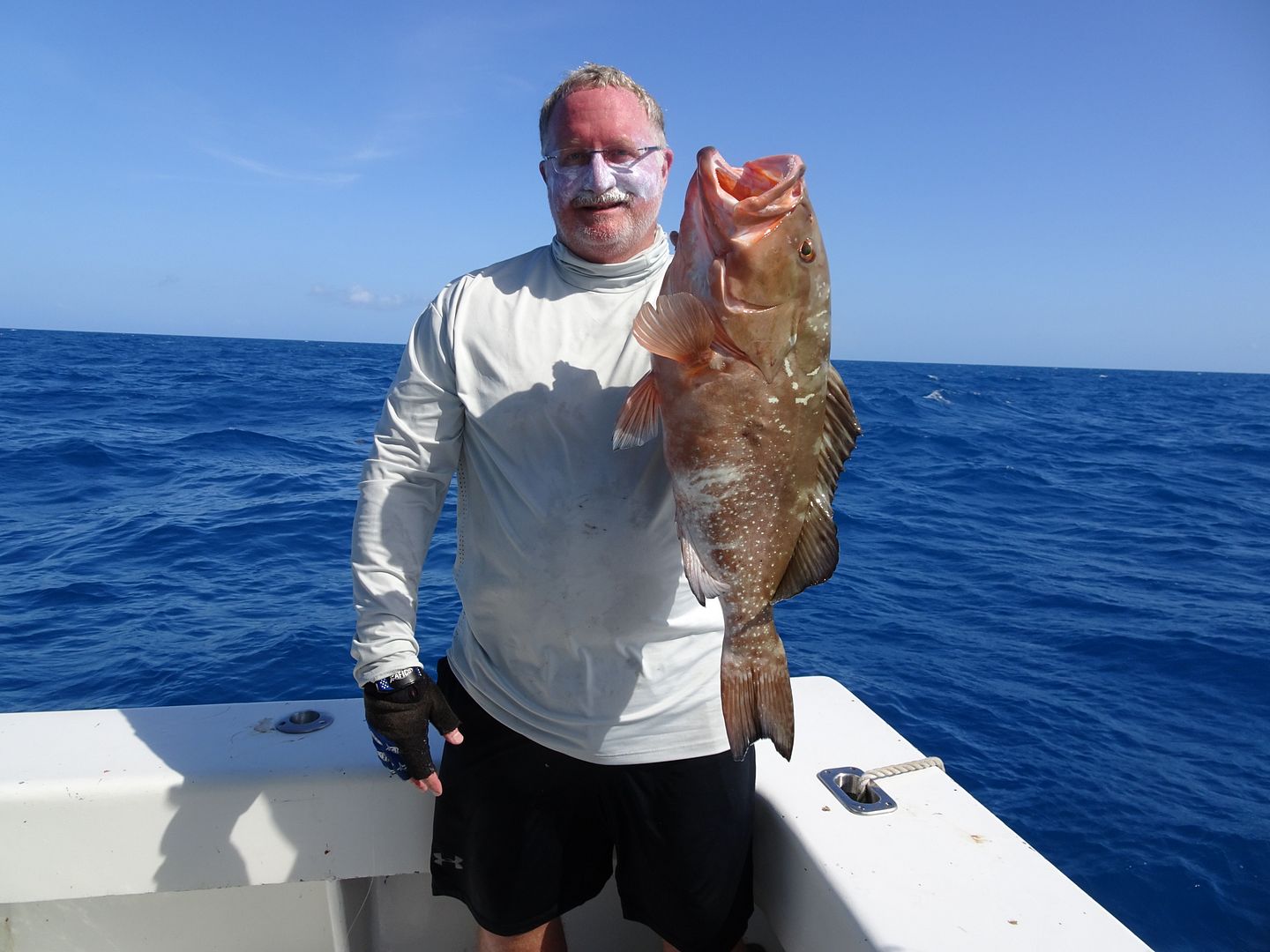 And then son Luke slams this nice Yellow Jack in the boat!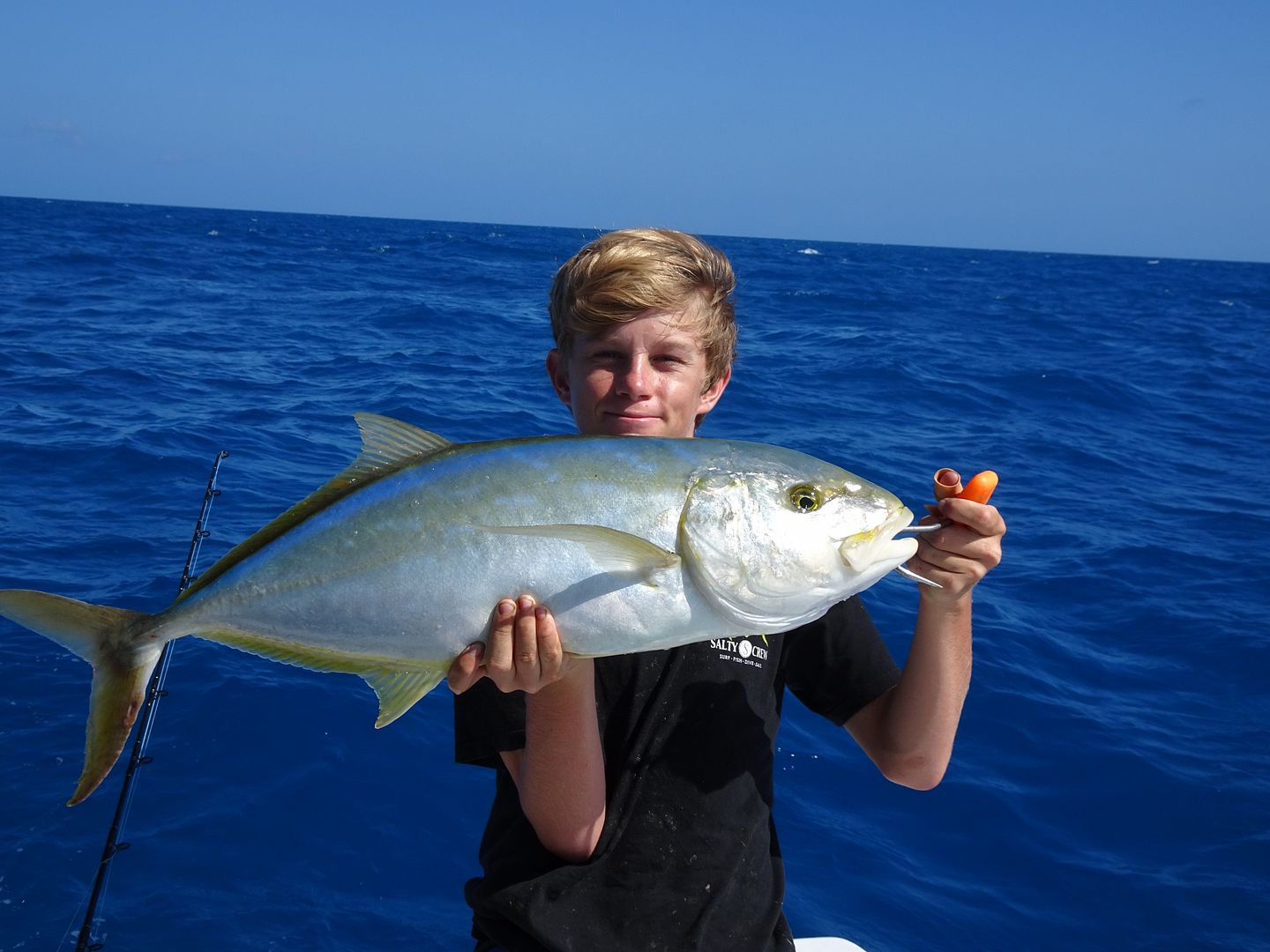 We only caught a few, but here's Jim's very nice (and delicious!) Scamp Grouper!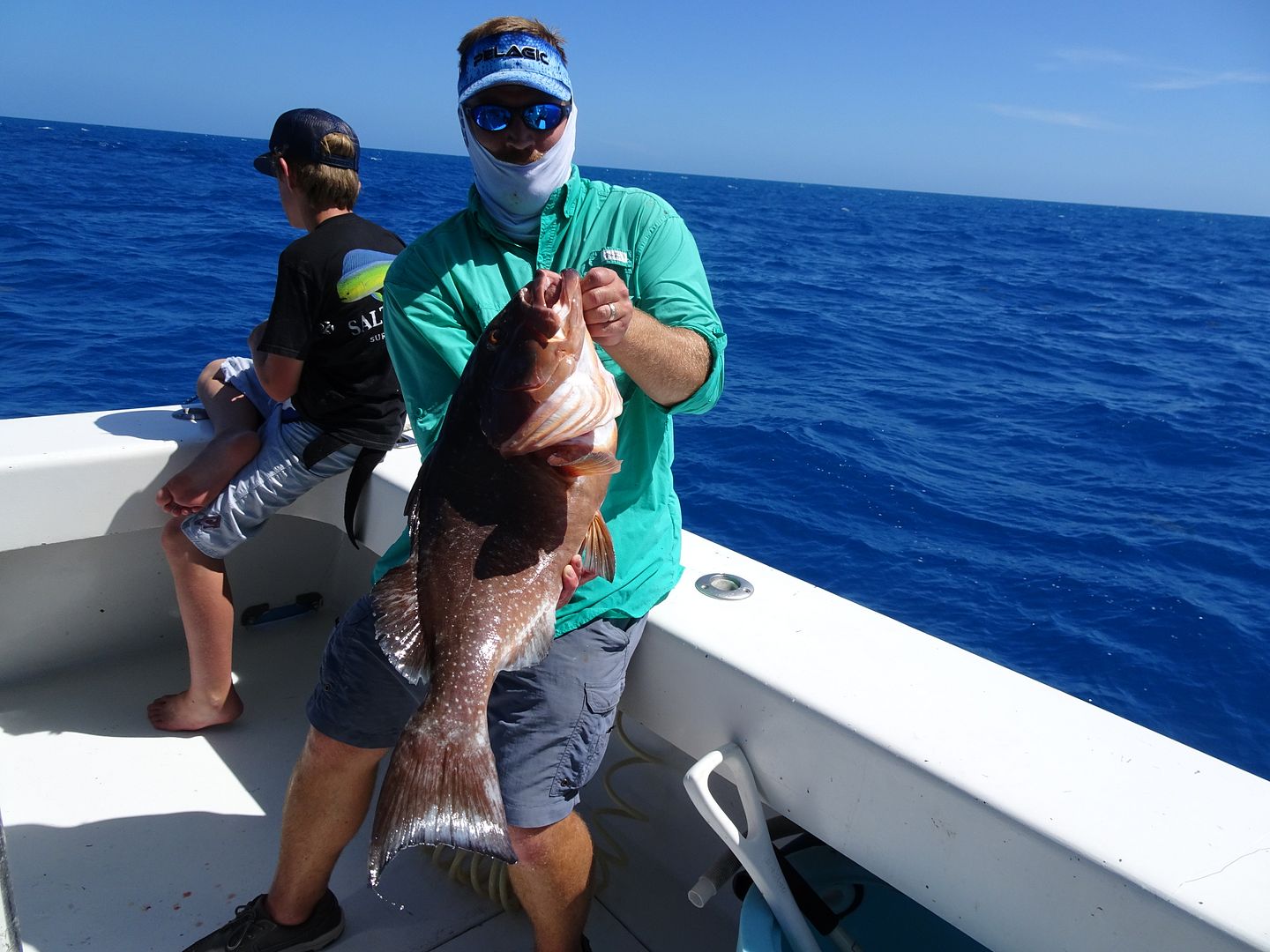 With just my little jig and a half of a whole shrimp on it (targeting Yellowtail Snappers), the little buggy whip is telling me here that
this
fish is
big
! I may even have backed the drag off a click or two. I did NOT want to lose this! 'Guesses' from the guys were from a huge Mutton to a big Amberjack (ugggg, please NO!).......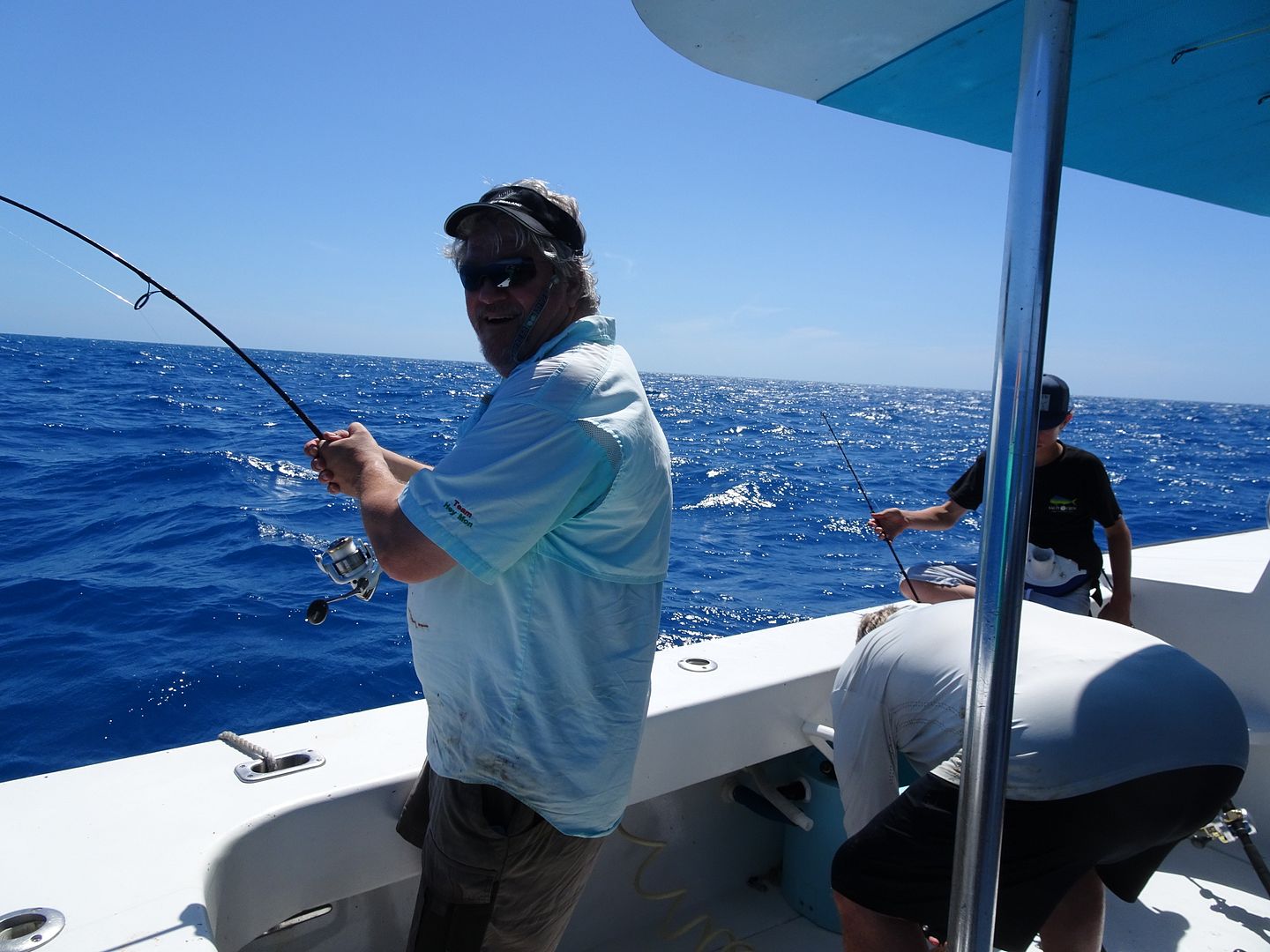 With some 'color' starting to show below, Thomas yelled that he'd get the big net and I looked at Jim and said, "Get the gaff ready. This won't fit in the net"! With one gaff shot and a big pull, the big African Pompano was in the boat!
He weighed out at 35 pounds......... on the buggy whip with 15 lb line! My new Personal Record on a light spinner! Yuri looked it up and it was up near a World Record for that line class!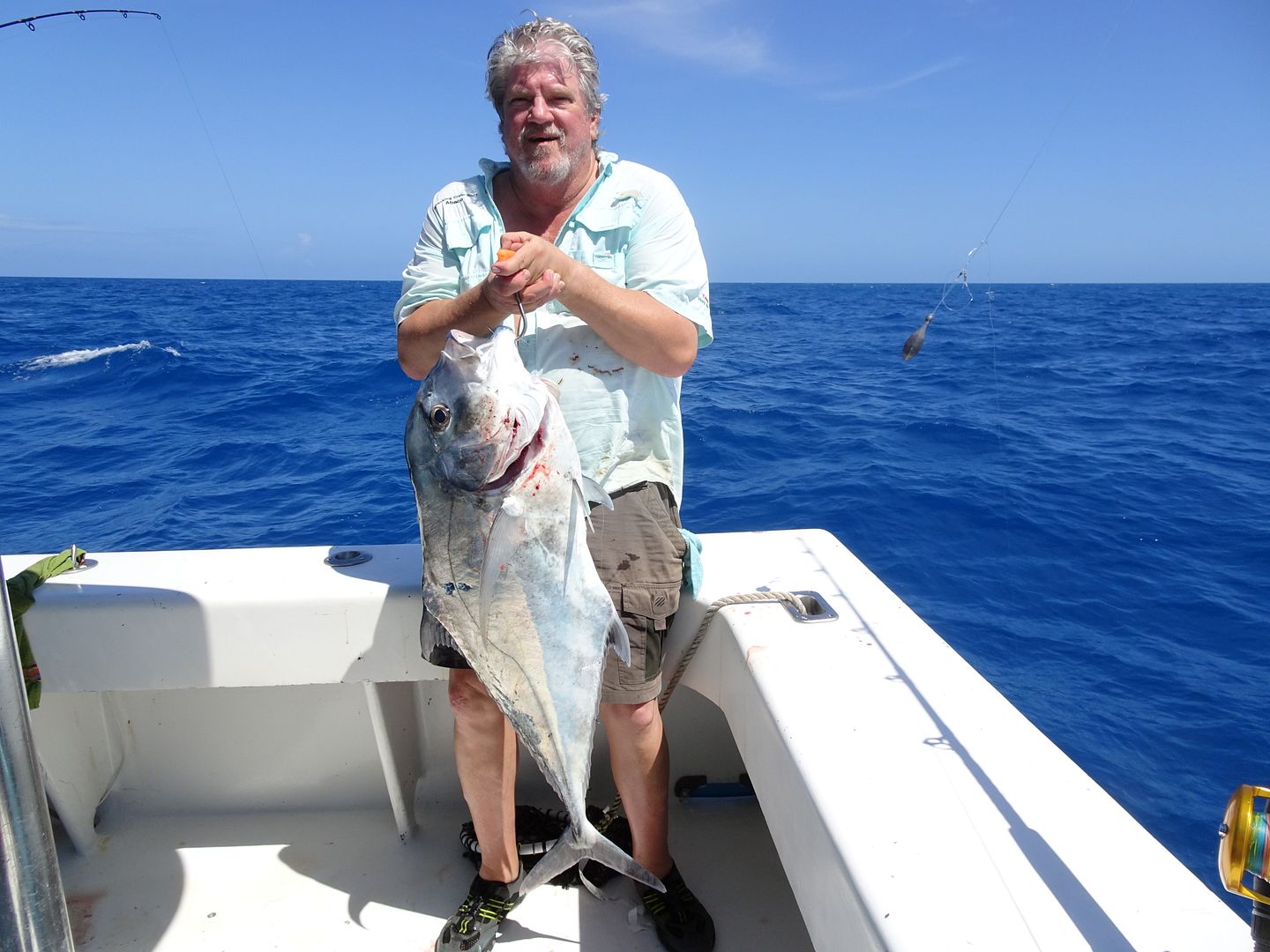 I rarely need a 'break' but after 15 minutes of fighting that AP, I plopped into a chair with an ice cold Bud....... Life was very, very good! :grin
In the mean time, the guys kept at it like this perfect Mutton Snapper from Jim........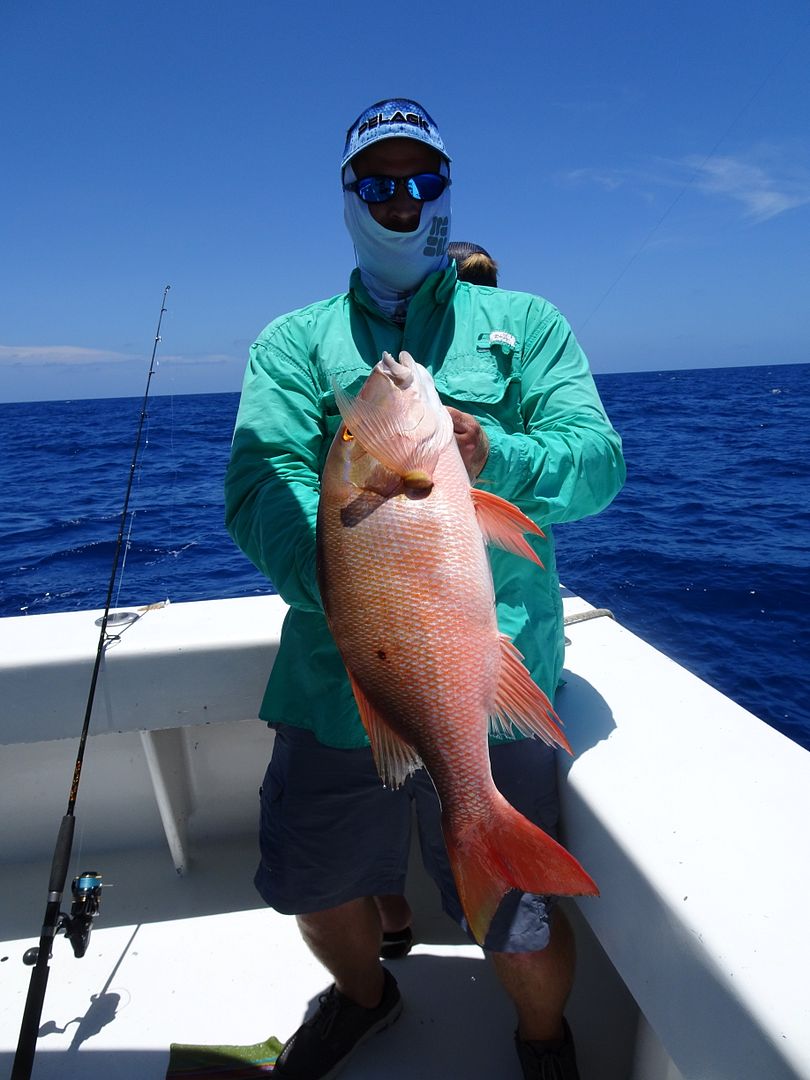 I always bring my big, fold-up Stowmaster net and wow, did it ever get a workout on this trip!! :hail Here's Jim netting somebody's nice Mutton. Notice the meat cleaver that we use to cut bait! My New Zealand bro-in-law (Hi Ian!) uses one on his boat while fishing in NZ so I learned there, just how
great
they are for cutting baits.... slice, don't chop. Just $15 at Target for the stainless cleaver! The bait board on Yuri's boat is right in the middle of the transom.... handy for everyone.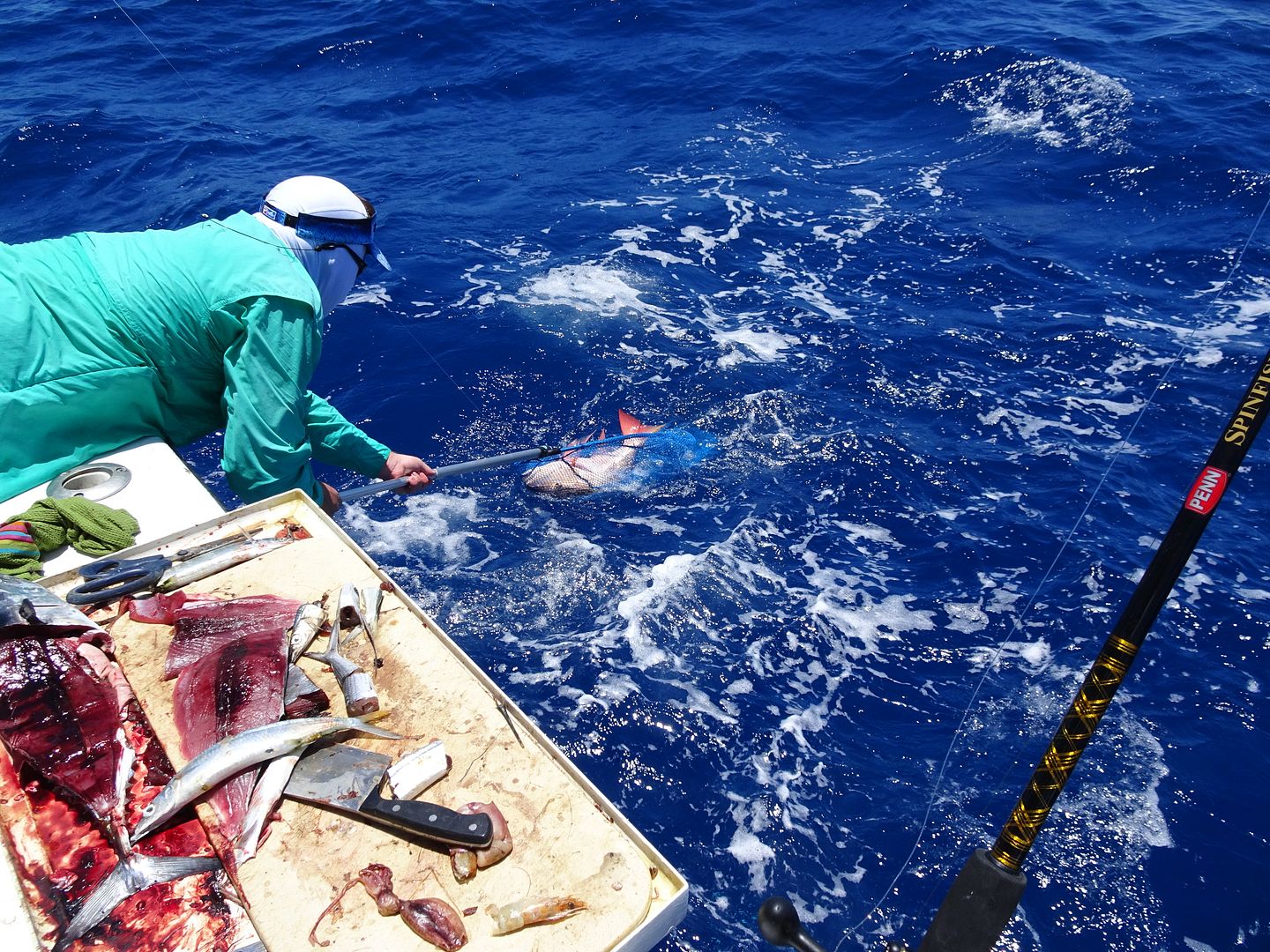 Here's the 'boys' with a pair of nice Muttons....... The guy in the green shirt has either a bit of an identity phobia..... or he may just have fair skin.... :shrug
Luke is very much of an '
equal opportunity
' fisherman because he pulled this nice Dolphin (Mahi) after Jim spotted one hanging back in the chum slick! We ended up with two this size.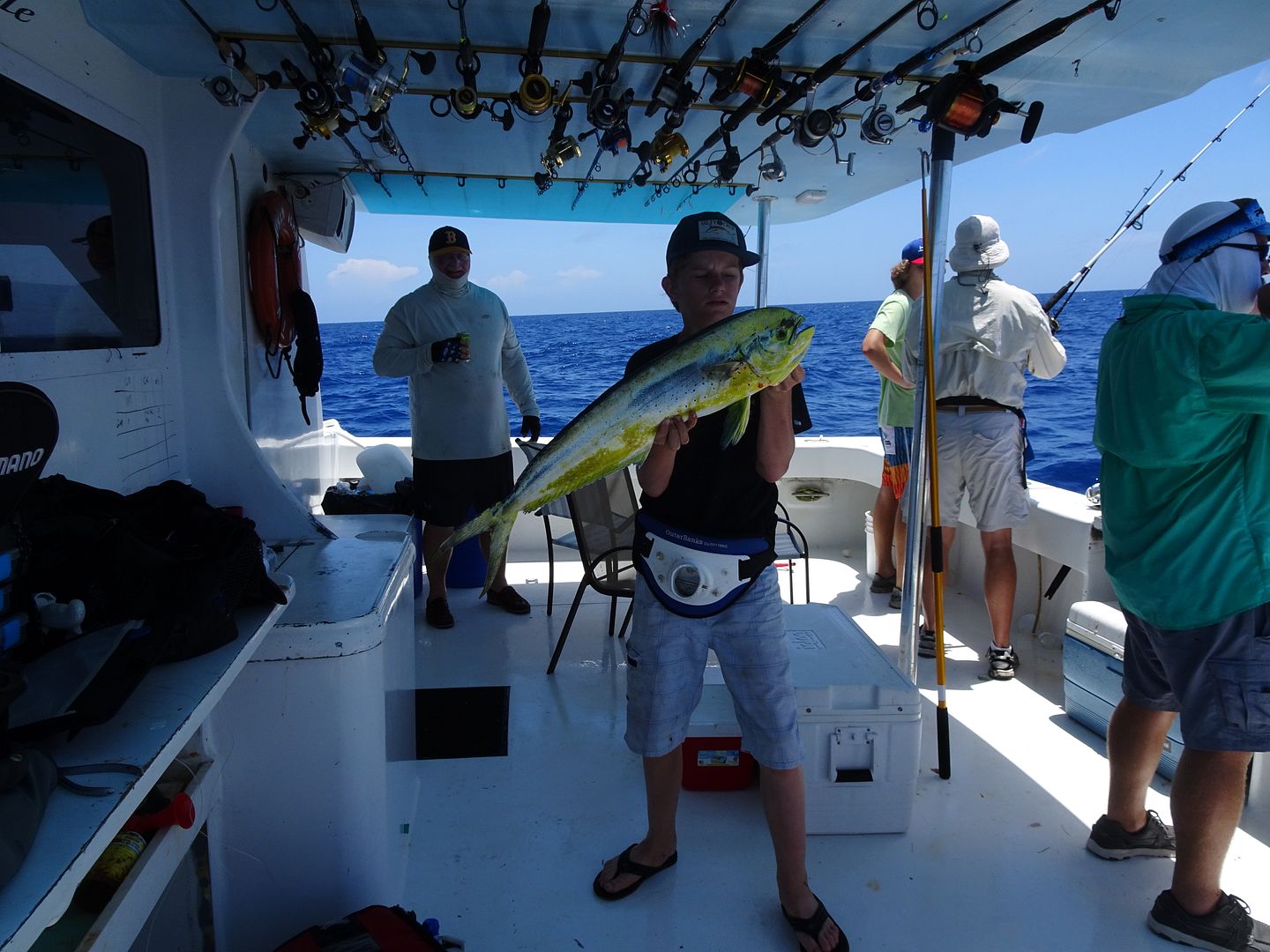 'Quad' hook-ups were common.........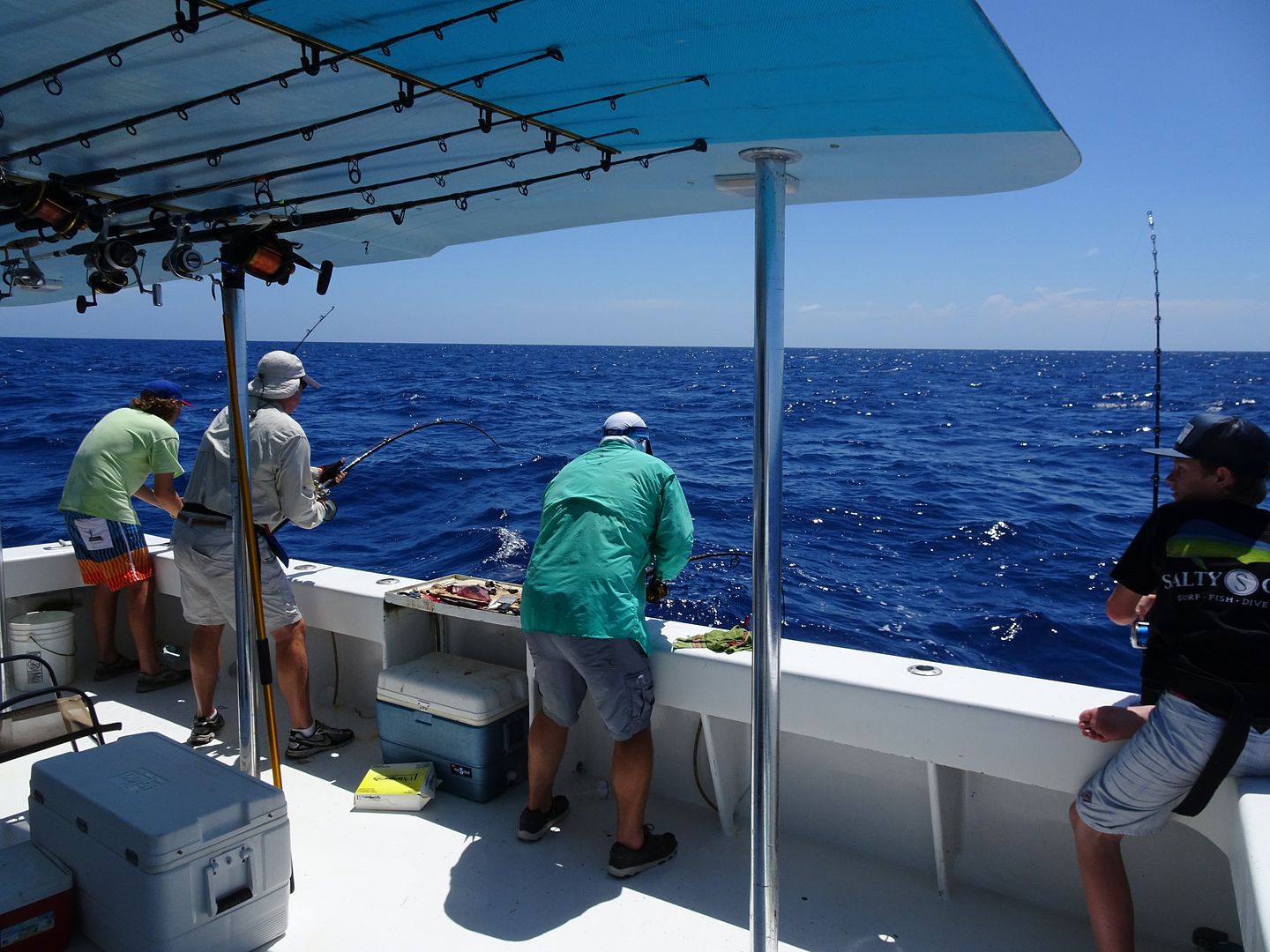 Dropping the hook in a spot that was in 270 feet, Yuri told us that we were in an area for the American Red Snappers...... and he was not kidding! For our particular trip, our 'Limit' was 12 of these delicious fish total, for our crew of 6.
And here they came!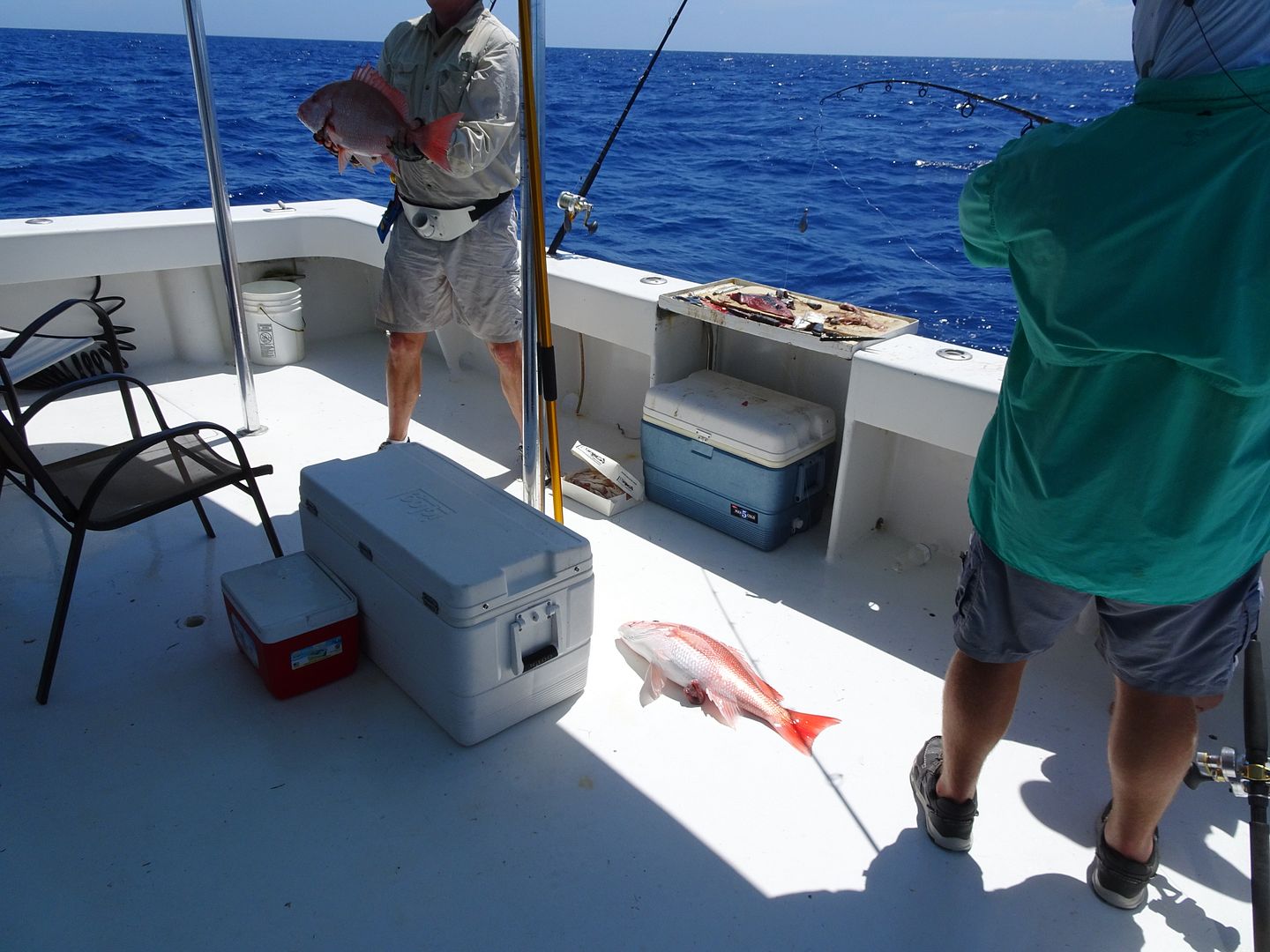 Jim with a typical example with Luke working his own fish.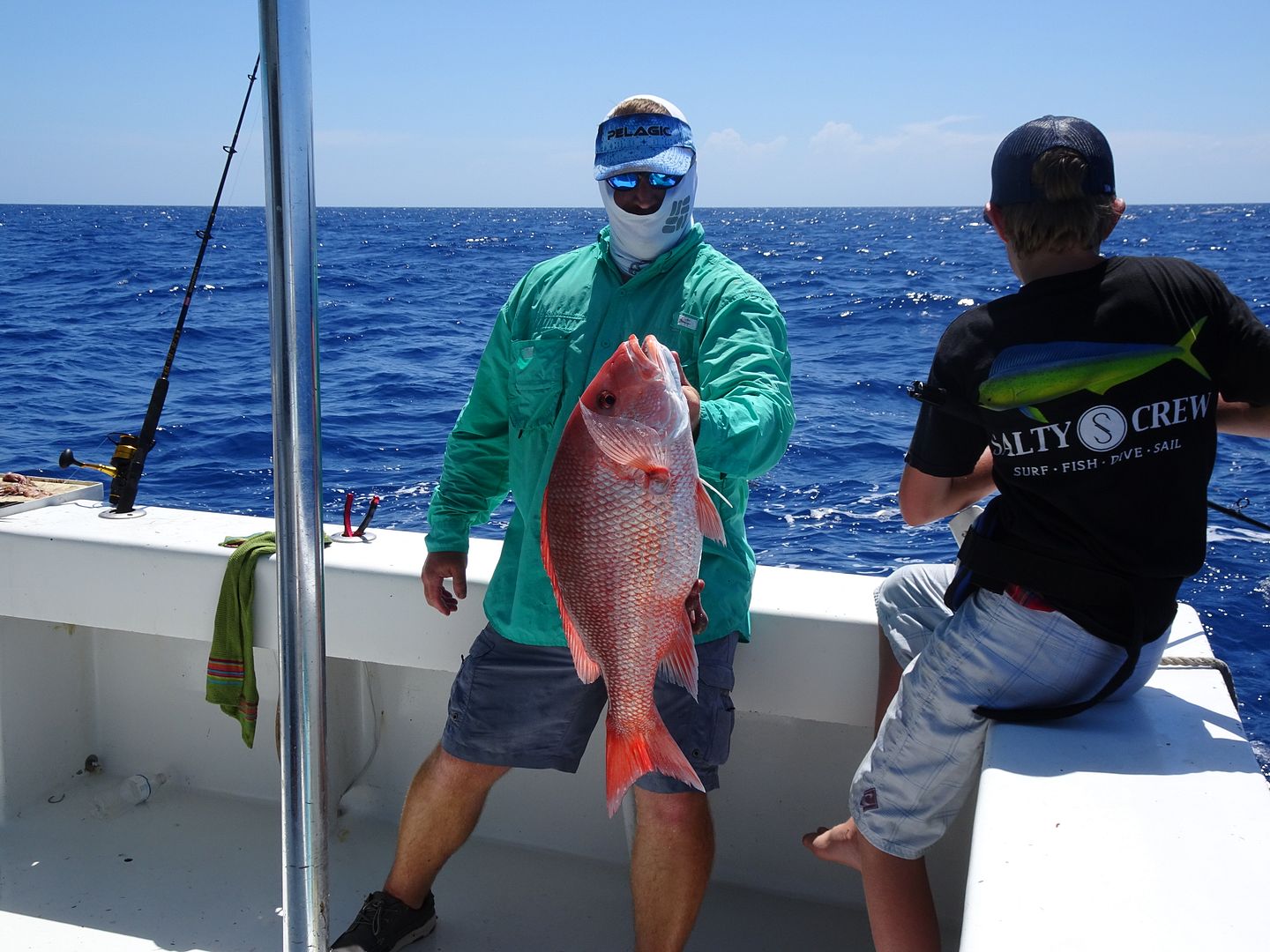 My Personal Record ARS. For these, I use a whole, head-on large shrimp. We had been lucky enough in 2014 to catch them but none of mine on that trip were this nice....... Little did we know, that the spinning rod to the right only had a few hours left to live....... RIP. :banghead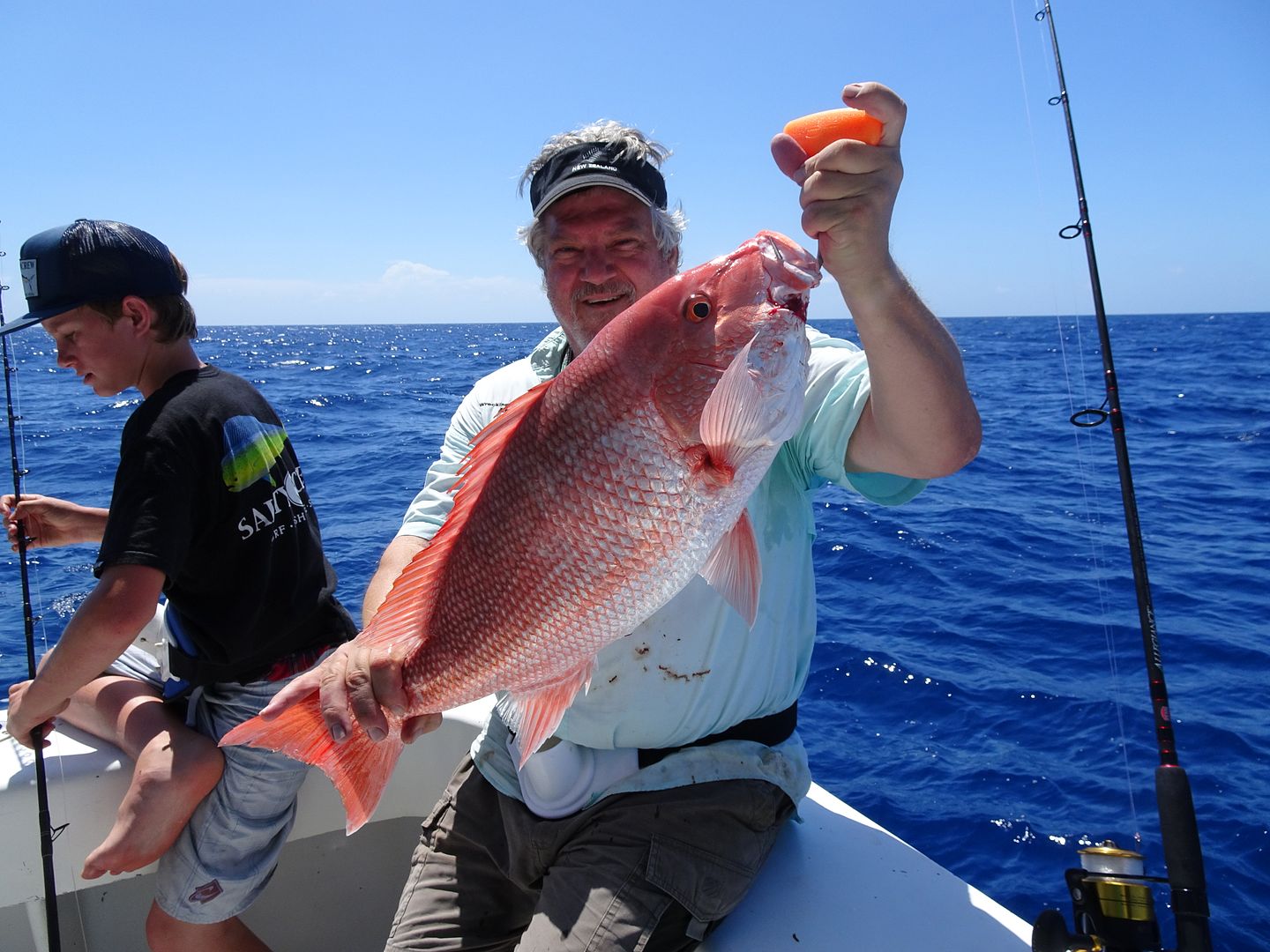 "Yuri, the box is overflowing from so many big fish," I said. "No it's not. Start having the guys push the fish in nose first," he replied!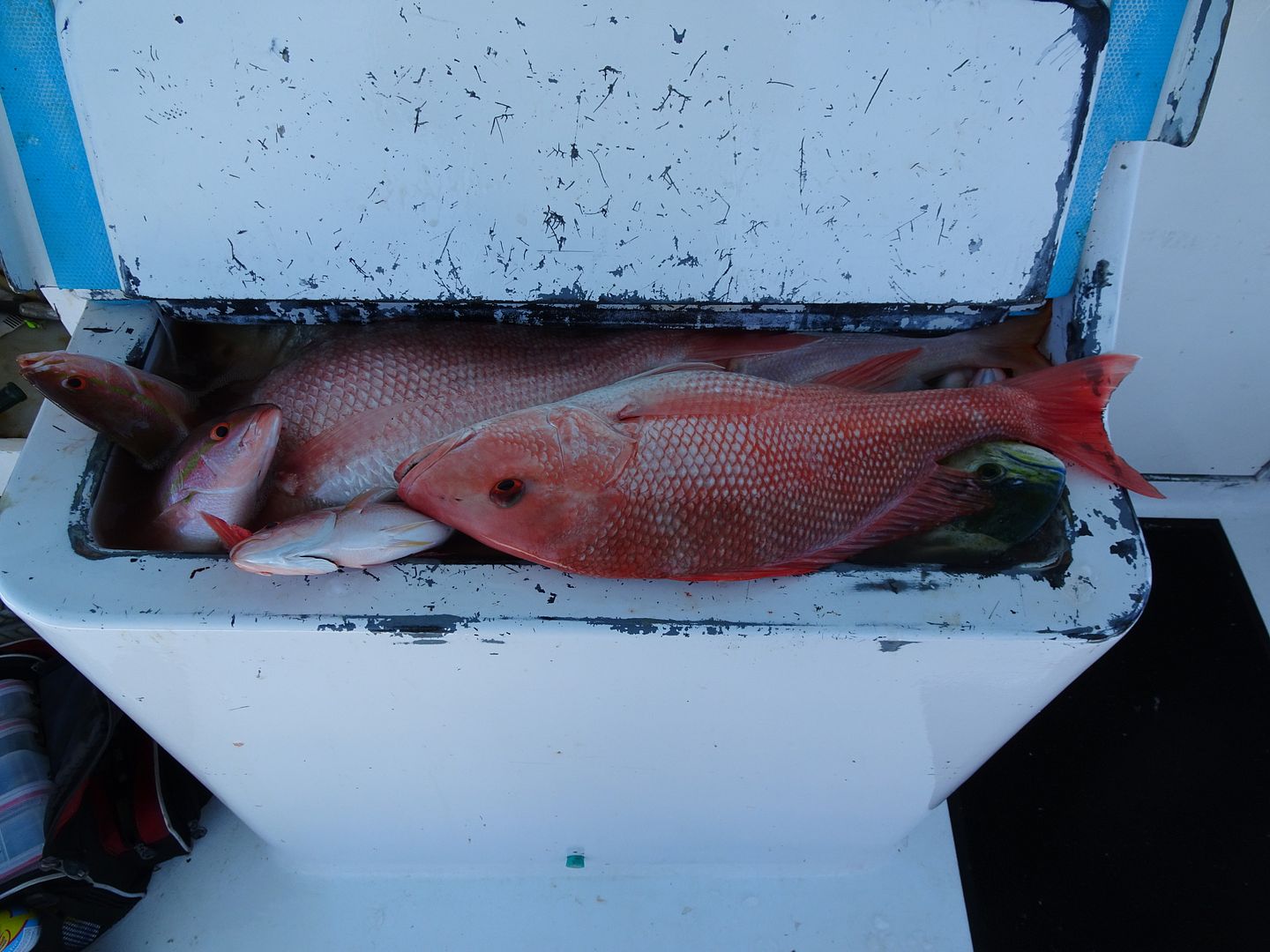 Like father, like son....... but it may be more like the other way around with Luke!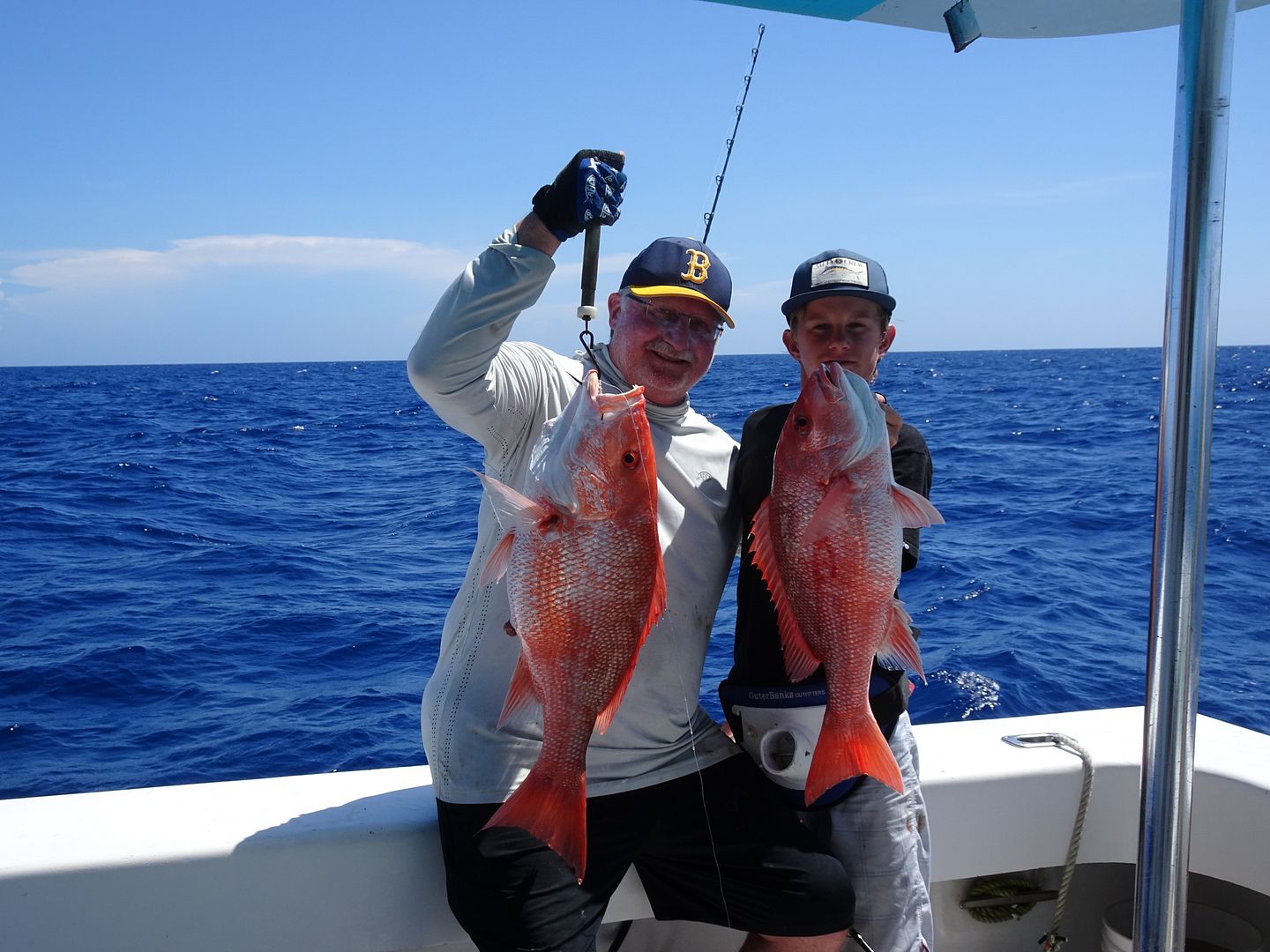 Keeping an exact count, we had finally caught our 12 ARS so Yuri loaded up the first barrel to haul up to his huge ice box on the bow. Jim says that he's happy that he was invited to come along. I can't figure out why!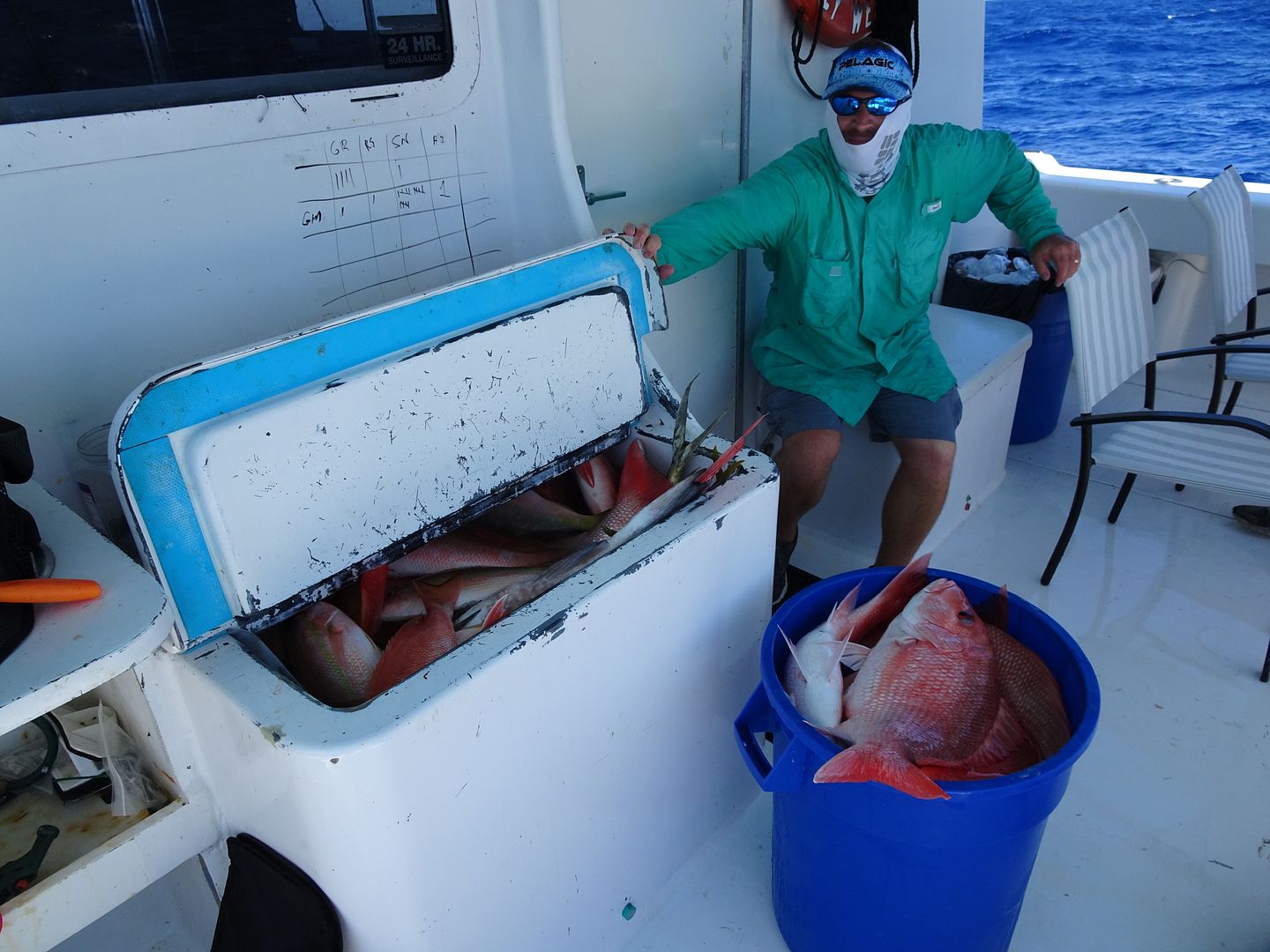 We moved back in a bit shallower and started yanking in more Muttons, etc. With a nice one on, it slowly got a LOT heavier and I may have grunted out a low, "Uh oh" as the fish moved slowly off, pulling drag that was already pretty well cranked down on my 25 pound Penn spinner. Here's where I learned a $200 'lesson'...... I put the rod in the rodholder right before the 'fish' moved toward the bow and then under the boat. This not only bent the rod down, but 'twisted' until it snapped with a loud
POW
! :hairraiser
I was not surprised but it was the turn in under the boat that was too much for the rod, even though line was still pulling off the reel. Okay, reel in the line at least. I soon realized that 'something' was being pulled in and that the line itself never broke! Well, it's not much of a consolation, but at least a Mutton was still attached!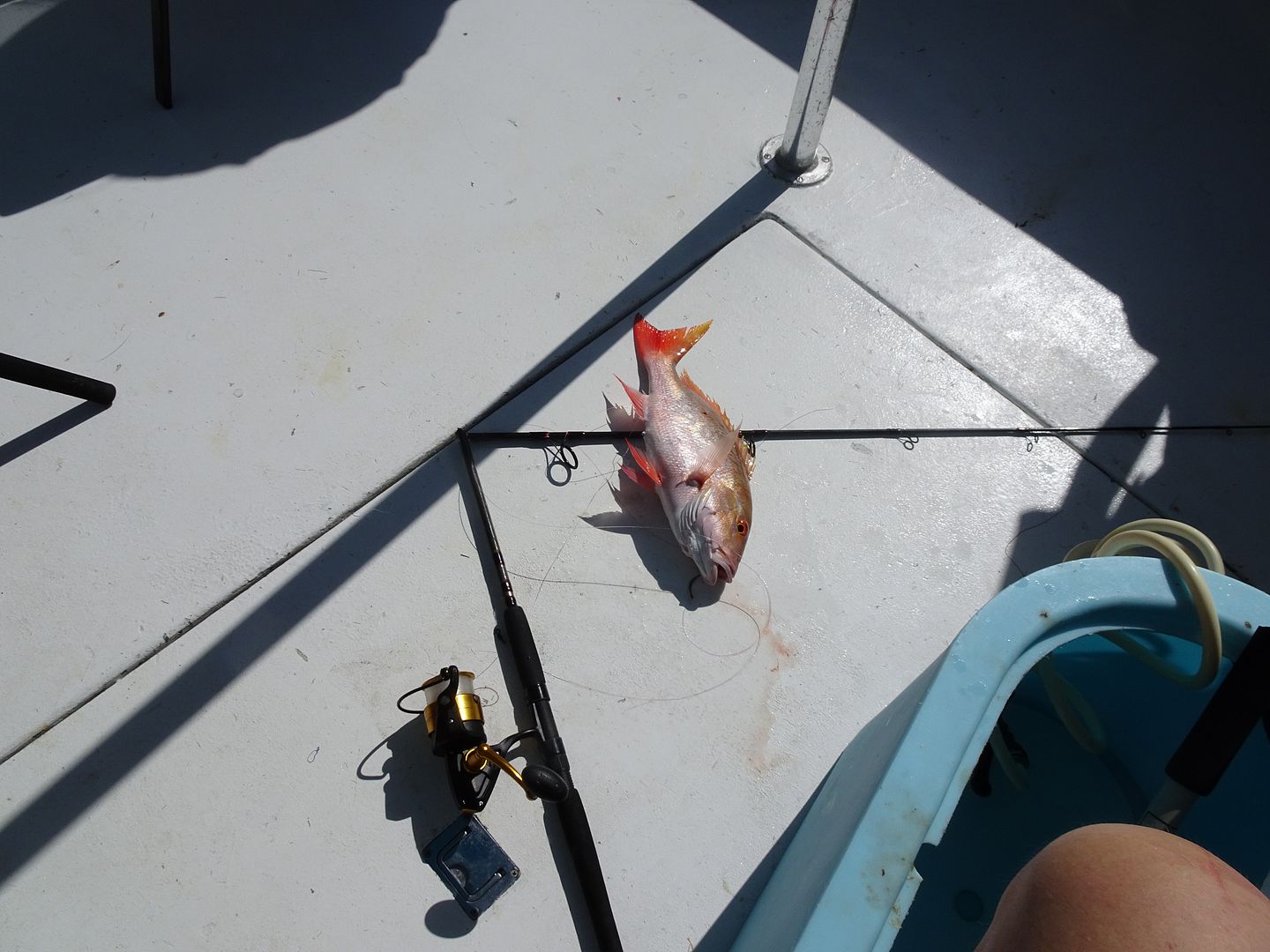 Obviously, this Mutton was inhaled whole by a huge Grouper (Goliath like Luke's?) and when the rod snapped, the vibration down the line made him spit out his meal. The scales on the Mutton were all roughed up....... Time to go shopping!
Here's Rick with the trip's (and his new Personal Record!) nearly 20 pound Black Grouper! Wow, very nice Rick!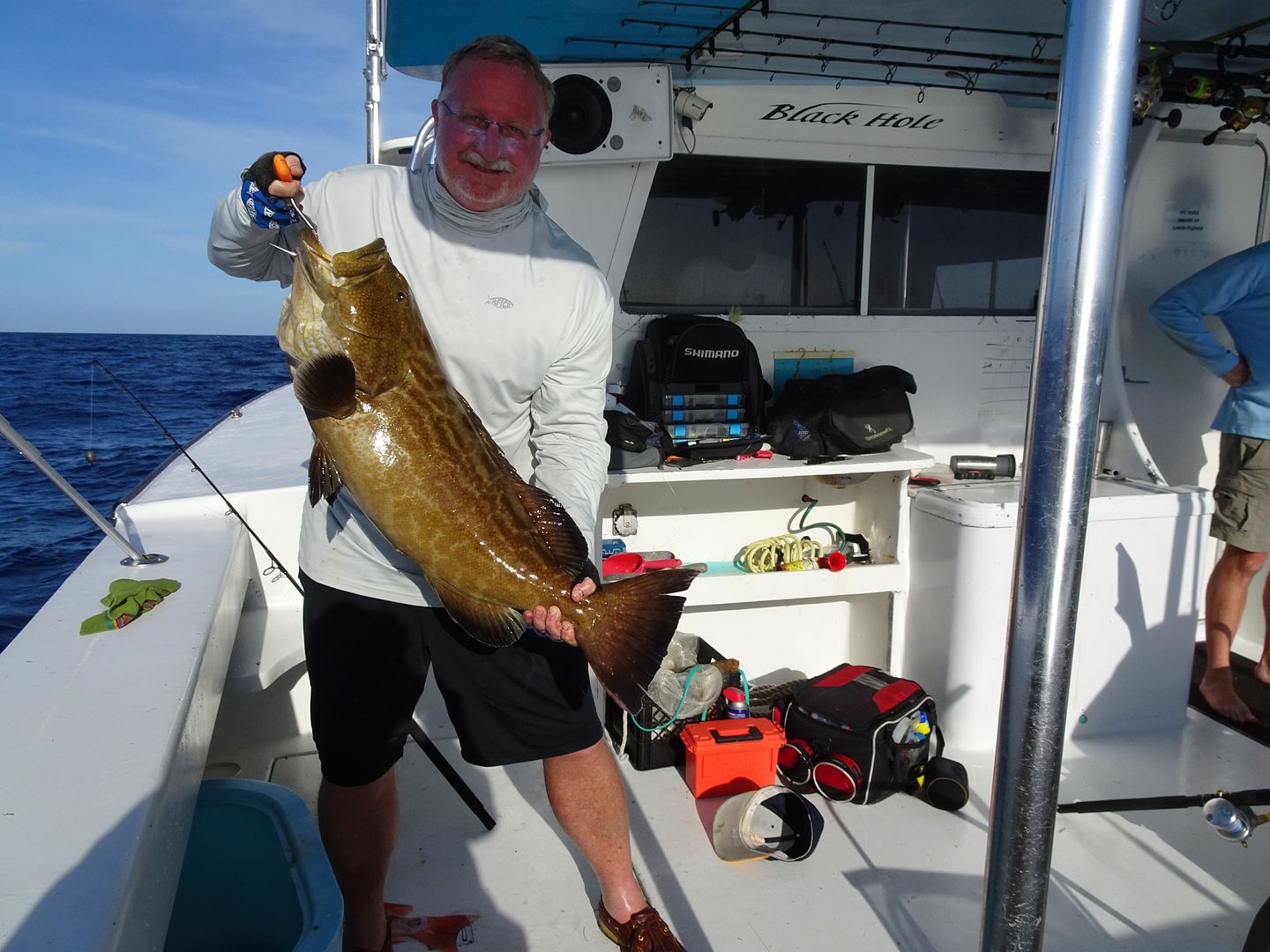 And here's Thomas with his Personal Record, 16+ pound Mutton Snapper. The record for this trip as well. Awesome Thomas! His first Capt Yuri trip too! LOVED it! Behind Thomas is the handy, built-in drink box that Yuri added a few years back. Very nice and a good place to sit as well.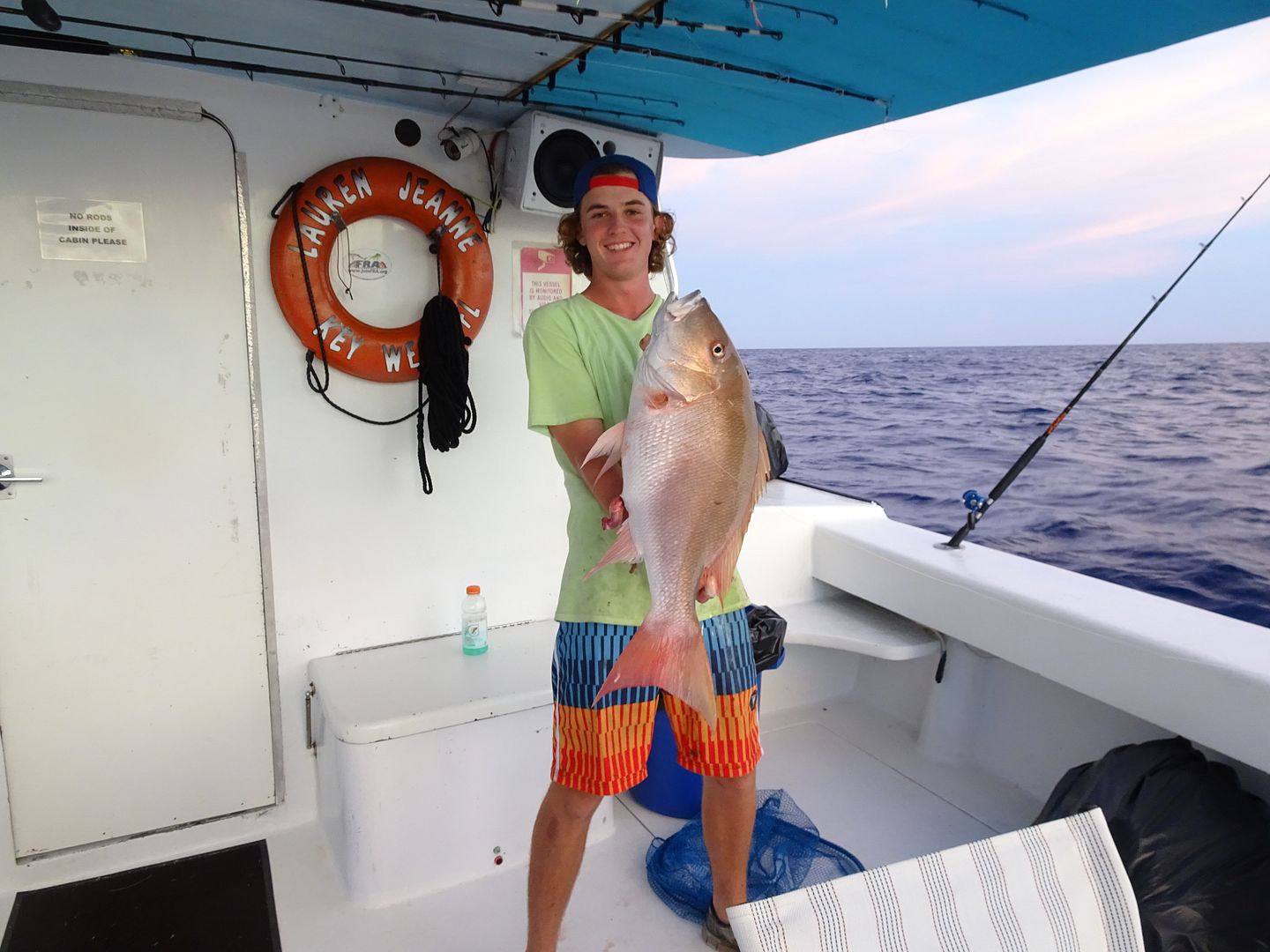 Dinner that night was fresh fish, potato salad, cole slaw with pineapple and cookies for dessert! On the left, Luke wanted TWO fresh fish sandwiches and he made fast work of them both!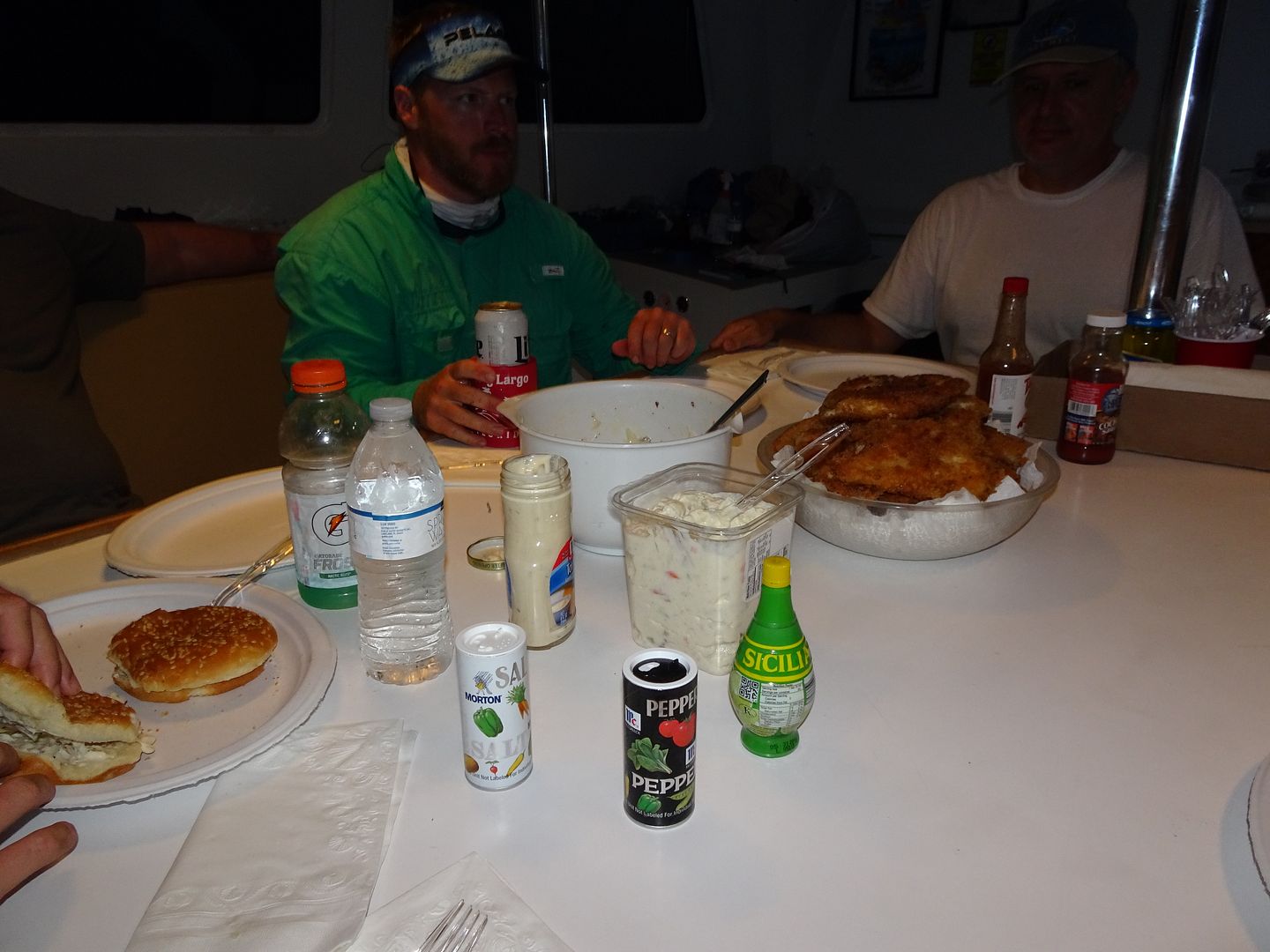 A few hours before dinner, I was taking a short break in the salon when Jim came in with a fresh water, plopped down and said, "I've hit
The Wall
"......... meaning that he was starting to get a bit worn out from the nearly non-stop action! Happens to us all on most of these trips! That's a feeling that very few anglers will ever experience....... getting physically worn out from catching so many big fish over such a long time frame!
Me? I have another trip in just four more weeks and my third just three weeks after that and I really need to hit not only the treadmill but the weights to lose a bit of weight and gain a bit more arm strength! :willynilly This is not some casual afternoon fishing trip!
On both night, we had a LOT of flying fish around us! Many flew right into the boat! One went right by my head! They were a gorgeous, bright yet dark blue! Great bottom baits!
Jim and I planned another Dawn Patrol and were out on deck at 0530....... only to find about a dozen bodies on the deck! Notice how nice and clean Tom once again left the cockpit again before he and Thomas peeled off to bed! Thanks!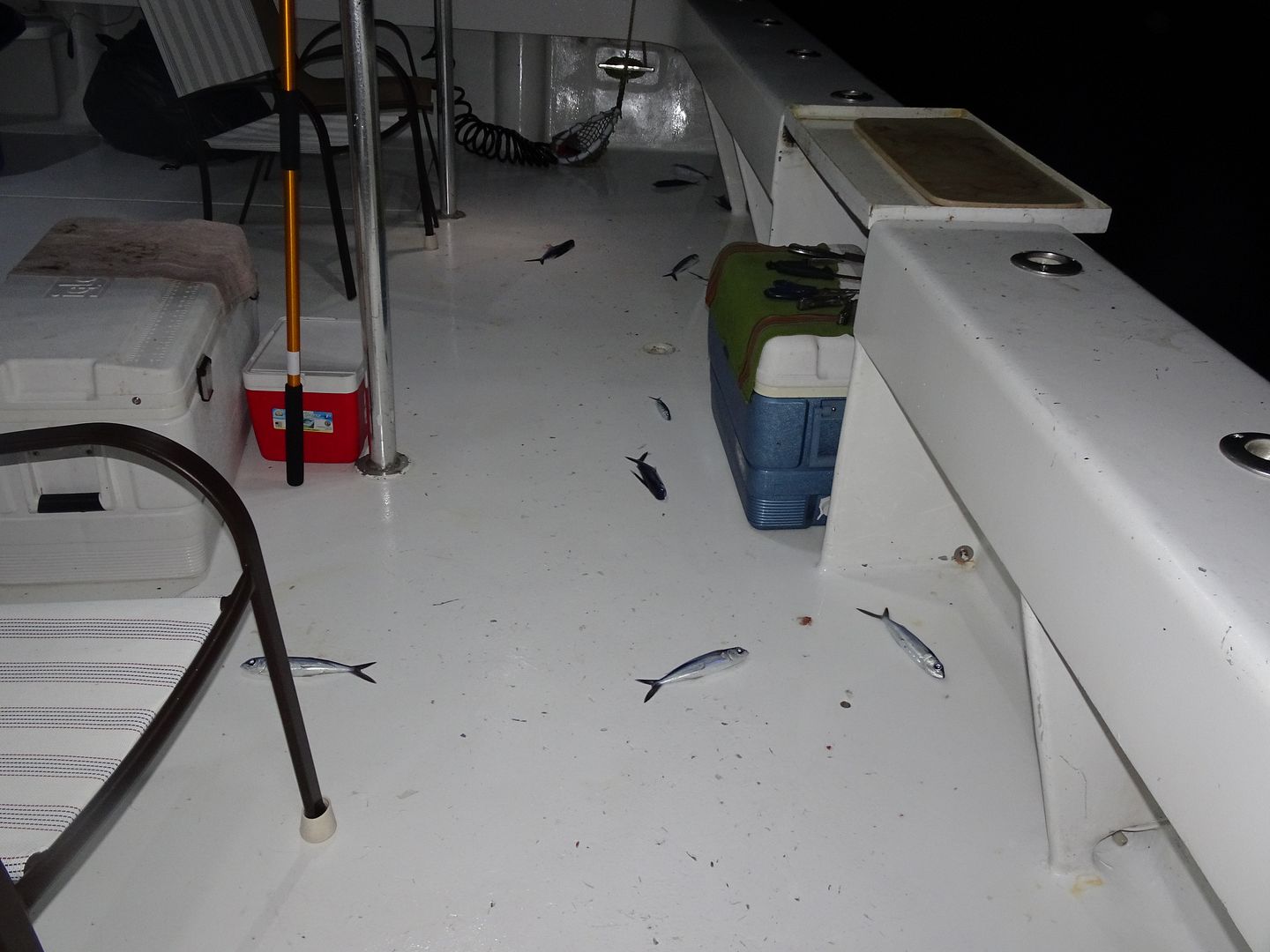 During WW 2, our USN subs would run on the surface at night in the Pacific to charge their 128 batteries. The batteries powered the subs under water during the day. Right before the dawn dive, many Commanders would send guys out on the deck (the subs were 312 feet long so a LOT of flat deck area!) and they would collect the many flying fish laying there and take them below. The cooks would then prepare them (not sure 'how') and they would be served to the crew for breakfast! So, yes they CAN be eaten! Gorgeous little fish!
With Jim and I enjoying our own private Capt Yuri trip on deck early Sunday morning, Jim pulled in one of the nicer (but few) Mangrove Snappers. They may show up in bigger numbers on the next trip...... same with more/bigger Yellowtail Snapper.
After sunrise, my little buggy whip/jig/shrimp combo produced yet another very nice (and FUN to catch) fish with this 28 inch Red Grouper...... There was this small, orange handle gaff on the boat and after we found it, it was a great tool to use to help hold up fish for the Photo Op. I'll get my own little gaff when I go spinning rod shopping.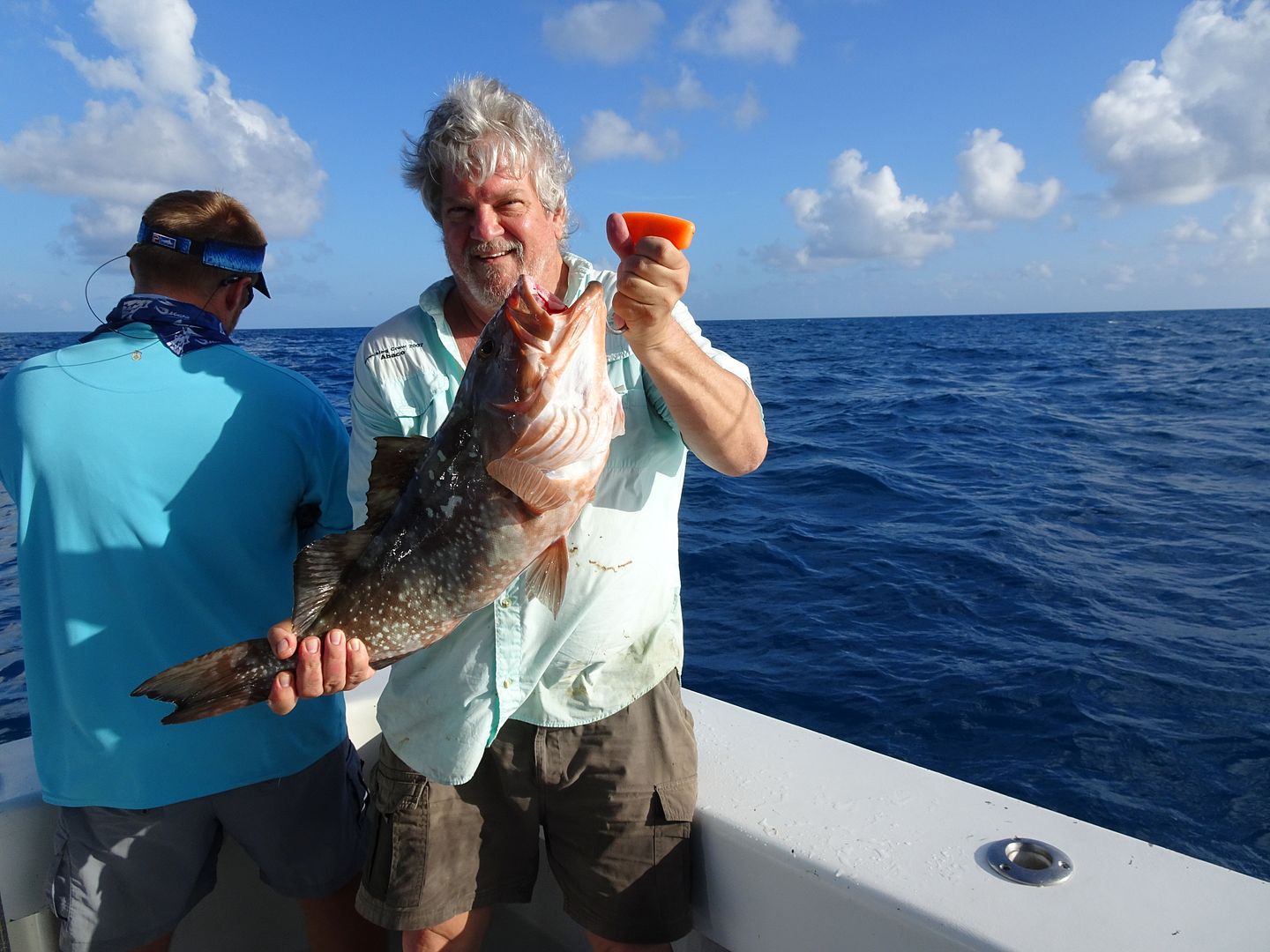 A bit later on Sunday morning (our last), we hear Tom and Thomas both laughing! Turns out that this Grouper grabbed one bait and ran right over to grab the other bait and the fish was hooked by both baits! This truly was a Father & Son effort! I'll probably see a copy of this photo hanging up at Tom's house some day soon!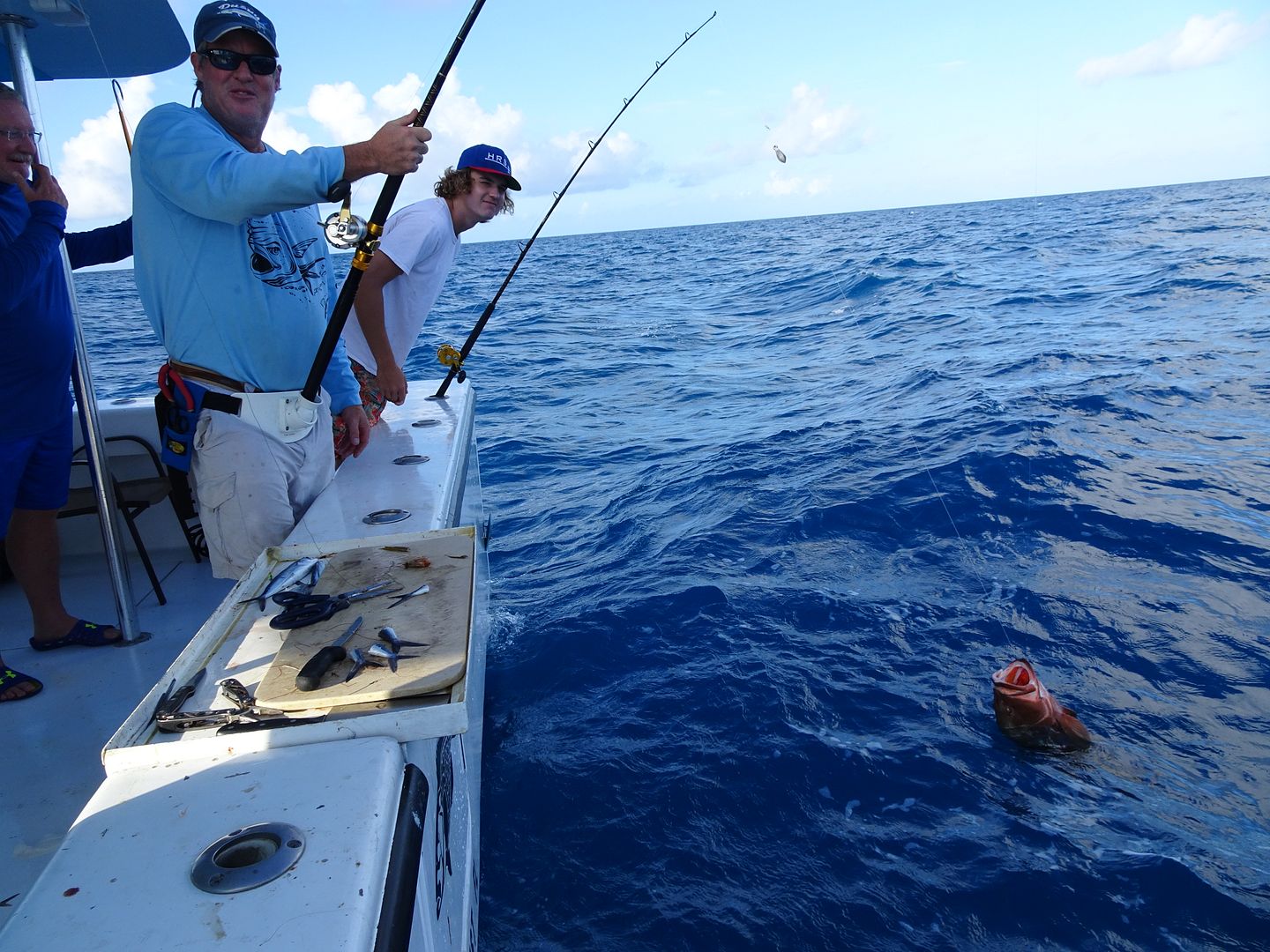 A it was a nice Red Grouper too!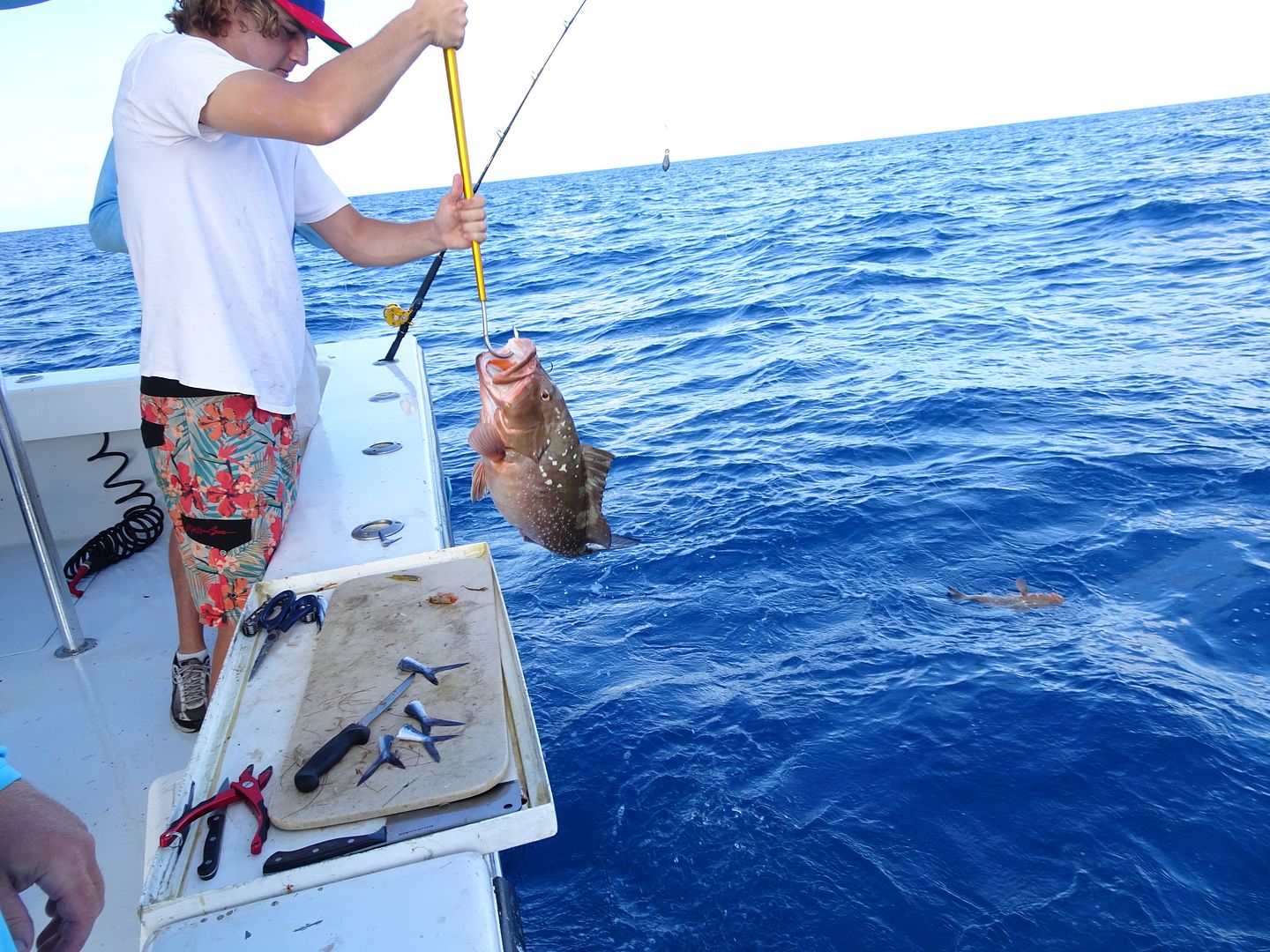 "Can you help me drag this barrel to the ice box up front?" Yuri asked me. You can see the unique tail of Jim's Scamp Grouper on the left.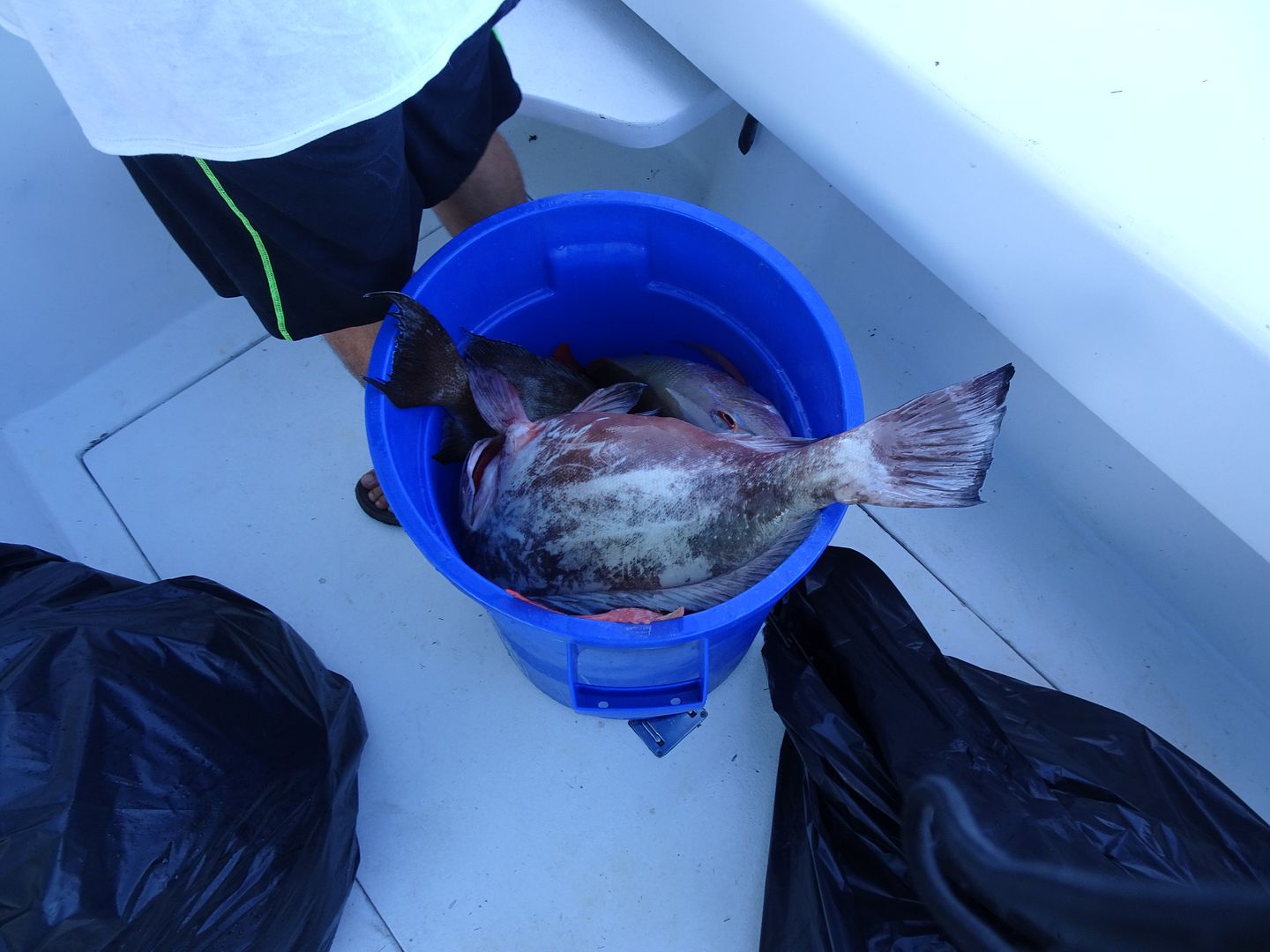 Once up there, I saw how Yuri stacks the fish on one side, covers them in ice and then has access to the other half that holds clean ice to then bring back to the cockpit in the same (now empty) barrel. Great system, very organized. This huge ice box was added by Yuri a few years ago.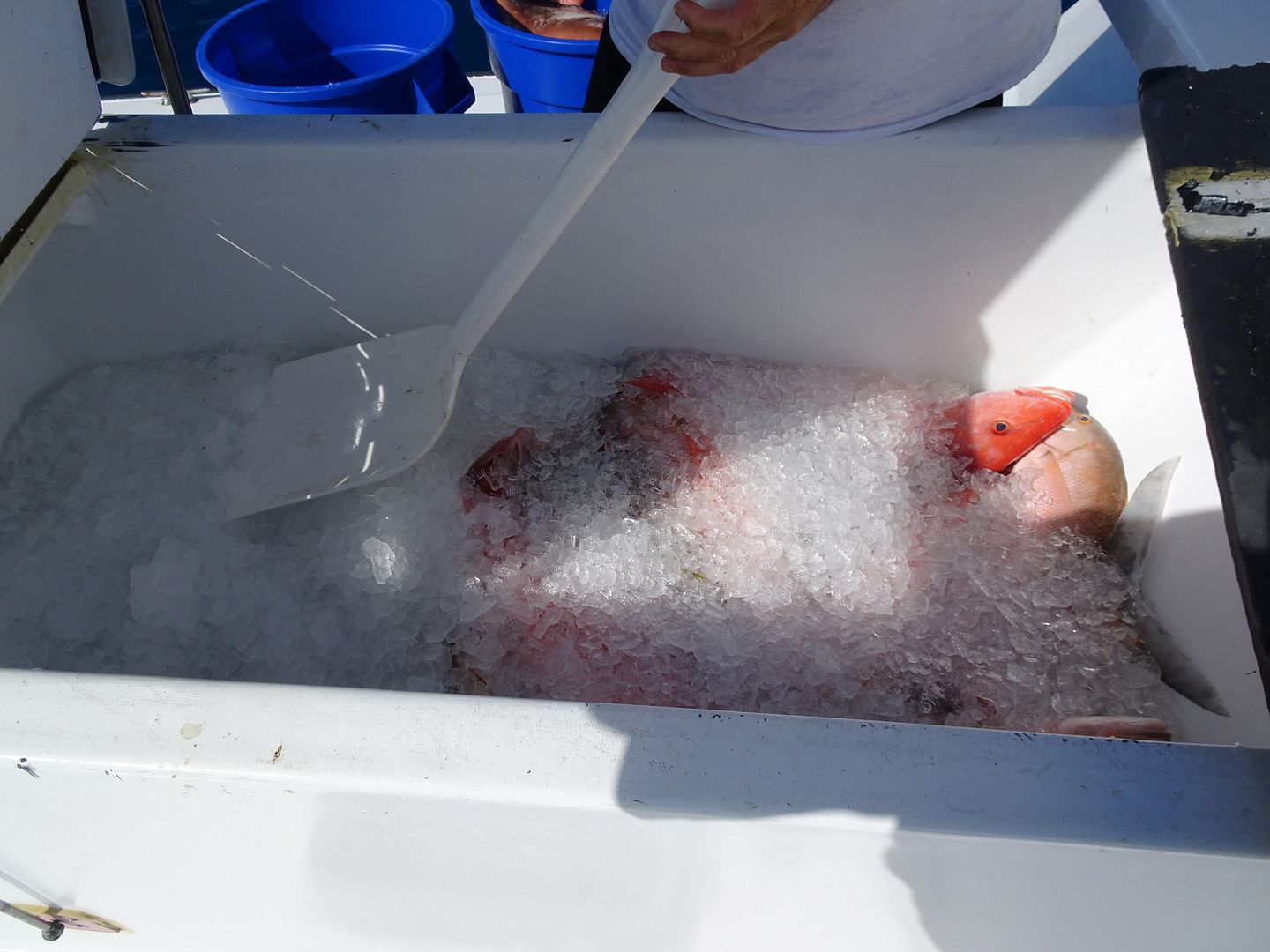 With fishing slowing, it was time close to time to pull in the lines for the 5 hour run back to the home dock on Stock Island....... just east of Key West...... Time to go Tom and Thomas!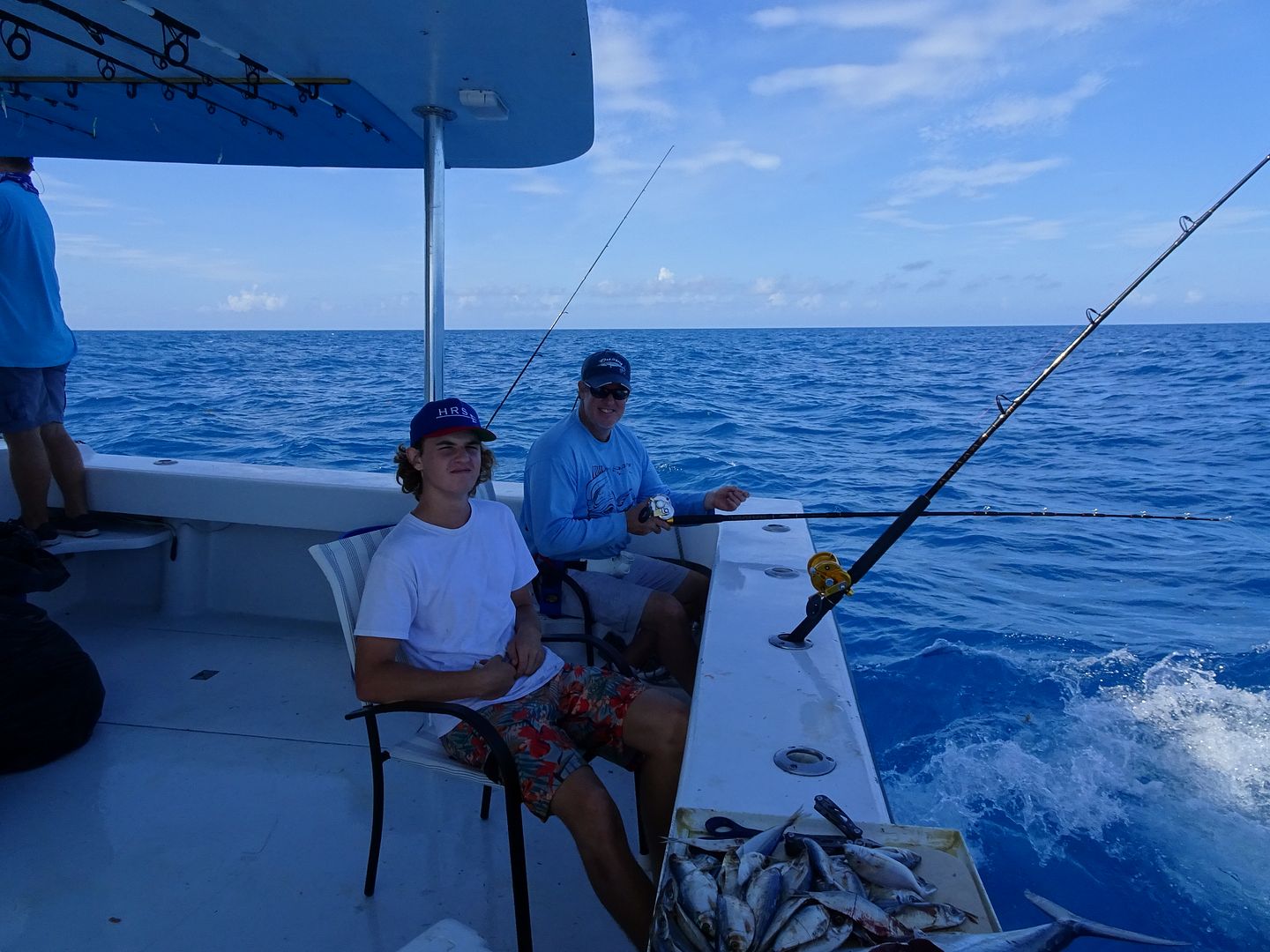 Back at the dock Sunday afternoon, the real 'work' began. We pull all the fish out of the forward fish/ice box first and we use the 'barrels' to sort of judge the size of the haul..... all with keeping aware of the various fish quantity 'limits' while we are fishing.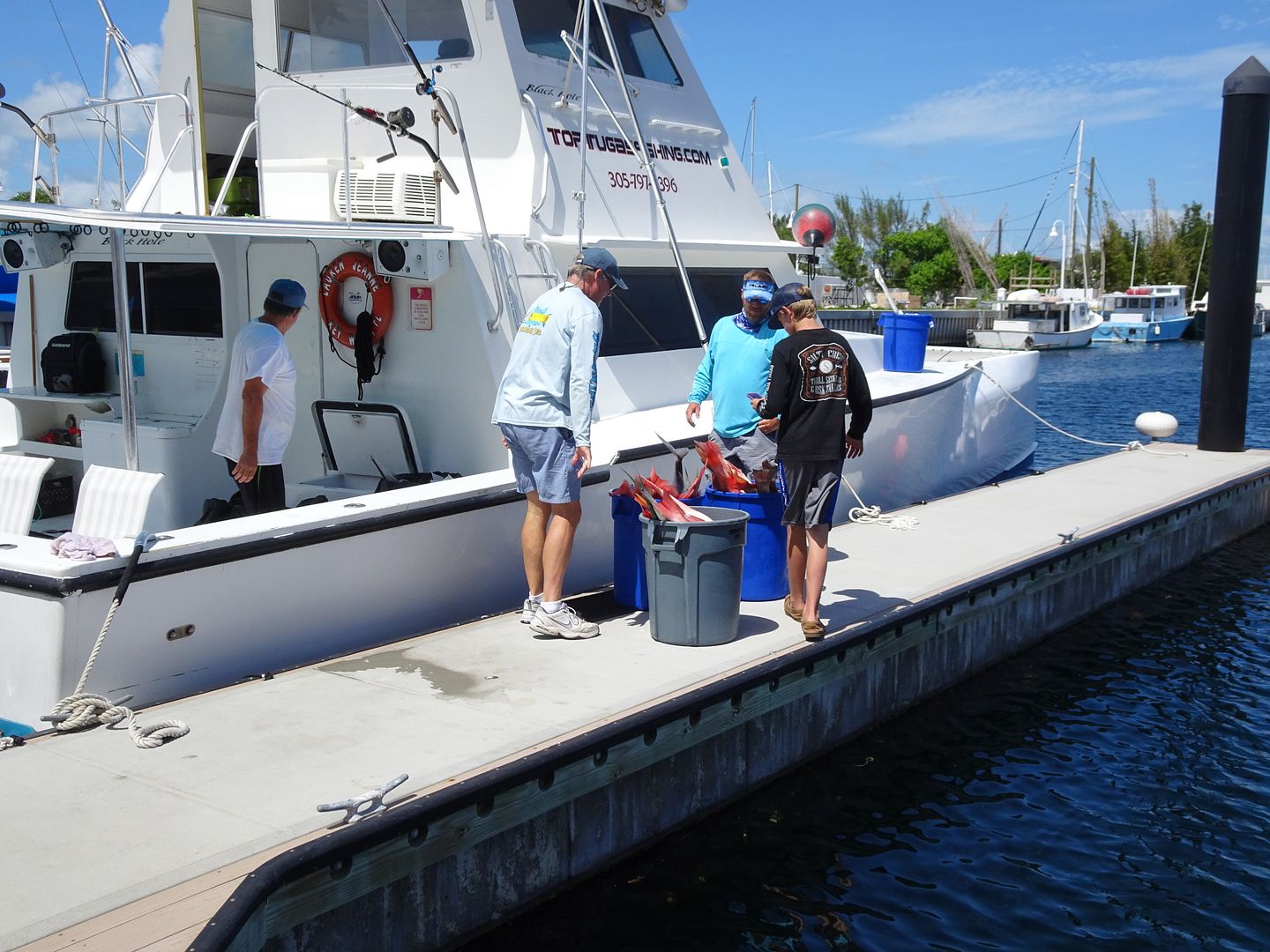 The fish are heavily iced the whole trip and we try to keep the fish in the shade and with more ice on them as we begin to clean them. We do NOT pour them out on the concrete for the 'Group Photo'! :nono We prefer to keep them cold! Here, ice is being added from a barrel to the other barrels of fish.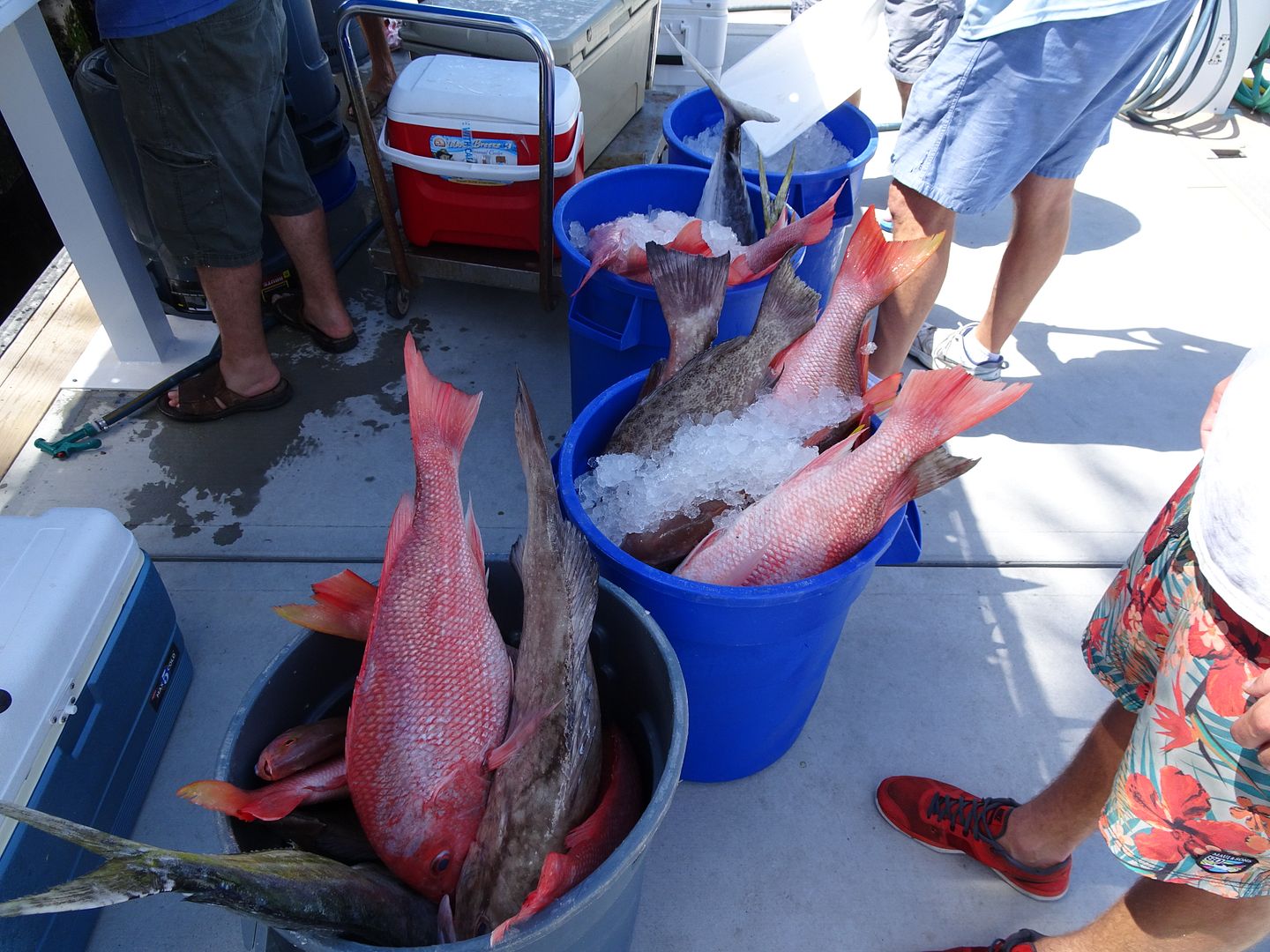 For some reason, the boys were more interested in catching the big tarpon right there!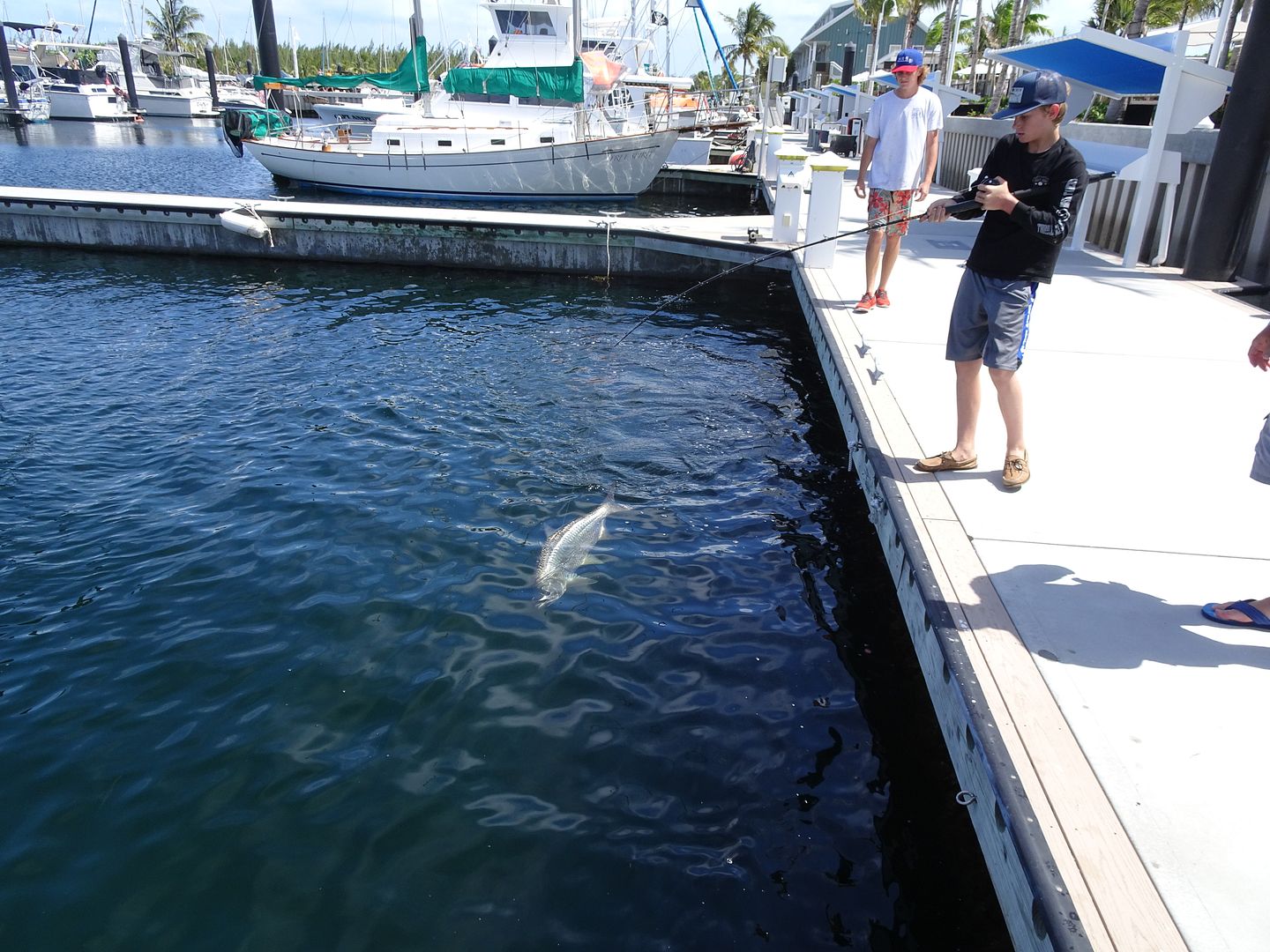 Right before I handed the African Pompano to our local fish cleaning buddy, 'Stevie Wander' to clean, I wanted this last photo with the "Lauren Jeanne" behind me. I'm pretty sure that name, in ancient Latin means, "
Fishing Machine"!
Notice the 22 foot beam, the hard top with rod holders below.....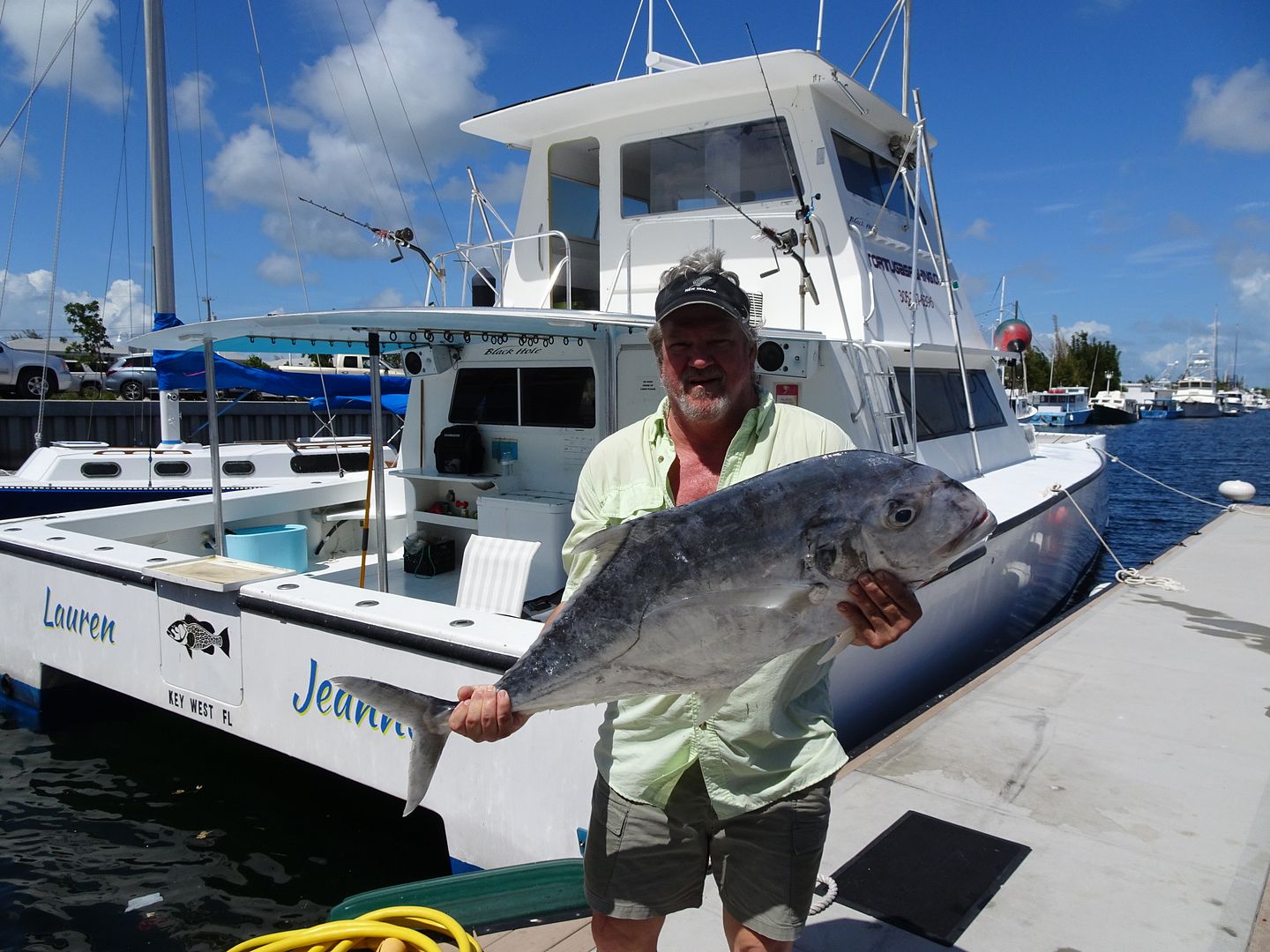 There is a very nice, long cleaning table right there. Here's Stevie slowly cleaning the AP. The new hotel right behind the boat also shades the cleaning table in the late afternoon! Many people from the hotel came by to see all the action! Even the hotel Chef came by with a big bag to take a few carcasses back to the kitchen! Maybe Fresh Fish Chowder was on the menu later? :huh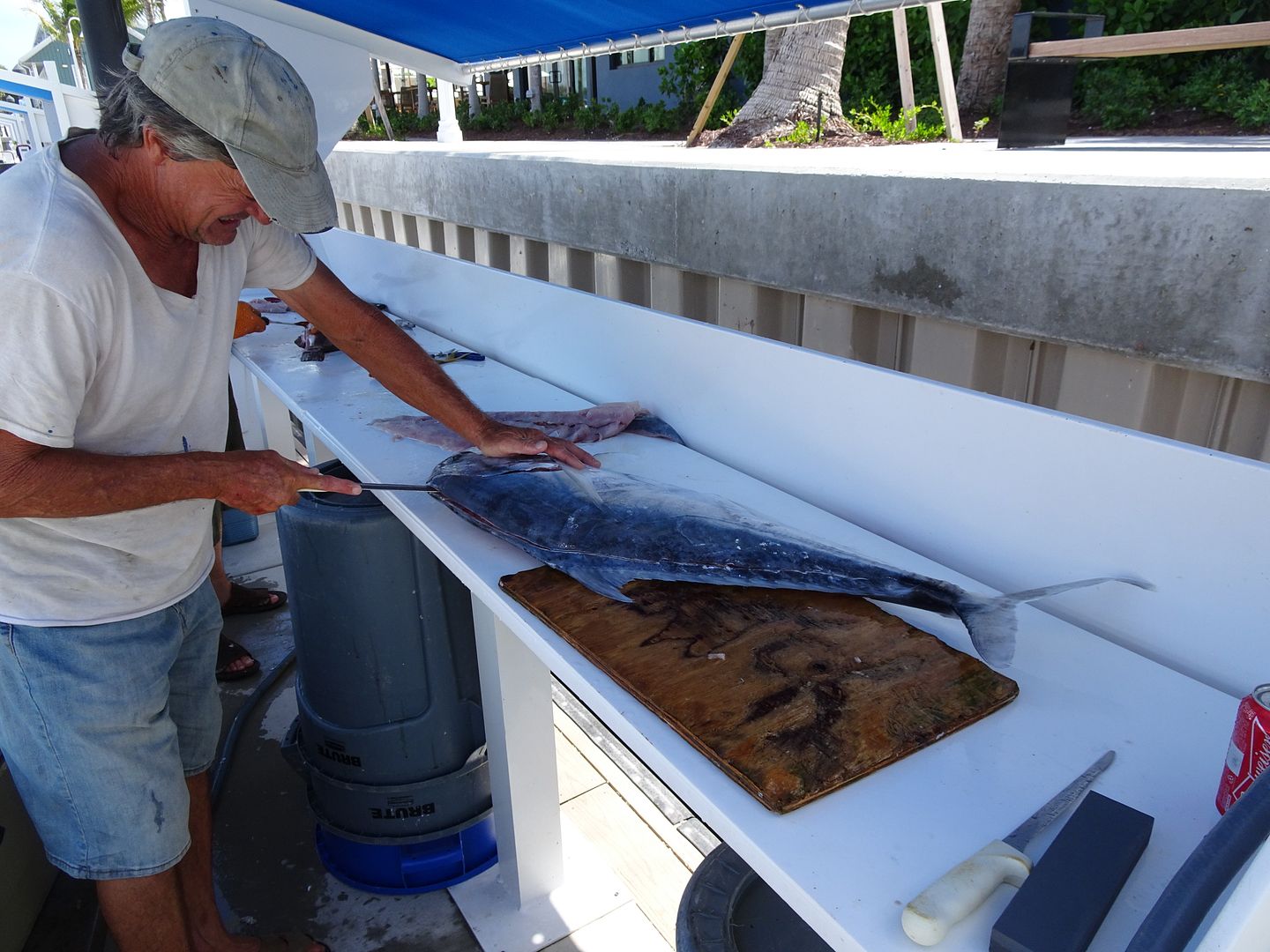 We've done enough of these trips to know how to efficiently set up our cleaning, labeling, bagging, vacuuming and icing down the bags and bags of vacuum sealed fish. We layer the sealed bags with ice in an empty cooler. Once we are done cleaning, we clean off the table and stack the bags by species, then we distribute the bags into our own coolers, add more ice and take them home to freeze up. We are pretty careful how we handle the fish from the time it comes over the side until we get home........ We all brought home 20-21 bags of fish. Enough for about 75-80+ individual meals. Do the math when fresh Grouper at the store is running at $20+ a pound! These trips pay you back for about half of your cost!! Does playing golf provide that? Can you eat golf balls? I'll stick with fishing!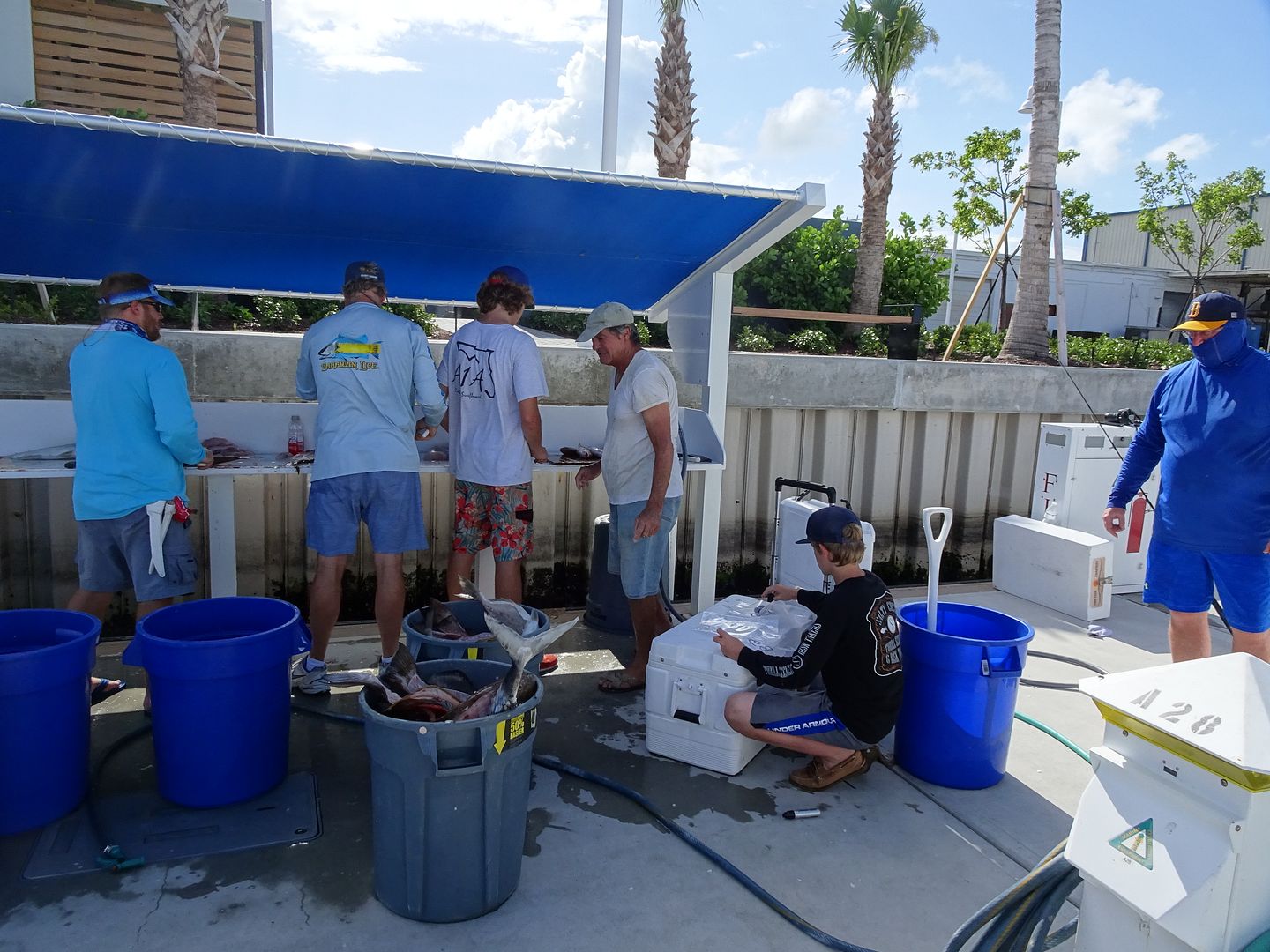 Yep, the boys love to fish!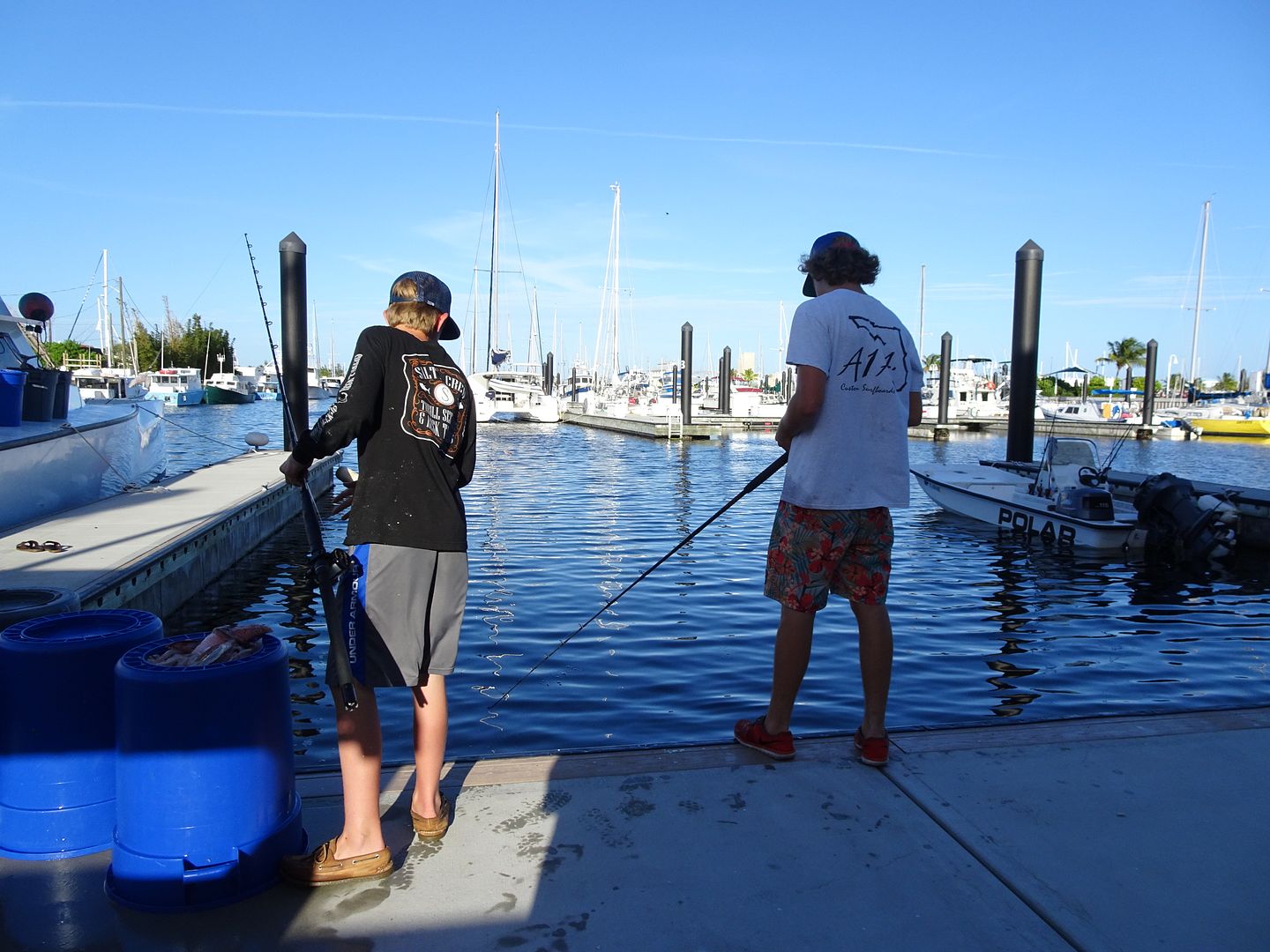 Stevie and I did the 'math' on our haul. He and Yuri figure that a barrel full of carcasses equals two barrels of whole fish. We had a bit over three barrels of carcasses plus Stevie added in the many carcasses that were taken by the chef and another lady and said that we had about 7 full barrels of fish....... maybe a bit more!
We caught: American Red, Mutton, Yellowtail, Mangrove, Yellow-eye and Lane Snapper, a Yellow Jack, Red, Scamp, Goliath and a Black Grouper along with a couple of Dolphin, some big grunts (my breakfast this Saturday with Jenn!) Porgies, White Margates, a King Mackerel and even a hound fish and a Queen Triggerfish...... and no doubt a few more species! :willynilly
A BIG thanks to the Crew! Tom and Thomas, Rick and Luke and newbie (no longer!) Jim who nicely drove down and back! This might have been the best Capt Yuri trip for any of us! But when asked on the dock by a friend, "How did you guys do?", Yuri replied "Pretty good"! I can't imagine what a 'very' good trip would be like!
A huge 'Thanks' goes to Yuri as usual! He takes very good care of our Crews, to always put us on the good spots, yet to carefully to never over fish any spots. When fishing with him you will never have to measure a fish to see if it is 'legal'!!
Sorry for the long Report but it was just too Epic not to bring you all along with us! I think that Jim will add some more photos and comments here so check back later........
Just over 4 weeks and Tom and I will be back for Trip #2! Full Report to follow! :fishing
Make sure to check out Yuri's big web site for more photos and info. Book a trip and GO! You can count on me to fill a spot! And I'll bet that Jim will go too!
http://www.tortugasfishing.com/home.html