Home
›
Ten Thousand Islands General Fishing & The Outdoors
Great bite lately!!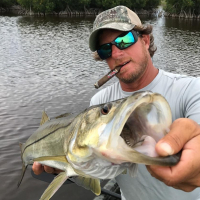 Joe Snook
Posts: 463
Deckhand
The Snook bite has been great when fishing with bait But they are hidden in small places on certain tides but there are plenty of them. The problem actually catching the really large fish is I have been finding Snook in tight areas so it makes a 20# fish challenging to land. A few Tarpon are around but they take some time to find a steady pattern has been a challenge like most fish this time of year with the changing weather. Triple tail have been good but again time and focus must be put in the biggest problem catching a specific fish this time of year is jumping around, let's try this and let's try that. Focus on a mission and stick with it and you'll be successful.
Here's some fish from the last couple weeks.
Super Bowl Sunday I went out to fill the bait pen and get some triple tail with a friend and I got this slob
almost 30 inches
Jimmy p. Got himself one too, we saw 4 and caught 3. Tear Em Up!!
Sent from my SM-G930V using Tapatalk
southwest florida fishing guide in the beautiful 10k islands, everglades and more
www.Joesnook.com