Home
›
Big Bend General Fishing & The Outdoors
2/12 CR fishing with the wife.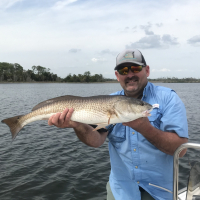 Wishin i was fishin
Dunnellon Fl
Posts: 936
Officer
We made a fairly late start having low expectations after the full moon and cold front. But things started out pretty good for me landing 4 nice trout rather quickly up inside the river.
She got an under slot trout and a legal mangrove then it slowed down and the boat traffic increased. Thinking the tide should be getting right soon to go hunt reds we made our way though some shallow stuff and got set up on a oyster bar. Brandi struck quickly with a 19" redfish. Then while I continued with some casting practice I hear her drag screaming again. She brings up a nice chunky 24" fish.
With our redfish limit filled we spent another half hour or so in search of a few more trout. But came up short there.
In all a very nice trip with the wife. We got plenty for a couple fish dinners.