Home
›
Sportsman's Kitchen
Spanish Mackerel - good eats!
FinestKind
Posts: 175
Deckhand
Caught a couple Spanish Mackerel while drifting with live pilchards over the Haulover artificial reef, nice fight on light tackle!
As usual since I planned to eat the fish, I prepped them for the table. First a stab to the brain and then slit the gills and let them bleed out in the live well before icing them down.
Back at the dock, I cut off the heads, scraped off the slime (no scales on these fish) and filleted them leaving the skin on.
Back in the kitchen, wrapped two of the fillets in paper towels and wrapped the paper towels in foil and placed them in the fridge to "age" for a day. (As I usually do with most fish I catch)
The other two fillets were salted on both sides then placed skin side up on a rack with a pan underneath the catch any juices. The rack was placed in the fridge uncovered to "cure" for 24 hours.
This removes a lot of the moisture and firms up the flesh....changes the texture totally.
Its a traditional Japanese method as explained by this cutie here:
[video=youtube_share;D0OaknSxYNE]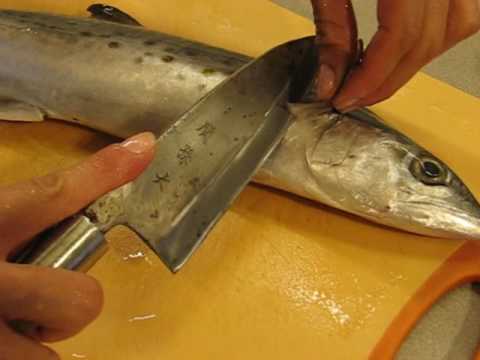 http://youtu.be/D0OaknSxYNE[/video]
The next day, both fillets were arranged on a grill rack and broiled for 5 mins without turning the pieces.
Here is a pic before broiling, the "cured" pieces on the left were cooked as-is, the "normal" pieces on the right were rubbed with evoo, salt, pepper, sesame seeds and a bit of garlic powder.
I gotta say the traditional cured pieces done lovely Misa's way came out GREAT!
Wifey preferred the seasoned "normal" style however...but that's not the first time we disagreed about something...lol
I will be doing Spanish this way again for sure!
Len
Finest Kind