Home
›
Southeast General Fishing & The Outdoors
1/25 BBI Late afternoon troll... nothing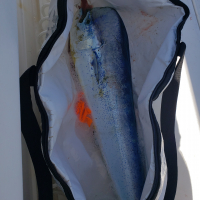 JWPB
Posts: 262
Deckhand
Skipped out of work early and cleared inlet at 3:45 planning to troll for kings early and wahoo at sunset.

Fairly calm nice day clearing the inlet and started putting out artificials around 70 feet. Headed ESE out of inlet and saw the birds emoney talked about and got distracted. I was fishing 2 diving lures on flat lines(Manns and Yozurri) so they were 15-25 feet down, then 3 top water. Zero current till 180ft or so, 2-3mph heading north on east side of 200'.

Around 200' there was a weedline, was mostly grass but some sargasso mixed in. Enough to foul the lures. There was bait under the weed line but never saw anything chasing it but gulls. Birds were everywhere, multiple flocks up and down the weed line.

I could not resist the birds and trolled by a few times with nothing but weed. Wind picked up with scattered whitecaps. Nothing bad, but enough to make it hard to see fish breaking surface if any there. I cruised east and saw a tuna jump around 350' but only saw the one, circled a few times and nothing. I did not go out to 650 where they usually are since a late start and I had already deviated from my plan to stay shallow and try for a king.

Waves were 3-5 in deeper water, but longer period and not bad at all. When I headed back inside to 65'-100' it was much less comfortable into the wind with a 2' chop beating me around with spray over rail often.

After sunset, 75' just off BBI I saw a fast moving wahoo jump moving to the SW. My baits were no where near it when it jumped but I circled a few times, I was going faster now with only 2 yozurri bonitas out and no action. Probably a 20 pound fish, nothing huge, but was close enough I could see the tiger stripes even in the limited light.

Not a terrible day, but has been a while since I've been skunked. Had a heavier jacket with me and was happy to have it with the spray and wind.
Jupiter 29FS