Home
›
Southwest General Fishing & The Outdoors
9 tarpon and 11 snook tonight...
kmagnuss
Posts: 3,237
Captain
The water was on fire tonight with all the tarpon acrobatics. It was non stop action for the first 2 hours of the incoming tide... at one point I jumped 3 tarpon in a row casting in the exact same spot. Water temp was 69 degrees and the fish were hungry... maybe because of the high winds lately? Who knows, but it was a blast. The bad part is I can't get one to the boat if my life depended on it. Went 1 for 9 tonight. That's pretty poor. I bent 4 hooks on fish that were around 30 pounds. I'm not using much drag but it seems that the hooks are bending on the head shakes... so here's my plan (since I don't want to stop using those hooks just yet)... I'm going to try a rod with some 10# mono to give it some stretch... that should cure the hook bending issue... but it will most likely make my hook sets pretty lousy. Worth a try I guess.
As for the snook... they were all over. Smallest was 22" and the top 4 were 28" with 3 27 inchers. The snook have been gobbling up the big 9" Hogy eels lately... and the pre-rigged ones don't fall apart after a couple fish like most jigs do... I used the one all night until I lost it on what I'm guessing was a small goliath that pinned me to the bottom. Super fun night... get out before this cold weather turns off the bite!
-Mag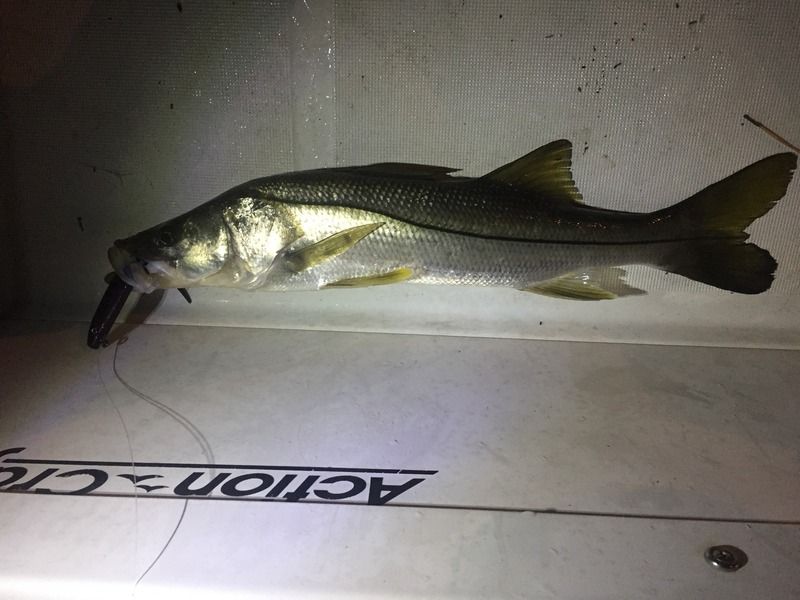 This is one after the hook flung out of a tarpon and it got me in the leg... it was a ninja tarpon!