Home
›
Ten Thousand Islands General Fishing & The Outdoors
Great winter Variety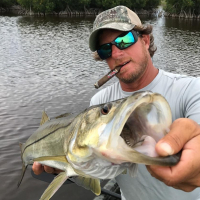 Joe Snook
Posts: 463
Deckhand
I've fished inshore and offshore in alot of different areas and regions around Florida and on thing that has me so in love with 10k is all the different species Inshore that can be caught consistently and actually be able to target. There are so many ways to catch the same species as well and different patterns they follow so catching doesn't really ever get boring.
This winter has been no different. as we know the the cold water makes for some slower days catching our favorite species like Snook, Reds and Tarpon even though I have had some great trips on those species this winter. Pompano, trout, sheephead and Grouper just to name a few have created some very good trips while the regular targeted species i found a Lil challenging to find or bite. We have had some absolutely Beautiful weather this winter as well I hope you all have been able to capitalize on fishing those days.
Tear Em Up!!
I Also had an opportunity to bring a news crew down towards Lostmans River and saw the dead False Killer Whales first hand. It's crazy to me to think these mammals come up with a specific location to go and just die, very wierd.
Have an Incredible 2017 Everyone!
Sent from my SM-G930V using Tapatalk
southwest florida fishing guide in the beautiful 10k islands, everglades and more
www.Joesnook.com