Home
›
South General Fishing & The Outdoors
Fishing report, Everglades -Flamingo, 4 January
lemaymiami
Posts: 3,444
Captain
This report is for the last few days of 2016 from the 26th forward. The very mild weather (so far) has kept the big tarpon around in numbers - but they were moving around a bit from day to day... We found good numbers of speckled trout whenever we looked for them - as well as the beginnings of the shallow interior shorelines sightfishing for snook and redfish.
As usual we found our share of surprises during the three days I had bookings... On that first day local angler Yuan Bing tossed a small topwater plug ( a Zara Puppy) and a laid down tree in Whitewater where we were expecting reds or snook... Five casts - no response...on the sixth cast a fifty to sixty pound shark attacked it so strongly we saw about six inches of its back in the air.... Needless to say after a short while that plug was history (and somewhere there's a five foot plus shark with a souvenir in its lip..). We did find some big tarpon later that day but all of our baits also went to sharks... Moving back inside Bing finally scored a really nice 33" snook that weighed 10lbs on the Boga before being carefully released.. Here's a pic...
[img][/img][img][/img]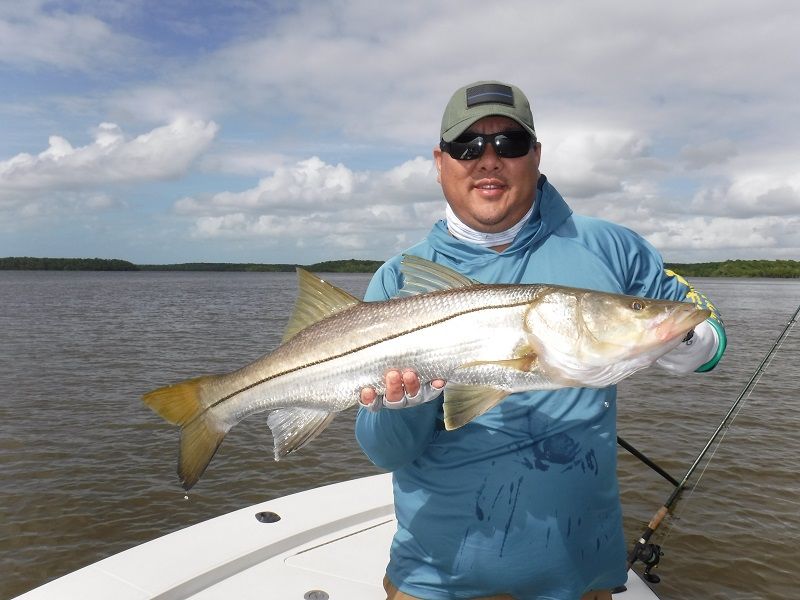 The next two days found me struggling a bit with fly anglers the second day (finding a few reds and snook up really shallow, but all of them pretty spooky) - then a short day, more touring than fishing, as we ranged all the way north up to Highland Beach. That last day, with no one on board interested at all, we found ourselves surrounded by big tarpon up in a small Gulf river... They were there in numbers from fifty to well over one hundred pounds - just relaxing and hanging out...
This time of year I begin to fish both day and night trips (days in the 'Glades, nights in the big bay between Miami and Miami Beach)... The first shrimp runs have been reported now in Biscayne Bay so next week (when that all-important outgoing tide will be happening early each evening) look very attractive (still a few nights available...).
As I write this we're forecasted for a few cold nights so the giant tarpon will disappear from the 'Glades until we hit another mild spell. Their disappearance in the 'Glades will be offset by the great night fishing for small and medium sized tarpon in Biscayne Bay this time of year. All the while, dropping water temps in the 'glades will continue to move trout, reds and snook farther and farther up into the interior (Oyster, Whitewater, and points north on the Flamingo side of things - out of Everglades City/Chokoloskee the fish will be moving into the upper bays between Sunday and Alligator as well as points south...).
Be a hero, take a kid fishing....
Tight Lines
Bob LeMay
(954) 435-5666