Home
›
Big Bend General Fishing & The Outdoors
CR 12/24 inshore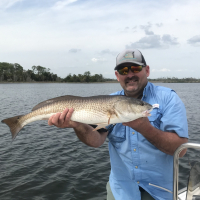 Wishin i was fishin
Senior Member
Posts: 984
Officer
Been a while since I posted. But December has been fairly tough fishing for me this year, I had 2 trips I got skunked. But things went our way this Saturday though. It was a beautiful day with a late morning incoming. Water temp in the mid 60's. I took out a friend of my wife's husband that is also a new neighbor, who's fished mostly freshwater in the past. We got on a hit and miss trout bite around some outside bars, landing 3 nice keepers and several shorts while we waited for the tide to get right. Then we headed inside to look for reds and got this nice 27" fish pretty quick.
so we continued working the area. As you know clear slick water requires a quiet subtle approach which isn't the easiest to do from my rig. We did spot a few other really nice fish as we spooked them off and saw some sheephead. I landed a small one. So after a decent attempt and the tide turning back out we took another shot at the trout and stumbled upon a small school of drum working the bar.
I hooked up to big slob and worked him in eventually as David kept casting shrimp trying to get his shot at one.