Home
›
Big Bend General Fishing & The Outdoors
"Fishing The Chazz" 10/25/2016

Ruff One
Homosassa
Posts: 2,021
Captain
Before I get into my Chazz fishing, we did have a grouper trolling outing on the 24th. We have been waiting patiently for some decent wind and some calm seas. Monday looked like the day. It wasn't real bad, but just not an ideal day to troll in my size boat. With the wind picking up as the day progressed, we ended up staying shallow no deeper then 14ft. We picked up five groupers all just short of the take home number.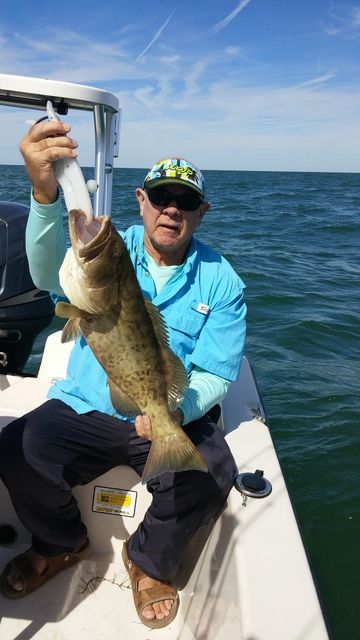 We tucked our tails between our legs and headed in. After loading the boat we stopped at Old Mill for chicken wings and a few adult drinks. We were drowning our fishing sorrows when I get a text from Windsplitter (Duane) wanting to know if I wanted to fish the Chazz today. Well, I am not going to turn down that invite. My spirits went from low to high in a heart beat!
Met Duane at his house, loaded up his new Gheenoe and headed out to fish an incoming tide. It always a pleasure to fish the Chazz. It's such a maze of creeks and back water, and they all look like a redfish is waiting around the next corner.
Duane was fishing with his super secret redfish lure(I thought I heard rattletrap?) and his rod bends over. After a fight that has the red circling the gheenoe about 10 times, he finally boats a nice 30 in fish!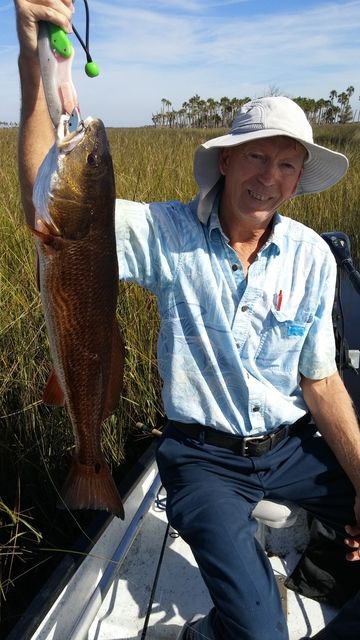 We move on and I finally score with a gold spoon in weedless form. Man, that hook guard got me out of the weeds many of times.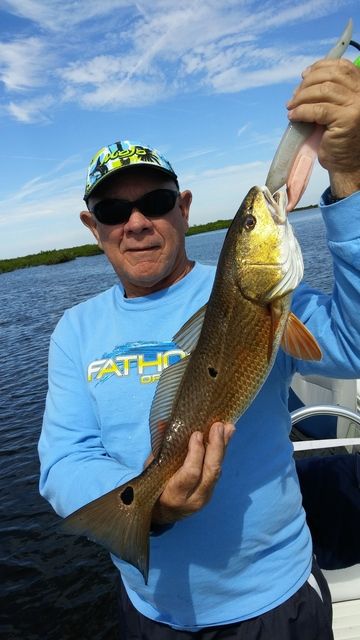 We went on to end up with our limit to take home. Duane did score on a snook, but he could never find a trout and the slam wasn't to be. The Chazz always seems to produce good fishing memories and today was one of those times. Man, am I glad Duane called. On the way in we saw snook, some nice size ones up in the river. I guess maybe this last cold snap is moving them in.
Enjoy.
[SIGPIC][/SIGPIC]