Home
›
Tropics
OBB West End Relief Effort *Updated 10 Nov*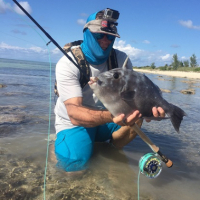 Docked Wages
Posts: 3,139
Moderator
Currently OBB is running daily flights through ICC out of Melbourne International Airport directly into the West End airport and will continue as needed. They are taking over donated supplies to those in need in the West End Village. Please donate supplies or you can donate to the gofundme account listed below.
If you have supplies and can not get to a drop of zone, contact me directly (321-537-80two8) to make arrangements for pick up. Thanks again as this will be a long road to recovery for the residents across all of Grand Bahamas.
Below is from OBB website:
We want to Thank YOU for the flood of messages of our friends and families of Old Bahama Bay / West End that have wanted to help in anyway possible. I am happy to say that that first plane landed at our private West End Airport this morning (October 8) with supplies. If you are coming by boat the marina is available. We have planes and boats lined up to take the much needed supplies. We have also started a campaign to raise funds to help the community.
Here is the direct link:
https://www.gofundme.com/OldBahamaBay
There has been some confusion on aircraft clearance for the relief efforts and landing at our private airport / West End.
All pilots please call Beth Watson (954-763-6382) with your tail numbers and we will get your clearance with government.

Our President of Old Bahama Bay has also set up a drop zone for donated supplies in the northern area of Florida and will arrange transport to the people in need.
Drop Off:
Monday - Thursday / 8:00 am - 5:00 pm
EMS / World Headquarters
7705 Progress Circle
Melbourne, FL 32904

Other Drop Zones:
KMC Marine
3000 Federal Highway
Lighthouse Point, FL

North Palm Beach Marina
1037 Marina Drive
North Palm Beach, FL

The Ways Boatyard
2180 Idlewild road,
Palm Beach Gardens, FL

Mark Wilson
USCG 100t Master, Assist Tow, 200nm Coastal
Marine Surveyor, SAMS, ABYC, IAMI, FMIU
Wilson Yacht Survey, Inc.