Home
›
Tropics
Quick West End Trip to OBB 9/09-9/11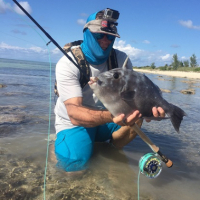 Docked Wages
Posts: 3,167
Moderator
The Balearia High Speed Ferry was running a 2 For 1 special this past weekend so Kris and I took advantage of this to get over to Old Bahamas Bay and stay in our condo for the weekend.

It was a pretty cool trip on the ferry especially since the crossing on Friday generated some sporty seas. After about 10 miles we reached 35 MPH and maybe gained a few more after that but I lost cell signal. The boat owners we talked to at OBB that crossed that day all said it was brutal and I know that at times is was tough to walk straight on the ferry. The ferry did offer some decent food and beverages to help pass the time.


We came into Freeport and rented a car from Brads to continue the trip to West End. We stopped at Solomon's to pick up some steak for the grill and a few sides for the weekend. Next stop was our typical ritual to hit Shebos in the village for some fresh Conch Salad.


The next morning we took out the SUP before any wind kicked up and I started to knock off snapper species on my way to a SUP SNAPPER SLAM on light tackle and artificial. Picked up a Mutton Snapper, a Mangrove Snapper and a Yellowtail Snapper.

Came back to watch the UCF Michigan game at Teasers Tiki Bar then hit the village again looking for fresh lobster for the grill. Met up with one of my local connections who hooked me up tight with 9 tails when I asked for 4. Now it was on to figure out how many dishes I could make with lobster by departure time the next day. Grilled Lobster, Lobster nuggets in herb sauce, Lobster Omelets and left over steak for breakfast and fresh lobster Ceviche rounded out the over indulgence of cholesterol rich meals.

Sunday we watched NFL pregame and the 1:00 pm games at the tiki bar before heading back to Freeport to return the rental car and board the Balearia Ferry back to Ft Lauderdale. Got into port around 9:30 pm but with a full boat it took almost 2 hours to get through customs and transfer to our offsite parking. Then with a two and a half hour ride home ( North near Port Canaveral area) we did not get home till 2:00 am. Needless to say I was dragging at work today but the trip was well worth it for a quick weekend get away. My pictures are all on my phone and I will post them up next.
Mark Wilson
USCG 100t Master, Assist Tow, 200nm Coastal
Marine Surveyor, SAMS, ABYC, IAMI, FMIU
Wilson Yacht Survey, Inc.