Home
›
West Central General Fishing & The Outdoors
Sunday Offshore Wahoo!!!!
releasegear
Posts: 718
Officer
My neighbor's son was turning 8 and wanted to go fishing, along with his 3 sisters. I decided to go alter and try to avoid some heat. The plan was to hit some grouper spots in 100-120 ft.
Threw 1/4 " inside CWP - loaded up with chummers and a couple dozen 3-4 " ones.Saibikid up some pins and runners by the tripod and off we went.
Generally i don't like grouper fishing after the full moon and today was no different. Managed a few shorts. However the AJs, and snappers provided non stop action for the kids.
About 5pm i was really up a grunt and something was right on him - holy crap a Wahoo! I missed 4 last summer , learned my lesson and now im always ready.
By the time I got the wire rod down and blue runner on he was out of site so i tossed him straight off the back - 5/0 circle hook, 12" of 90lb wire , 50lb flouro leader and 50lb braid on shimano baitrunner.
30 seconds later Wahoo explodes on the runner , shooting out of the water like a missile. He made 2 serious runs before I was able to work him to the boat and put the gaff in him.
Wahoo - 56.5" 44lbs
4 mangos, 8 Vermillion
[video]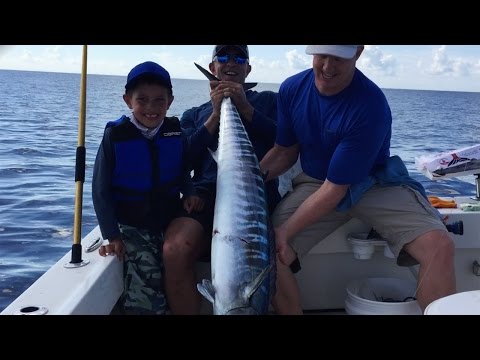 Mike Wilhite
- Fisherman/President
Born Offshore Gear
www.bornoffshore.com
'Performance Fishing Apparel'