Home
›
South General Fishing & The Outdoors
fishing report, Flamingo, 2 August 2016
lemaymiami
Posts: 3,097
Captain
We only got out one day this past week on Saturday. I was fishing with Hector Silvera and his partner Luis on Hector's boat to show them a few spots and get them started fishing the backcountry. At dawn we made the long run across to the coast and found a few fish here and there on small lead heads with Gulp tails, catching and releasing speckled trout, ladyfish, jacks and snappers. We did hook up three nice snook - here's a pic or two....
[img][/img][img][/img]
Luis, with his second snook of the day
[img][/img][img][/img]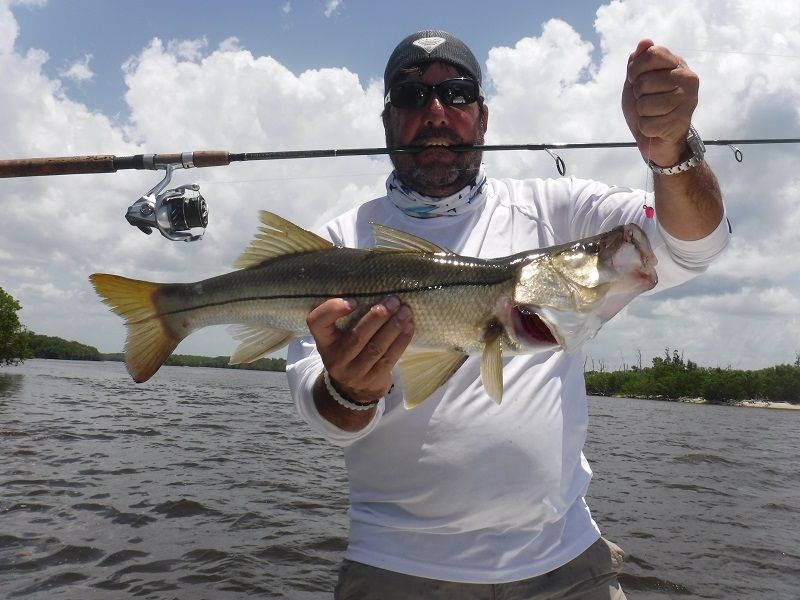 Hector with another nice one - both carefully released
We also had a few shots at tripletail in fairly shallow waters but the only one we hooked was able to pull the hook before any picture was taken.... That day it seemed as if the lures out-fished the live or dead bait wherever we went. Mostly, any live bait got jumped on by the many sharks (bulls, lemons, and blacktips) we encountered -they were everywhere. Our last attempt with bait did have a different outcome.... the bait (meant for a redfish) was picked up in less than three feet of water and it was game on. We could see pretty quickly that this wasn't a shark but were puzzled until right at the boat a big sawfish bill broke the surface. Hector did a great job of keeping the eight foot long (that's only medium size... sawfish get much, much bigger...) fish from hitting the boat with it's rostrum (that bill on the end with all the teeth...) until we could take a photo or two and release it... This pic should give you an idea of its size... Because of the net ban here in Florida more than twenty years ago, sawfish are coming back strong - more and more of them around every year.....
[img][/img][img][/img]
Don't know if the photo will show it but every tooth was in perfect condition (a bit unusual for sawfish since they attack their prey with that big saw...), it was very carefully released.
Towards the end of the day we retreated back into the many rivers that drain into the Gulf near the Little Shark river and kept working those lead heads at every spot. Hector hooked up on a nice tarpon (estimated at around sixty pounds) that did its best to spool him while jumping as it rocketed away. After two runs and a few more jumps the fish tired of playing with us and easily tossed the jig on its last jump... That's tarpon fishing with jigs - it happens all the time (but not before getting everyone's attention...).
Every day we move closer to the 1 September start of snook season now and the fishing keeps getting better. Very soon we'll switch from lures to live bait (I keep two nets on my skiff just for late summer/early fall) and things will just get hotter....
Be a hero... take a kid fishing !
Tight Lines
Bob LeMay
(954) 435-5666