Home
›
Southeast General Fishing & The Outdoors
SLC 10-28-2011 Plane Fish N and Crew..VIDEO ATTACHED!!!!!
Plane Fish n
Posts: 6,439
Admiral
The Plane Fish N left Sandsprit at 7:15 am with the most awesome crew::thumbsup
Eric (Plane Fish N), Dan (Reel C's), Jerry (Lucky Us) and Sean (Shoeless).
After 3 quick tosses of our cast net, we had about a dozen and half of beautiful finger mullet and headed offshore. :dance
We were greeted by 2 to 3' seas that were between 3 and 5 seconds apart... a little sloppy. :banghead
When we hit 100', we put out a spread of skirted hoos. 2 were on the outriggers and 2 were flatlined behind the boat.
We also put a yellow and green squider about 20 feet in the prop wash.
When we hit 150' we were on a solid weedline and decided to troll north and south to see if we could pick up a phin. NADA! :shrug
About 10 minutes in the troll, we bring in our first BFT on the squider.
Then, the left rigger goes off and it is a sail. He jumps several times and although there was no slack in the line, he spits the hook. Bummer!
We troll a bit more and in the next hour, bring in another 5 respectable sized BFT's.
Just before 11:00am, Irving the Sailfish (Psycho Freddies brother) is on and running. Running so much , that I am in danger of being spooled despite the drag being set beyond the strike.
All of a sudden, Irving takes a turn for our boat and I recover all my line. :beer
After about 25 minutes or so, Irving is boatside with his head on the gunwale and the hook is expertly removed. Irving is then revived (not really revived as he was still VERY GREEN). :willynilly
I had a video all worked out and after almost 2.5 hours of working on it, I kept getting some errors and it wouldn't upload. :cry
Stay tuned for the video.
Hope everyone had a great day and make sure you keep "tight lines."
Cheers
Still had problems with the video as many of the action shots wouldn't load up so be kind.
At 3:45, the second sail was on and we de-hooked and released him at 5:03.
Enjoy.
[video=youtube_share;q8e0pNn73eg]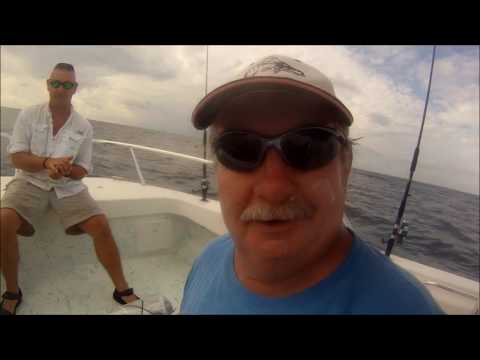 Eric
PLANE FISH N