Home
›
Ten Thousand Islands General Fishing & The Outdoors
Tortugas May 19th-22nd
ediemike
Member
Naples, FL
Posts: 46
Deckhand
The makeup for this trip was me, my friend Mac, and my father (and his boat). We wanted to be in the park for three days (Friday-Sunday), but tried a new approach this time by leaving the evening before. We will definitely be doing that from now on. We had plenty of time to catch bait (a livewell full of greenies) at a couple of spots, although my net was destroyed in my last throw.
We still started the journey before sunset and were well on our way for the 120 mile trip before 9pm. At that point it got too dark to drive on plane, at least when looking through a solid windshield, so we backed down to about 8 knots. We had great weather for a night boat ride with no clouds and a cool east breeze.
The moon didn't come up until 10:45. I think we only burned 30 gallons of diesel in the 115 mile trip down. There's nothing like being out away from land without any light pollution. It was one of those clear nights where you can see satellites crossing the sky. We watched Mars and Jupiter rise at about 5am. Unbelievable. We took turns (somewhat) driving through the night, with at least one of us sleeping down below at any given time. Of course, on-deck sleeping was great too with a couple of bean bags on hand…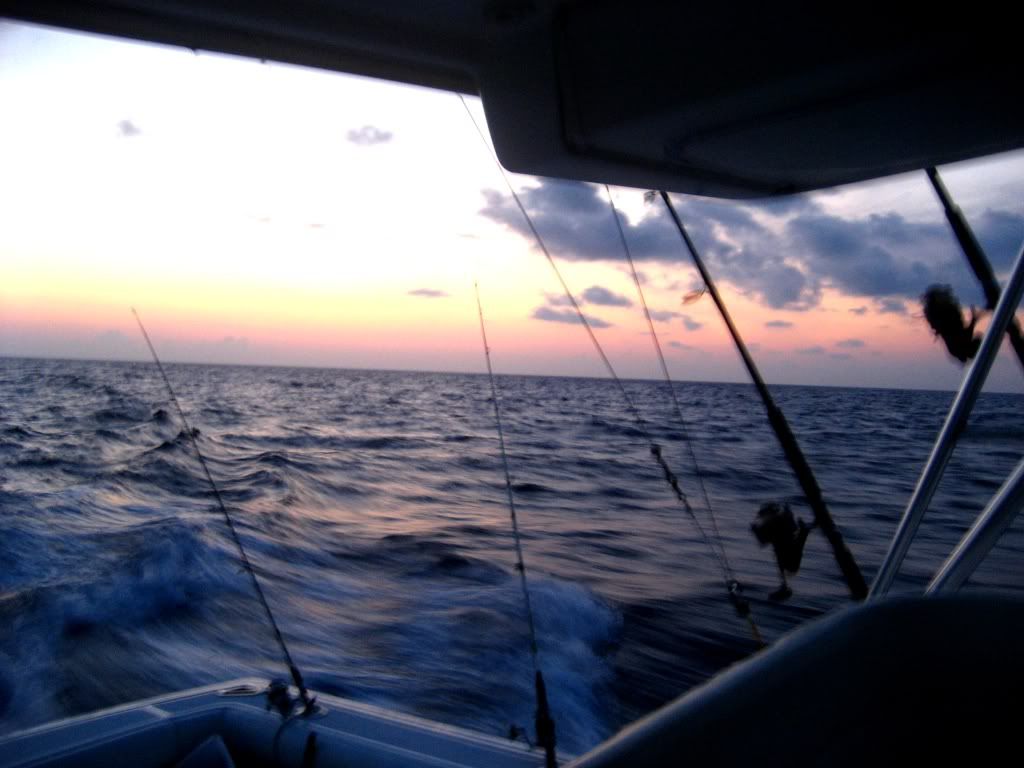 We had lines in at 6am at a spot where I've hit muttons before in about 110'. They looked to be there, but the only problem was they weren't eating. Two days past the full moon and fishing at sunrise apparently is not what they were into.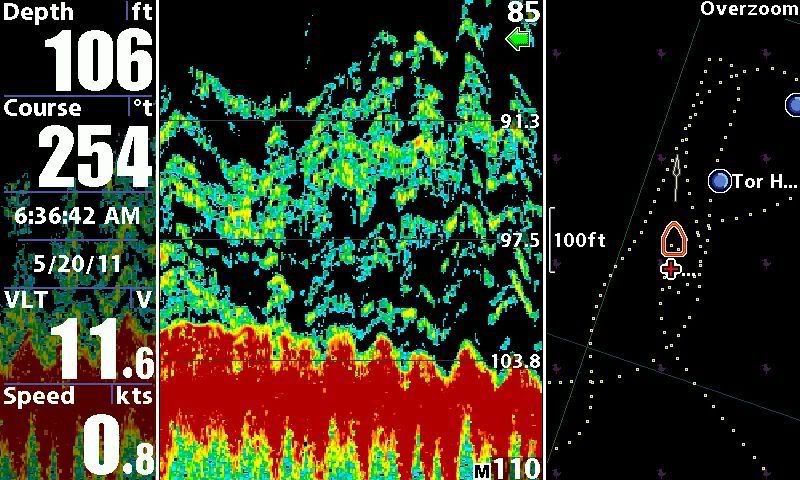 The winds were still out of the east at about 15-20 and the seas were building up, so we decided to head inside the reefline. We had our red grouper limit of two each in about 30 minutes in about 25'-35'. They were definitely hungry and the smallest that morning was 24".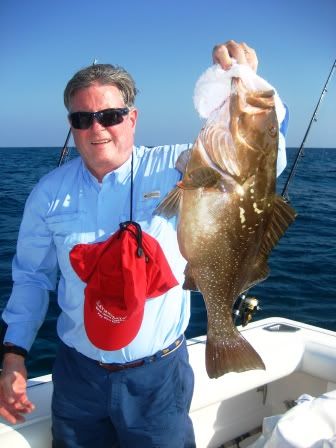 My dad was impressed how I could read the bottom machine and predict when we'd get a strike on the drift, but that's easy when you see a ledge and some chevrons! Even caught six blacks in that same area. Never done that before. Of course, at the time I didn't know they were blacks, so we tossed 'em back in case they were just really colorful gags. I didn't want to chance it before we met the rangers.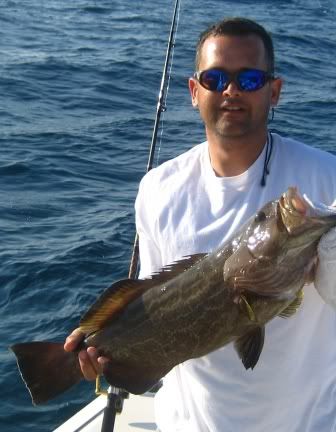 We also caught an unidentified guy. I'm guessing almaco jack? We don't catch them up here, just like the blacks, so I wasn't sure. Even if it is an almaco, is it any good?
From there it was a quick shot to a great shallow spot we've got. We sit in about ten feet and basically sight-fish what we want. And, yes, you can sight fish grouper in 10' of water. There's nothing like seeing one come off the bottom like a rocket to slam a bait about five feet down. Lots of mangrove snapper there, too, but not of any real size (12"- or so).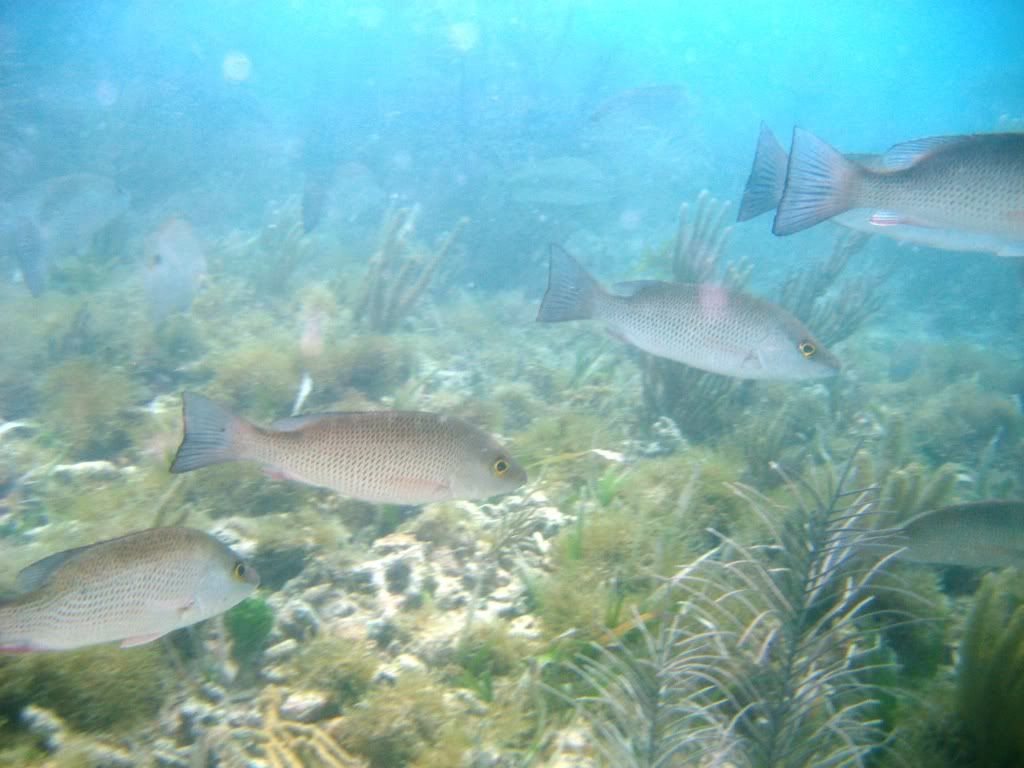 We had a limit of grouper and a good catch of snapper at that point, so we headed to the fort at about 5pm. Anchoring was no problem in about 7' to the NE of all the sailboaters.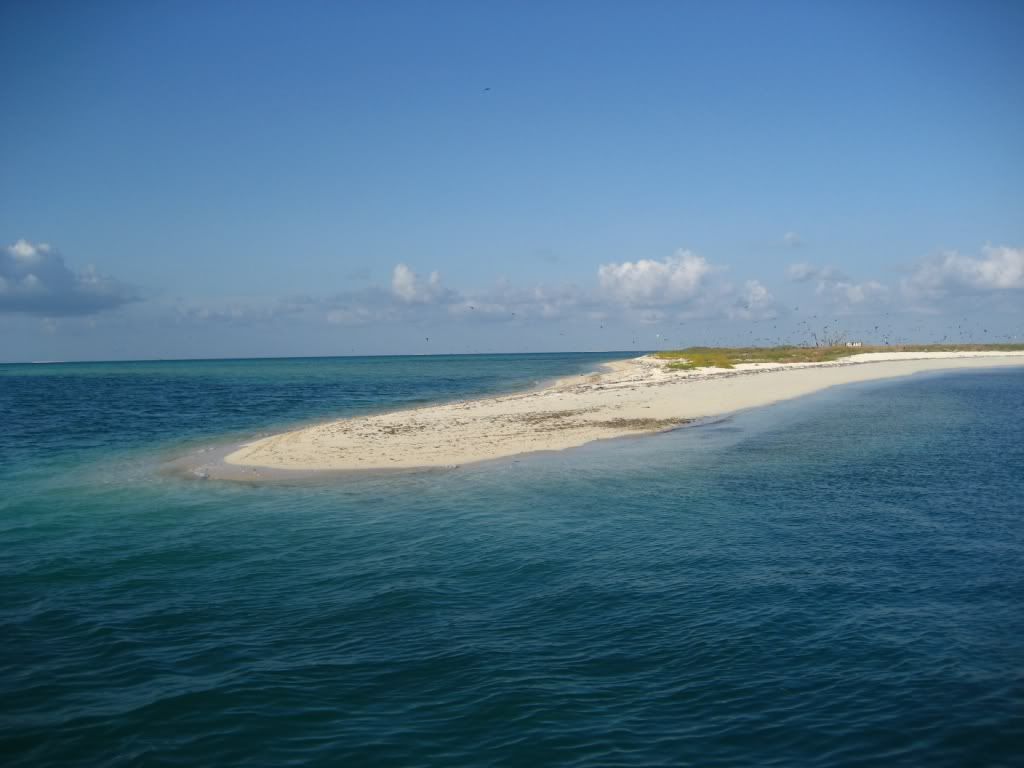 Cleaned up the boat a bit and put up the canopy to cook dinner. There is absolutely nothing like fresh fish cooked on the water.
With the wind out of the east and the lack of current when the tide runs in the harbor, our boat never even veered more than 20' one way or the other until we picked up at 8am the next morning. We had to fish within the reef the next day (well, pretty much the whole trip as it was 15-20 out of the east every day). The wind was pushing 3'-4' seas and our boat rocks like an SOB drifting, and I didn't want to subject my father to anchoring in the slop. Not when we had other spots that were safer. Since we had plenty of time (and the bait was holding out nicely at this point), we went prospecting in about 50' for new spots. We were rewarded with some great new locations where we quickly replenished our limits for the fish eaten the night before.
It was getting warmer, so we headed around to Loggerhead for some great snorkeling. I'll tell you what, as long as everyone stays responsible in that area, this snorkeling is the best available in the US, and probably a lot of other places, too. Disney couldn't make this stuff any better.
I swam with a nice-sized hogfish who thought I couldn't see him (I guess). He slowly moved from one coral head to another and allowed me to follow and get some pics of his color changes. Very cool.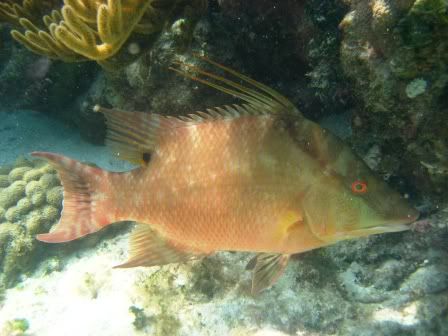 We got in a lot of snorkeling and some diving, although visibility wasn't as good as it could have been given the wave heights. I was able to shoot some cool videos of a few grouper on Texas rock. Those things apparently are not afraid of divers since the closed zones went into effect. I filmed three different reds from about 26" and up. They never offered to swim away and one actually followed me for a while. In the video (if I can post it), you can see his eye moving around to follow me. Made me feel a little guilty killing his cousins, but I got over it.
We ended up with our grouper/snapper limit each day, even after imposing a 16" minimum on YTs. We caught some good sized mangs too, but never got into any muttons. We didn't make it outside the park, but I drifted and prospected a lot for new spots in 25-75' range. I must have ended up with 20 new, producing spots (some ledges and big rocks). It's such a blast correlating the charts with a contour map and then gluing your eyes to the zoomed-in lower 15' on the bottom machine. It's like Christmas when you find a new spot!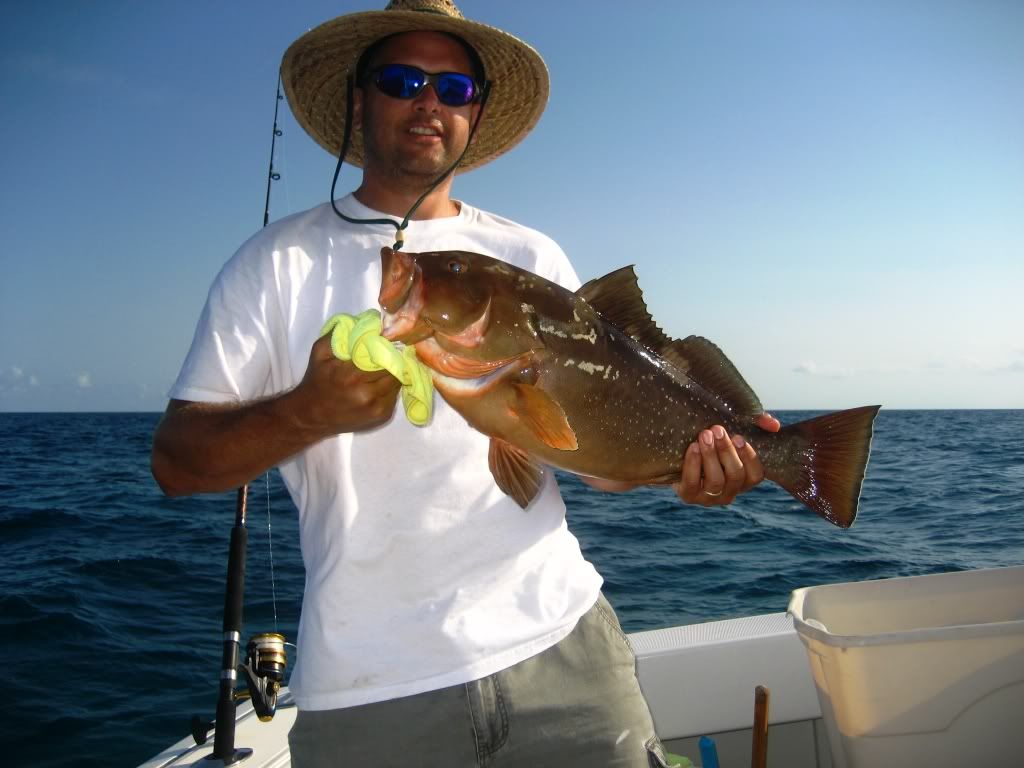 One problem we had, though, was keeping our greenies alive more than 36 hours. They were fine and frisky when we went to bed the second night, but nearly all were dead the next morning. They didn't have red noses, and the water was circulating great. The only thing I can think of is that they starved (?!). The reason I say that is because we had some pins in there with them and when I cleaned out all the dead bait, I dropped in a whole squid and they started tearing it apart. Any suggestions?
I know I'm getting old now because I notice more and more how much the fort is changing. There's no more cast netting from the docks, there's more docks being put in where all the CCs used to anchor up to the beach, and generally a lot more rules about what you can't do (anymore). The rangers are all still pretty cool (mostly), depending on their rotation schedule. And although the fort seems to be constantly under serious repair, it's is still one of my favorite places to visit in the world.
Those of you who have been to the Tortugas know how fantastic a place it is. There is simply no explaining the feeling of sitting in the anchorage with a great breeze, the birds calling, clear water all around you, and doing nothing except being there. If you get it, you get it. If you don't, you likely never will. I know some of you probably feel the same way. I just can't explain it to my friends who've never been there, though I can tell which ones likely wouldn't see the magic in such a trip. And for those of you who have never been there- find a way to go with someone who knows the place. You won't regret it.