Home
›
Big Bend General Fishing & The Outdoors
"Shallow Water Trolling with Sluggos" Homosassa 3/29/2016
Ruff One
Posts: 2,292
Captain
I am always thinking and trying new ways to troll up those groupers and cobias and this past Tuesday I headed out to work on a new technique. With the way cobia and groupers love eel looking plastics, I wanted to be able to put theses plastics in front of them without having to resort to heavy downriggers.
Crew for this outing was DobyOne(Gary) and wife Carolyn, and first mate Gail. Wind was suppose to be non existent with low seas. Not the way it turned out. Seas were up, wind was blowing and rain was misting. Not real good conditions to pull trolling gear.
New Trolling Method.
Like I mentioned in the introduction, I've wanted to troll some big plastics for these fish. I wanted to keep it simple. I got some 12 inch Sluggos, rigged them with a 10/0 weighted hook and here is the key for me. I found what's call a instant downrigger. It's the size of your hand.
.
In the pic, line comes in from the right, line goes to the clip and to the bait. Weight goes down on the clip. In the pic the weight is a 6 oz. trolling weight. That size worked today to get the bait down to 20-22ft. Fishing was simple. Put out the sluggo about 40ft, With the boat stopped, dropped the weight to the bottom. Reeled up one turn, put the boat in gear and let out another 40ft and I was trolling that big plastic right where I wanted it. Right above the bottom. The grouper could not resist it! When the fish hits, the line is pulled from the clip and the hold downrigger slides down the line to the swivel.
Neither could the cobia. One got this sluggo, but missed the hook. Next job is to rig with two hooks.
Of course we still had out the plugs and they did take some groupers. But the slugggos out fished them today 2 to 1. Gail was sticking to her favorite Black and silver rapala.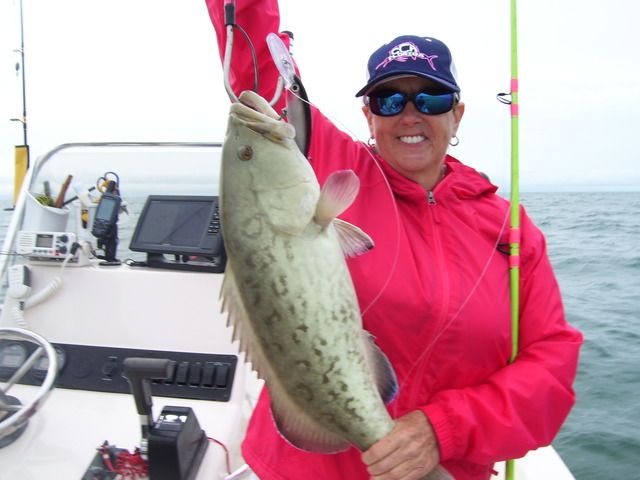 Another nice thing about this downrigger is I can run the bait(I will probably use only big plastics with this method) about 4-6 ft below the surface way back, hoping to pick up free swimming cobia. Also this could be a solution to the weed problem during the summer. That will be left to determine then. I was worried about the line pulling from the clip, but it held up great. Even trolling at 4 mph with theses huge plastics.
I believe that if you can get those big plastics in the right spot, grouper and cobia will not be able to resist them. Today it really seemed that way. The method has merits, and I am sure that it will even get better. I tried to follow the KISS method, and I've kept it as simple as I can. No heavy downriggers mounted to the boat, no wire line, no really heavy weights, etc. So we'll see what comes out of this experiment.
Well, on to the next adventure. We are loading up RuffOne for a Emerald Coast Cobia fishing trip. Headed up Sat. morning to splash the boat at the Shalimar Marina under a covered Slip(RuffOne will love that). We'll be chasing those big migrating cobias as they past thru those panhandle waters. Stay tuned, we will let you know how things work out. Especially if we catch one.
[SIGPIC][/SIGPIC]