Home
›
Northeast (3 Forums)
›
Northeast General Fishing & The Outdoors
GOING LIGHT ON RIVER DONKEYS - Red Drum and Yellow Mouth Trout Report

Morocco_madness
Posts: 2,870
Captain
Well, the weather has been NASTY! Foul weather plus beginner anglers means no Sheepshead charters in my book. To compensate, I've been targeting Trout and Red Fish. Both are easily attainable without too much disruption from heavy winds and big swells.
I've been putting in a lot of time fishing newer areas and have found that the Bull Reds are so thick you can't even get away from them. In water as skinny as 5 feet in some areas. With that being the case, I've been switching from the usual heavy gear to targeting them with Medium, light tackle. 7 foot Star Rod, Stellar Lite's paired with Penn, Spinfisher V 2500 Reels spooled with 14 pound braid. With the lighter Fall currents, landing these big fish on light tackle is a breeze. The average fight is 5-10 minutes long and because I'm fishing such shallow water, I don't feel the need to vent them.
The entire north bank from Dames Point Bridge, all the way to BAE is covered up in monster Bulls. Any creek mouth coming out of the St. Johns River holds these big boys. Fulton Cut, West Chicopit, Sisters Creek, south Mill Cove, literally any waterway connecting to the St. Johns, east of Dames Point. I'm finding that they seem to bite better for me on an incoming tide. Artificial baits could easily be used to catch these guys if that's more your speed. Leon got on a big one last week fishing one of the areas I just named. The only concern I have now though is that this cold snap may send them moving towards the Inlet. I'll let you guys know if the pattern changes. I know that a large portion of the river Bulls moved out earlier this month, hopefully, the stragglers hang around a while.
I don't have to tell you that the Trout bite right now is on point! Everyone's catching good numbers of nice fish. Especially the Yellow Mouth. I've been on a healthy dose of both species as well as some of the largest Sand Trout I've ever seen. The same places I mentioned above are holding ridiculous numbers of Trout. I was actually targeting Trout when I realized that the Bull Red presence was so thick in the shallows. The Bull Red by-catch was hard not to notice. Once again, you can cast lures if you like, as a guide fisherman, I prefer to give my clients their best chance at success so we've been using live Mullet on Jigs and/or Carolina Rigs.
If you decide to go out and target these fish with live Mullet on Carolina Rigs, use a light egg weight. 1oz or lighter if you can get away with it. Don't dead stick them either, slowly drag them back towards the boat. Eventually, you'll start getting tagged and when you do, just pause and wait for the Trout to finish eating. Most Trout don't inhale the Mullet. They'll maim the Mullet with their fangs repeatedly before they fully commit to eating it. Especially if you use a larger Mullet. Never point the rod towards the direction you are retrieving, if you do this while using braid, and a Trout tries to swallow the bait, there won't be enough give between the fish and the reel. You'll lose a lot of fish this way. Instead, retrieve with the rod facing off to the side or at a higher angle. This way when the fish hits the moving Mullet, the rod will bend a bit, absorbing the tightness of the line. I've seen my clients make this mistake, resulting in missed strikes. Once corrected, They start catching far more fish. I can definitely see the appeal of lighter mono for Trout. I may put together a few mono rigs for future Trout fishing charters but for now, I'll keep my hardware universal.
Good luck out there guys and catch em up!
The first Picture is of a monster 48 inch Bull that one of my clients caught on lighter tackle.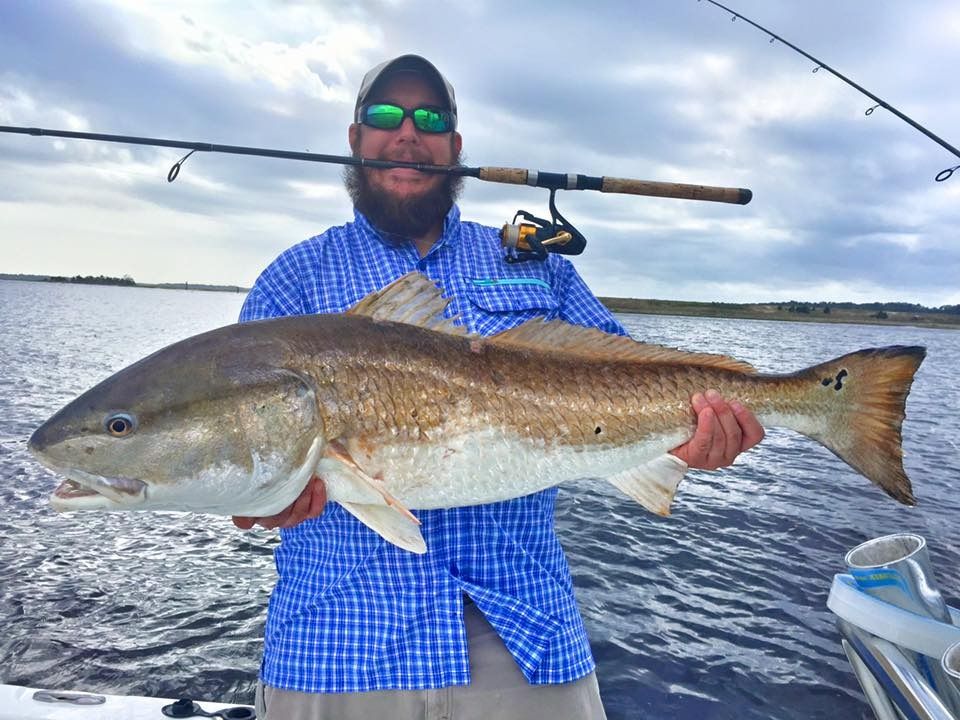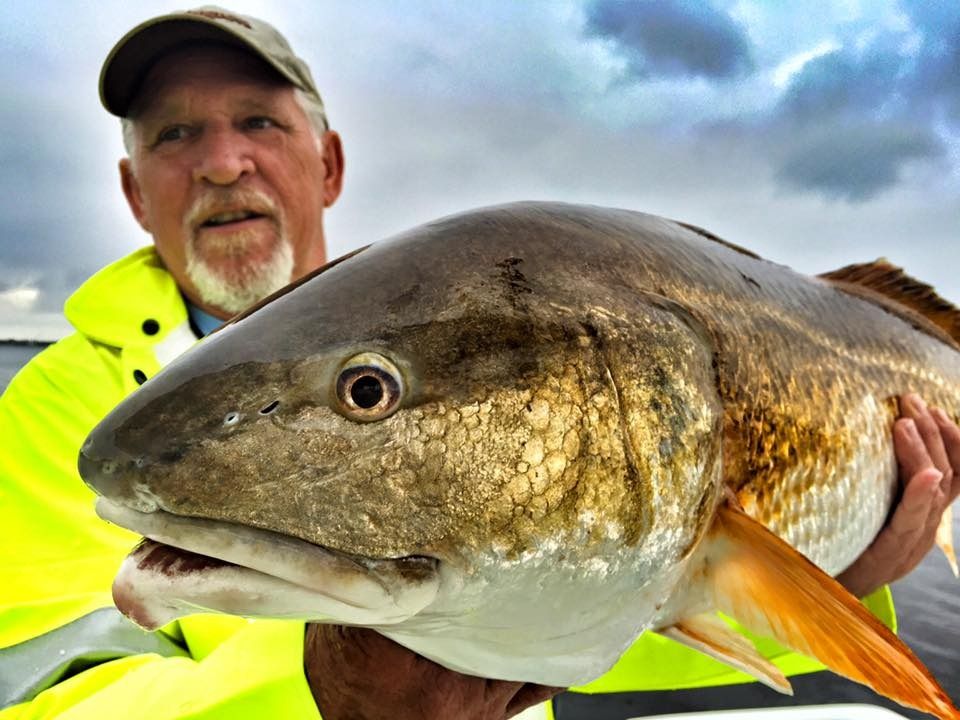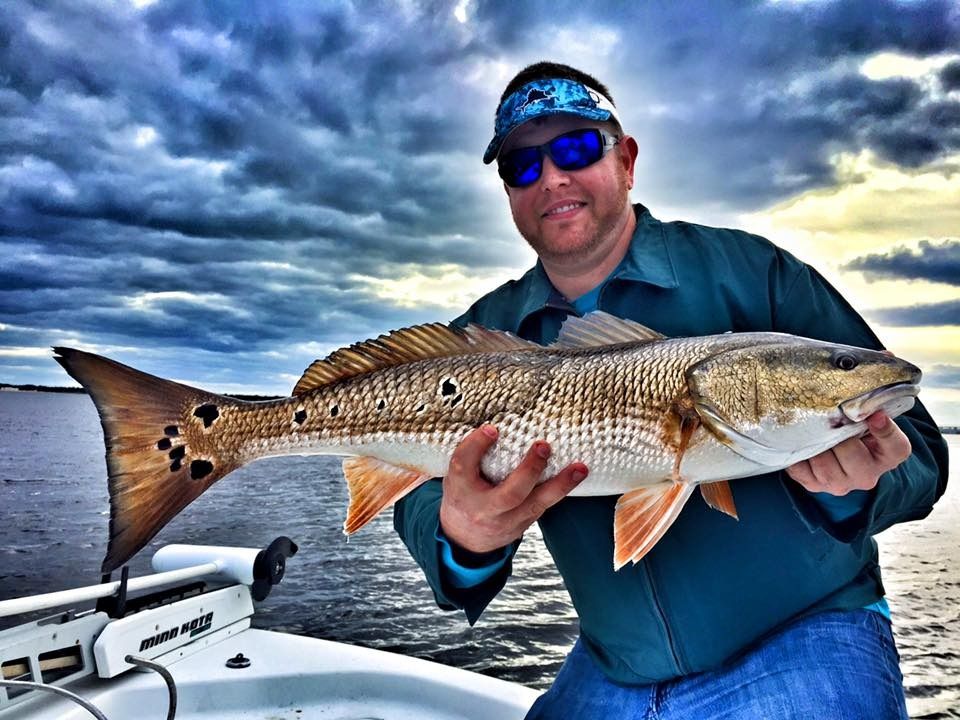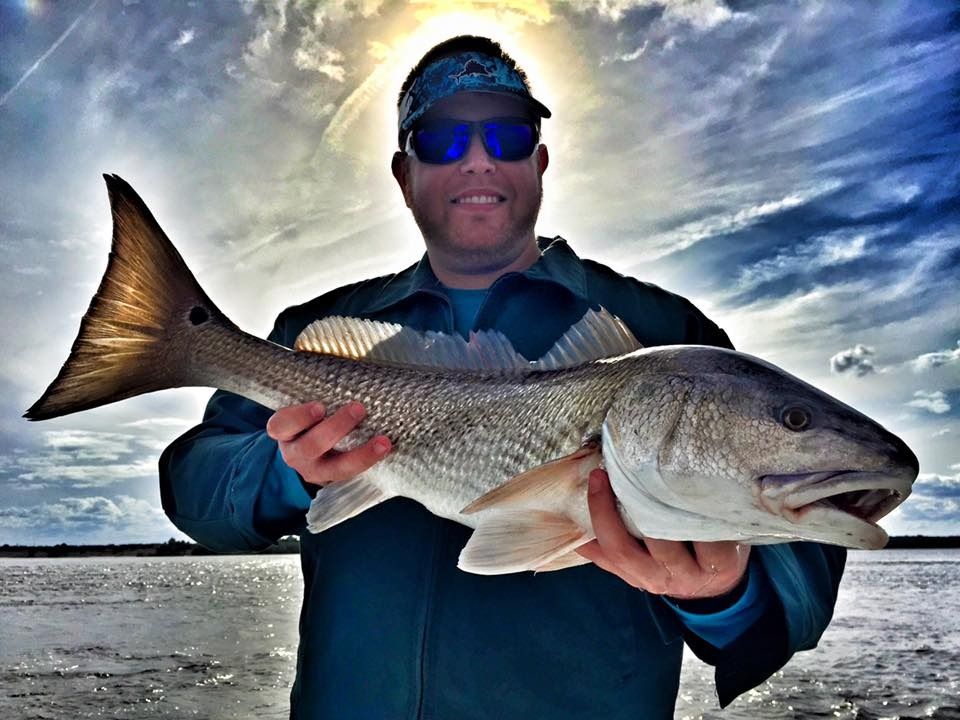 Here's one you don't see every day, a Bull with a spot pattern that forms a happy and sad face on the same fish.