Home
›
South General Fishing & The Outdoors
Everglades report (tarpon time - Flamingo) 22 September
lemaymiami
Posts: 3,097
Captain
It's finally that time of year - the second tarpon season along the west side of the Everglades is going strong and should stay that way for the next four weeks... We've been finding them and getting bites on lures, bait and flies from fish up to and a bit over 80lbs since last Thursday. Along with the tarpon the first of the fall redfish action around the creek and river mouths in that same area north and south of the Little Shark river is going on now as well...
Late last week I had Al Mazur and his son Al jr. aboard for two days. That first day Al hooked up solid on almost his first cast as the sun came up. It was a small tarpon in the 20 to 30lb range on the lightest rod on my skiff (a light bonefish rod, with only 10lb line and a 1/8oz leadhead tipped with a Gulp tail). We've been running across Whitewater Bay in darkness to get to the west side of the interior just as the sun comes up so it was a great way to start the day. Hooking tarpon in rivers with strong current on very light gear can be a lot of fun -but we were seriously under-gunned.... After a 30 minute fight we got a leader touch - shortly after the the fish, still full of fight, finally wore through the 30lb leader... Returning to our starting spot his son hooked up on a slightly heavier rod -but the fish was much bigger -in the 80lb range... so it was off to the races again.... Here's a few pics.
[img][/img][img][/img]
[img][/img][img][/img]
As you can see, once again we're picking a fight with fish that might need a bit heavier gear....
Al jr. did a great job and we had release #2 (but it did take more than 30 minutes and we were 1/4 mile from where the initial hookup was....). Later that day after catching and releasing speckled trout, snappers, and a variety of other species we worked a live bait down into a hole and came up with a medium sized lemon shark (a bit over 7' long). Here's a pic...
[img][/img][img][/img]
The next day it was more of the same with the addition of some great redfish action at one creek mouth. We actually had three fish on at the same time to get things started....
[img][/img][img][/img]
Not long after that the weather turned bad on us so we were forced to run back inside while getting soaked...
Our last action that day was nearly back at the ramp when a brief stop in **** Bay produced to two snook and another redfish... A great two days....
[img][/img][img][/img]
Yesterday we were back on the water with visiting angler Andy Neary and his buddy Mike. Our main target would be tarpon on fly and spin.. Andy started things off with a very nice 80lb fish on a 10wt rod using a small Silhouette pattern... I'll let the pics tell the story...
[img][/img][img][/img]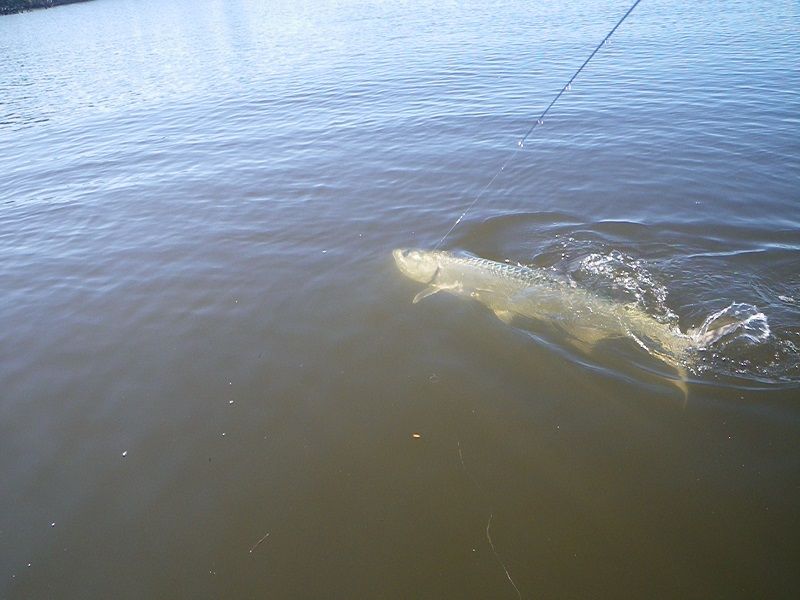 [img][/img][img][/img]
We went on to get two more fish on spinning gear. Mike got one around 60lbs then hooked a much bigger fish that we estimated at nearly 90lbs... Here's pic of Mike hanging on as the biggest fish of the day just took him to school....
[img][/img][img][/img]
We did get the leader into the rodtip - but that fish was a long way from quitting when he finally broke off -still heading offshore..... A great way to end some pretty good tarpon action.
"Be a hero... take a kid fishing"
Tight Lines
Bob LeMay
(954) 435-5666