Home
›
Big Bend General Fishing & The Outdoors
Yankeetown 9/20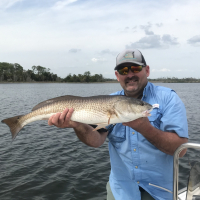 Wishin i was fishin
Dunnellon Fl
Posts: 936
Officer
I left Yankeetown marina just before sunrise and had this view on the way to the first spot.
Anchored up and started throwing shrimp to a spot that has been decent. First cast, red on!
too short! And that was how it went for the first few hrs of the falling tide. One after another. I caught them on a spoon, jig, shrimp, and cut bait. Ended up with one just under slot and one 19" fish out of at least thirty fish.
Then decided to move on and search for trout. I moved around the flats between 4' and 8', but only managed two trout. North of YT the water is very dirty, temp was around 82 degrees. Water was very still, and low around noon and it was getting hot so I called it a day.