Home
›
Big Bend General Fishing & The Outdoors
"Trophy Grouper" Homosassa 9/10/2015

Ruff One
Captain
Homosassa
Posts: 1,963
Captain
Uncle Billy's good friends from Nashville, Mike and Darlene, arrived this week with their boat in tow looking to get in a fishing trip nearshore. Gathered up my gear and we tried to fit a grouper and cobia trip into the miserable weather pattern that seems to have taken over the Big Bend. After an aborted trip in the beginning of the week we finally hit the water today. Loaded up the gear and going on it's first trip was my new home made lure holder. With so many large lip plugs I came up with this idea to store and transport these lures on the boat. Worked perfect today, so this new addition will become part of my gear from now on.
New lure holder.
Now, on to the fishing. We had high hopes, but off shore the thunderstorms were building and we were baffled, forecast called for a perfect day. I don't know why I believe the weather man, because this year he has been wrong most of the time! We get to the 16ft area and weeds were scattered but not bad for running some plugs. Put out a Rapala and a YoZuri and after some getting use to Mike's boat, we have a good spread running true. Darlene's rod goes off and with some help from Uncle Billy getting the rod out of the holder, she's into a major fight trying to turn this grouper. Back and forth she goes with this stud grouper and finally he gives up and I sink the grouper pick and he comes aboard!
One Shallow water beast!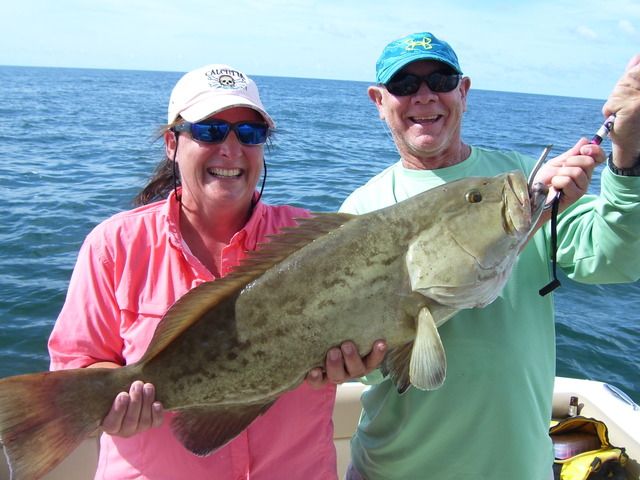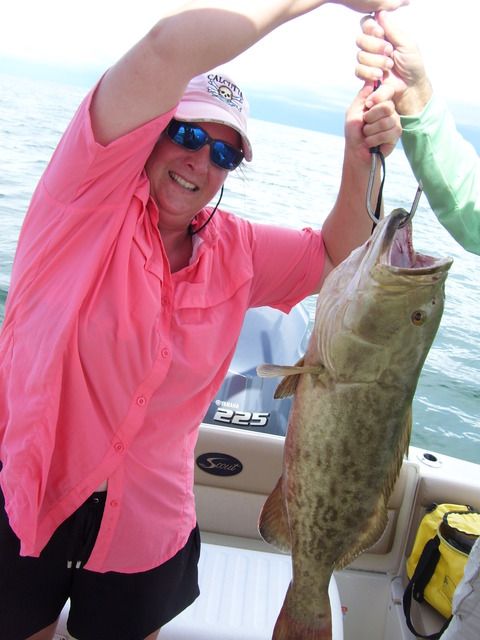 I would like to say we had a rest of the day good trip, but the storms ran us off our trolling grounds. We ran south, we ran east. The weather finished us off again!! But, you know the saying " One fish can make a day", well this fish made our day! We all had smiles, and I know Darlene is heading back to Nashville with one big *** smile on her face!!
Nice trip, nice fish, met some really nice friends of Uncle Billy, weather reared it's ugly head again, but we finally at least got to fish for awhile. Can't beat that!
Enjoy
[SIGPIC][/SIGPIC]