Home
›
Southeast General Fishing & The Outdoors
End of West End recap and killed it out front (Wahoos, Dolphin, Lobster, shark, snap)
e-money
Posts: 4,258
Captain
Had a BLAST w Never Say Never gang and congrats Jim and Dusty for tying the knot.
Wahoo bite petered out after moon, but we still picked at them.
Fun video we did "bad to the bone "!
[video=youtube_share;cngPMJ8vNHw]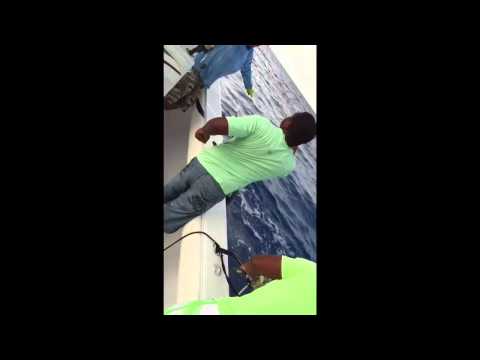 We did good on deep drop fish and also had a 1000++++ Lb tiger eat a big string of queens boat side! :hair raiser
The bad news was we lost $150, the good news it was the coolest thing owner andf guests had ever seen.
Shark 1/2 the size of the Bahama 41 ate a 6lb lead, three fish and 2 lights and snapped his jaws shut and bit off 80lb braid!!! Owner had 2 chefs onsite and we were spoiled after getting MANYY lobster (but not exceeding legal limit)
This AM ran the 390 Z.
Started on troll off Jupiter and caught 2 big bonitos and got cut off by a king or "striper" lol
Ran out to the deep and found SICK conditions like Bill and others saw.
Thousands of bait, acres of mats and starving dolphin.
Caught 10 schools before we found the bigger fish and boxed several nice gaffers in tyne 15-20lb range.
Then I saw one of the most amazing things in 10 years!! Picture this, huge mat with a 10' log on the corner.
Troll by and a 35+ hoo comes out lit up and ready to play! Had 6 baits w wire and one chugger on mono!
Yep he ate the mold craft and heeded for West end. We kept light drag, gave chase!
Got him 4' from gaff when he started the head shakes. ****, he bit us off and I was bummed.
Made another pass and caught a 10lb bull.
Came in to edge of reef and played w bonitos small kings and chummed up ungodly # of sharks.
Client and son was stoked and VERY generous.
Birds eating maui and keep ya'll posted.
PS: E$ booking local and Bahamas Wahoo / dice / lobster gigs. (peace)
USCG Freelance Licensed Captain
20 years experience Offshore & Bahamas ( Sailfish, Dolphin, Wahoo, Swordfish & Bottom Fish.)
[url]
Http://www.e-moneyfishing.com[/url]
(I teach people how to be more effective AND catch MORE and BIGGER fish on their own boats!)
[email protected]
[SIGPIC][/SIGPIC]