Home
›
South General Fishing & The Outdoors
Fishing report Biscayne nights - Everglades days
lemaymiami
Posts: 3,097
Captain
All summer long I've been dividing my time between day and night trips with fair success. This past weekend it was Saturday night in Biscayne Bay with Joe and Tony Pevec using fly fishing gear. Tony, visiting from Tampa, hooked up first with a nice small tarpon in the 20lb range on a small white fly (our usual Night Fly on a 2/0 hook). Here's a pic or two of that encounter....
[img][/img][img][/img]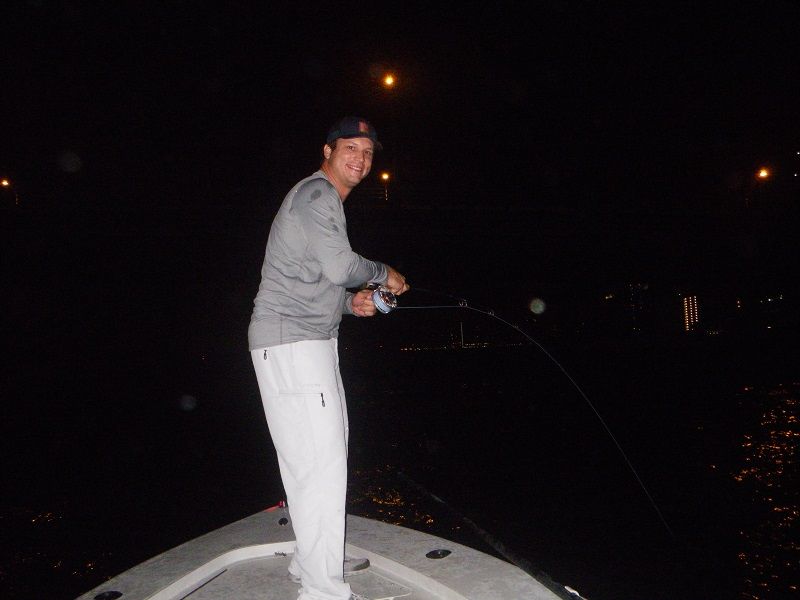 [img][/img][img][/img]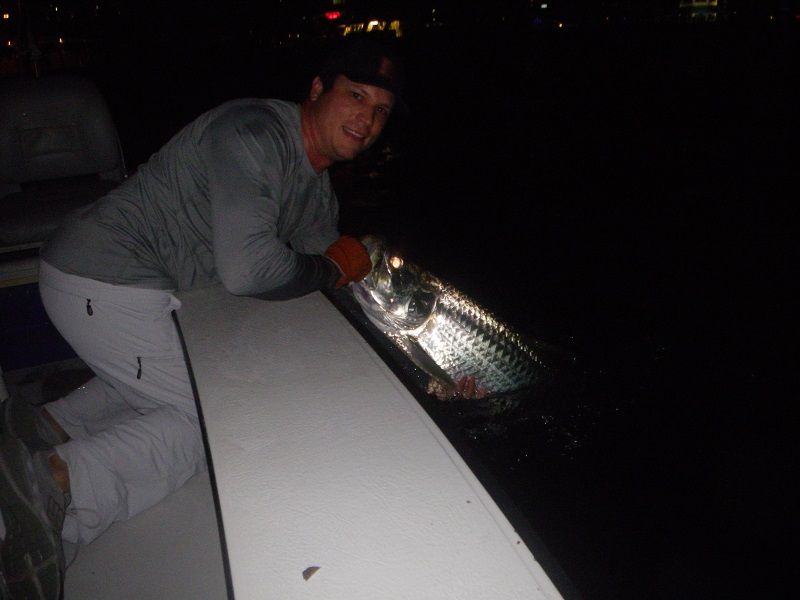 Every tarpon we bring to the boat is carefully revived by holding it submerged for a moment or two as we idle along.... When the fish is revived you just can't hang on to them - they free themselves....
That night both brothers hooked up on other tarpon -both in bridge shadows and in nearby docklights, but the fish did all the releasing.... We ended that night working docklights where we found some nice snook that were very skeptical of our flies. They'd follow them back to the boat then turn away at the last moment. It was particularly frustrating since a few spots held big snook (way over the slot limit, right at the surface chasing tiny bait....). We finally hooked a small one that was able to pull the hook all too quickly.
All that's needed for a decent night trip is a falling tide any your choice of tackle. The night scene is one of the few outings I know of where fly gear will usually outfish lures....
Daytimes are for the Everglades either out of Flamingo or Everglades City. Our most recent trip there was over on the Flamingo side for two days and the fish were biting.... I had Steve Benson, his 13 year old son Kobe, and Kobe's friend Luke aboard. These two young men are already accomplished anglers, ready to go heads up with anything we found for them.... Those two days we caught and released trout, redfish, snook, snapper, two kinds of grouper, sharks, a small barracuda (also broke off a nice tarpon)- and oh yeah... a ten foot long sawfish that almost got me.... That first day my camera was without battery so I don't have any pics. It was Kobe who got the big saw, and fought it to the boat in very shallow, muddy water (we'd been looking for redfish....). I didn't even see what we had until it was right at the boat. Normally, releasing a big saw at the boat isn't a problem since we're in a bit deeper water and they're not hard to handle once they settle down. On this day the fish was very green and in such shallow water that it was able to use its tail to almost jump up into the boat with us. It all happened so quickly that I wasn't able to even react. It almost got me across the face with its bill (and I was standing two feet inboard of the rubrail....). That was entirely too close for comfort and I'll be a bit more cautious the next time we encounter one in shallow water.... I'd have needed a trip to the ER if struck and a lot more than a few band-aids... That day we hooked and lost quite a few sharks along with one over slot snook that came up to shake the hook while we were already fighting another fish (that's my recipe with kids aboard -keep them busy....). Luke had the big redfish that day -it measured right at 26 1/2" long, a perfect tournament fish if you do that sort of stuff....
The next day it was more of the same... here's a pic or two with both Kobe and Luke taking turns with nice fish.....
[img][/img][img][/img]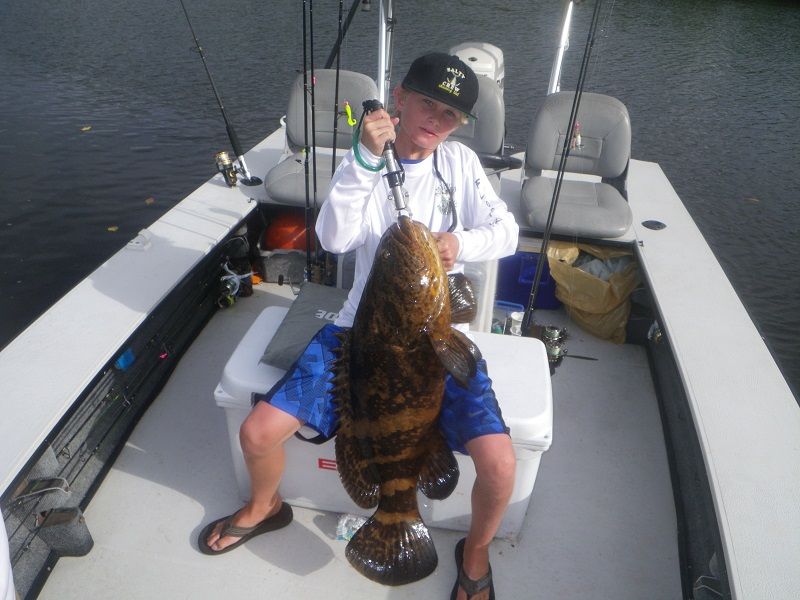 this nice goliath, nearly 30lbs, was caught with relatively light 15lb line - then carefully released after a quick photo....
[img][/img][img][/img]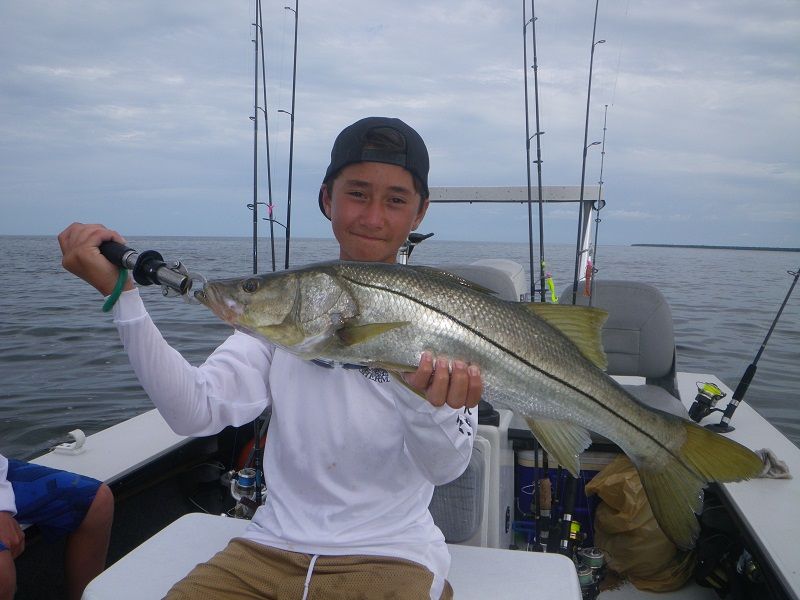 This nice slot sized snook was our biggest of the trip - another one carefully released (but look out come September first...).
[img][/img][img][/img]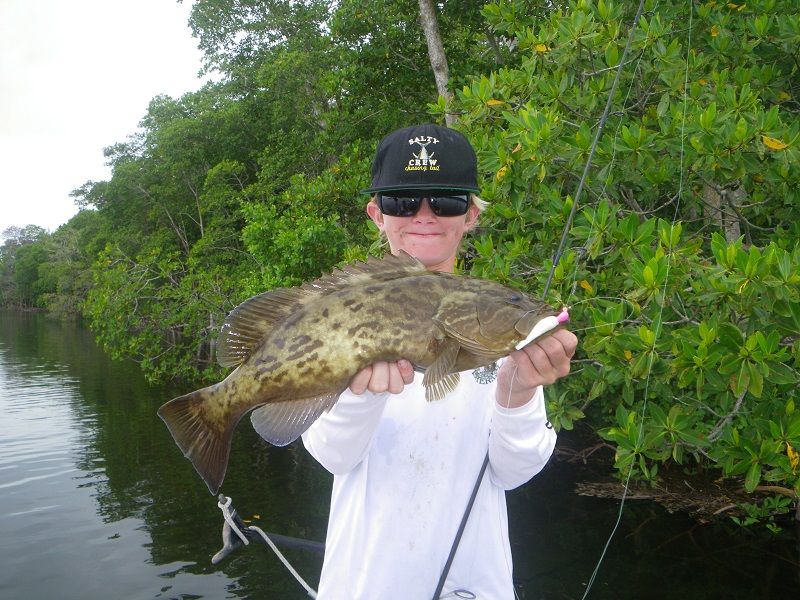 Here's Luke with another grouper -this one a small gag grouper on just 10lb line and the Gulp tailed jig you can see....
Both day and night, this time of year the fish are biting... so....
Be a Hero -take a kid fishing!
Tight Lines
Bob LeMay
(954) 435-5666