Home
›
Ten Thousand Islands General Fishing & The Outdoors
Great summer fishing 6/30/15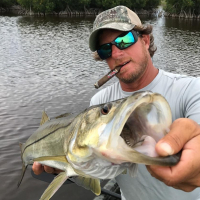 Joe Snook
Posts: 468
Deckhand
Alot is the same as spring with a great twist on the fishing and thats offshore n nearshore going out and having 100 fish days with big permit in the mix.
Also the site fishing along the beaches has been incredible with keys clear water and pods of 10 plus fish passing through willing to eat small baits and particularly small flies. Tried getting permit offshore on fly one day but they were very spooky. Im not a big permit guy because out here its not very exciting to hunt them but a fly makes it interesting if not down right drives you mad wich funny enough is what I call fun.
I did head out to Fort pierce a few days with only my kayak and not much to brag about except some great happy hour spots and Crawdaddys filling my belly regularly I did manage an armored catfish on fly
climbed a mountain the highest point south of okeechobee with the help of my sherpas all surviving this unbelievable 86' treck above sea level lol
saw a peacock in the wild
and went to the most phoney mexican resteraunt Ive been a victim to called roccos tacos. If you want Real Mexican food go to Garabaldis in east Naples the tacos and better yet the Mexican Steak are Awesome!
the inshore has been good as well even with bait not being as easy to get weve been hooking big fish. This is Matt a straight up fishing nutt I even got a big bait smile out of him after catching some slobs after having huge tarpon deny his baits all day he stuck with it and made it happen
even got out with my buddy n got him a slob one day.
On the way to Jensen I dunked a yak in fisheating creek that was pretty cool
I highly recommend that place for a beautiful change of scenery heck I didnt even bother fishing the landscape was so nice. Well thats about it get out there peeps or hit me up for a trip this month. July is coming wich usually brings extreme hot waters n slows things down a bit but we' ll see how it goes. Tear em up
southwest florida fishing guide in the beautiful 10k islands, everglades and more
www.Joesnook.com