Home
›
Panhandle General Fishing & The Outdoors
Humbled by the Big Pond......PC report 6/6/15

LilOrange
Senior Member
Smyrna, TN
Posts: 1,210
Officer
Well......... got a rough start to our day this past Saturday despite getting to the marina earlier than usual with dreams of early morning snapper & grouper battles dancing in our heads. But, while getting the boat loaded, we had my little nephew catching pinfish at the docks (and he caught some nice sized ones I might add) only to discover that our bait well pump was out. Worked fine two weeks ago......not so much on this day. :banghead
Considering how vital that was, we had a spare in the tackle bag but it took about an hour or so to get it all changed out. So, we were now much later than we wanted to be getting out and still had to get live bait. But, once underway we pointed it SW for about an hour's ride. Stopped a couple of times to check out a few small patches of grass, but no takers. Did see a few chicken dolphin; got them to chase but wouldn't bite. Finally got out to about the 25-nm mark to a spot that had been real good to us (with red grouper and big red snapper) several times in the last year or so. Not so this time. It was like a desert. I think I got one real solid grouper bite & hook-up only to come unbuttoned. Other than that, not even a nibble. We tried a few more spots in that general area, all to no avail. Except for me catching a big shark........which was a fun battle that about wore me out. I can't imagine you shark fishing guys catching those real big ones. So, we completely left that whole area.
Couple of shark photos:
And, short cell phone video of it that my nephew took. Hate that I didn't have the GoPro ready to go....that would have been cool underwater footage.
[video]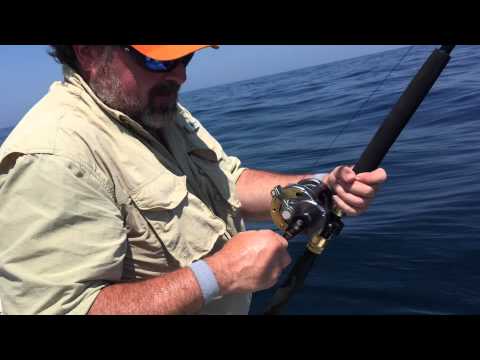 https://youtu.be/Ih8N2og974g[/video]
Anyway, by then, time was our enemy. We decided to head closer in to try to salvage our day at the spot we had decent success at two weeks ago in state waters. We immediately started marking good bottom & good fish moving up off the bottom. We picked up 4 quick red snapper (one about 15-lbs or so & the rest decent average size) and several small undersized ones. All on live cigars fished way up off the bottom. No red grouper takers using grunts on the bottom (like we caught several two weeks ago) and no takers on the knife jig. And then the bite changed after about 45-minutes. It got real, real subtle & at the slightest nibble our bait was gone. The bottom machine was still marking real good, however. After a lot of frustration & lost bait, my buddy dropped down a smaller rig with a smaller hook & small piece of squid and immediately hooked a big trigger. We had been invaded by a ton of trigger. My nephew caught several real nice ones on a bass rod/reel which was a blast for him. Hated that they had to go back. The snapper bite never came back......it was done. And we never did find a red grouper bite.
We hit a couple more spots on our way in & played with some more chicken dolphin on another grass patch before calling it a day. Kinda got humbled a little bit Saturday. But, still learned a lot. Finally tally:
4 red snapper
1 lane snapper
1 scamp (first one I've ever caught, even if it was on the small side; so, that was cool)
2 porgy
My nephew holding the biggest snapper of the day that my buddy caught.
Have bean bag.......will nap!
Good thing we do this for the love of fishing........I'd hate to try to figure out our price per pound of fillets. HaHa!!! But, regardless, we plan on being back down there in a few more weeks for a week long family vacation over the 4th of July. We'll be back out there trying again.........maybe the gags will be kinder to us.

Livin' the Dream !