Home
›
Ten Thousand Islands General Fishing & The Outdoors
Spring fishing has been Awesome!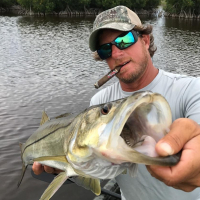 Joe Snook
Posts: 468
Deckhand
Well tapatalk finally changed that crazy format so I can get on the forum from my phone with all my pic.s. Tarpon showed thick this year and were hungry as they passed. I got more bites on artificials such as DOA shrimp and Bait busters. My favorite new rod for chucking arties a long way with plenty of backbone to land 200# Tarpon is the PENN Battalion 20/50 rating for braid coupled with a 4000 spinfisher spooled with 40# braid and 8' long 50# flourocarbon leader. This set up also works for Big Snook and light enough to throw comfortably. Lately the Tarpon have been a bit more picky and small threads and pilchards on a 5/o circle hook under a cork or freelined has been getting the bites a bit more than arties but I always try both arties and live to see wich is working best that day and to keep from getting too bored waiting for a bite. ill usually ancgor up with a buoy on my line to throw overboard so I can chase the fish and force the fight to end the battle as early as possible. There have been a few crazy strong fish this year that put up epic battles.
Snook lately have been really strong with alot of very nice fish though most really big ones are lost. Bait has been around and not too tough to net so thats been the bait of choice threads and pilchards with no need to chum up any fish cause theyre already feeding on schools of smaller baits where ive been deciding to fish and ive had a few trips this month where we sit in one spot catching fish the whole for three hours. I havent been doing anything too complicated just finding spots with feeding fish and fish that spot.
I also had a few trips taking ppl out on their offshore boats showing them how to use their electronics, read charts and rigs for specific species and had some very good days
here is one cool pic where the dude jumped out of the boat to get his fish from a tree, yep just a nice relaxing family fishing trip lol
well im digging through a thousand pics not so easy so ill be trying to keep up on reports. Tear em up!
southwest florida fishing guide in the beautiful 10k islands, everglades and more
www.Joesnook.com