Home
›
Big Bend General Fishing & The Outdoors
Another HOT redfish bite YT 6/2
StandOutI2
Posts: 544
Officer
Decided we would brave out the forecast to go fish for a couple hours this morning. And really it was more of an experiment for me as I have never had good luck finding reds at low tide, so I wanted to just go try it now that I have a little more knowledge of what to look for. Well, that paid off. Mom tagged along on this trip after missing out on last week. Started out fishing some islands and working the outside waiting for the tide to drop all the way. Fished the outgoing for about an hour. My step dad caught a couple right at 22" that we invited home for dinner as my brother is coming in town this weekend. I lost a good one on a topwater, and mom caught a couple shorts there. Well, we worked over to another island and there was a school of fish pushing mullet around everywhere. So we focused on the school of mullet and man that paid off! I caught one at about 23" on the topwater plug and tossed him back to live another day. My step dad picked up a couple more shorts. Well, the school died down and we started working to another area. My mom was real quiet in the back of the boat and said she sees something. So she throws to it and sure enough, it's a nice 27" red! Her biggest to date.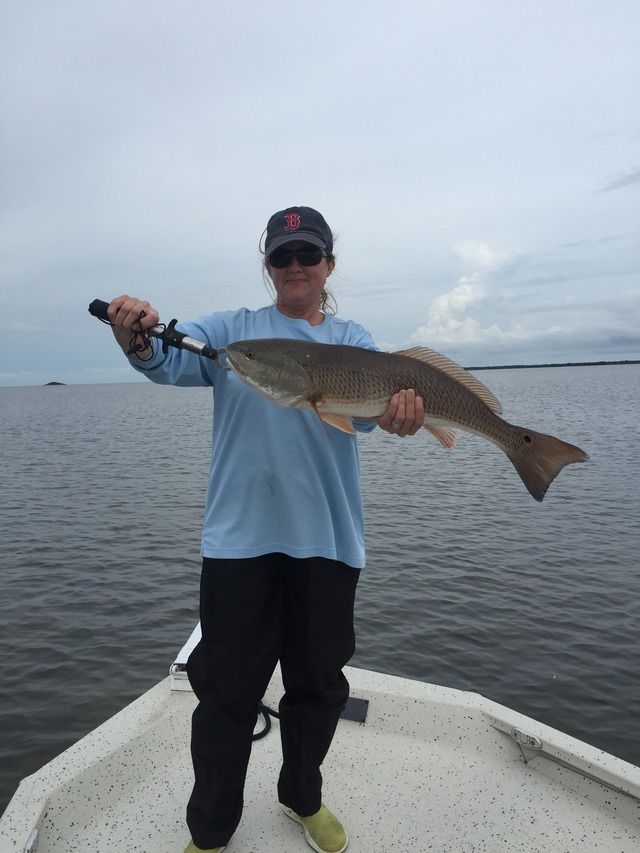 After a quick measurement and weight the fish was released. Now the tide had kind of really slowed down and nothing was moving. So we worked into a new area and about that time the tide started moving and the fish were EVERYWHERE! Everywhere I looked there were reds, and good ones. But by now our trolling motor batteries were dying and it was making it kind of hard to fish. Need to get new ones soon. Started fishing again and they just wouldn't eat. I had a couple fish swipe at the plug but not like they were hungry. Well, kept working and had a HUGE blowup on the plug. Ended up being a nice over slot fish that devoured the plug!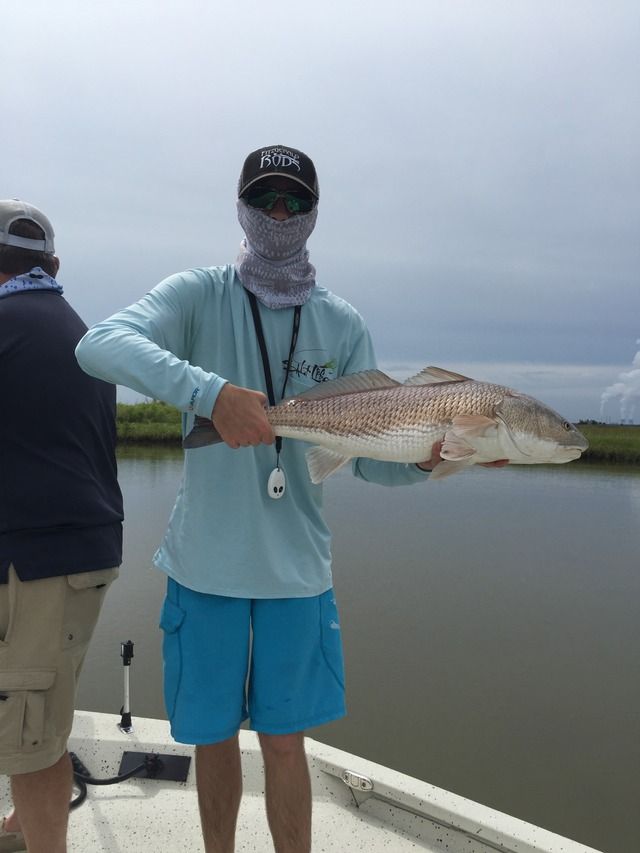 Got the fish back in as quickly as I could and he swam off strong. Hopefully I'll see that one again. But by now the storms were really starting to brew offshore and we decided to call it quits. We accomplished what I wanted to and there really wasn't a need to take any chances with the thunderstorms, and after looking at the radar when we got home I'm glad we didn't risk it. Gonna go out again this weekend to try it again! Tight lines guys!
I also have a gopro video I'm editing that I will post in the comments when it's uploaded for those who watch those things.
https://www.youtube.com/watch?v=3FdKpjRKp1o
[SIGPIC][/SIGPIC]:fishing