Home
›
Southeast General Fishing & The Outdoors
Jupiter: 5/30 Monster Sailfish, Kingfish and 3 for 5 on Mahi (cool video)
Black Attack
Posts: 298
Deckhand
Fished today with Paul & Dan - new friends. Had 1/2 doz Goggle eyes and doz Sardines. First up was a Kingfish bite off on mono - 1 Gog down. Quickly re-rigged to all wire leaders with stinger hooks. Next strike was a nice King and landed him in quick order (145' off the Pier). After a very slow drift north and west, ran back to 145' off the pier and tossed out a Sardine in the spread this time. Few minutes later, the spinning rod the Sardine is on goes bazzerk. Sail on. Got it close to the boat in quick order, then it went unglued and almost spooled us. Pulled all other lines back in and started the chase. Took 40 minutes to land the biggest Sailfish I've ever caught on my boat. It wore poor Paul out as you'll see in the video.
Got kinda slow, so we pulled up lines and started to troll offshore. Scattered weed everywhere, but pulling lures at a brisk speed quickly did the trick. In 450', found a small east/west slick and trolled that. Had first Mahi on in quick order. Brought it boat side and she had a friend which we quickly hooked up. While I netted the first fish, the crew lost the second. Knew we were in a good place, so threw out a spread of Sardines. Took about another half hour and the Mahi hit the bait we had tight to the stern. It had a friend which we quickly hooked up. Both of these made the cooler and we called it a day.
Awesome day on the water. Nice breeze, sloppy but manageable seas, no current to speak of and scattered weeds. Headed back out tomorrow with a new group of friends and crew.
[video]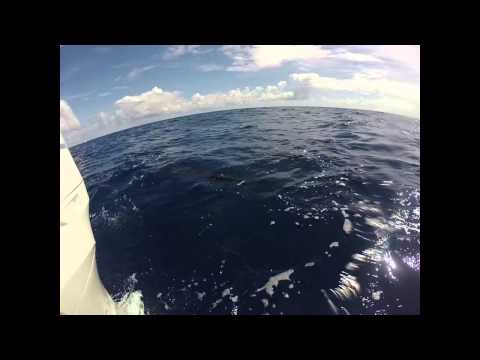 https://youtu.be/iTmNp7j_v1M[/video]