Home
›
South General Fishing & The Outdoors
Biscayne nights-Everglades days, 4 May
lemaymiami
Posts: 3,104
Captain
This past month was too busy (a nice problem if you're a guide...) in every way possible so this report will cover most of last month and the first few days of this month as well. Going to do something a bit different and separate the report by gear used - in my world we use every type of gear from fly through spin and plug casting - artificials to live bait (and everything in between) but this report will have a separate fly fishing portion since I know quite a few anglers only interested in the fly....
Tarpon have still been the stars this month (all the way up to this past weekend -more about that later). We've found them along the coast, up inside nearby rivers, and in large interior bays. The fish have ranged from little ones in the 20lb range all the way up to the big girls that were well over 100lbs in weight. We won a few battles with the big ones -but lost many more since they were up inside relatively small rivers and mostly just took us to school... Here's local angler Tony Muina with a nice river fish...
[img][/img][img][/img]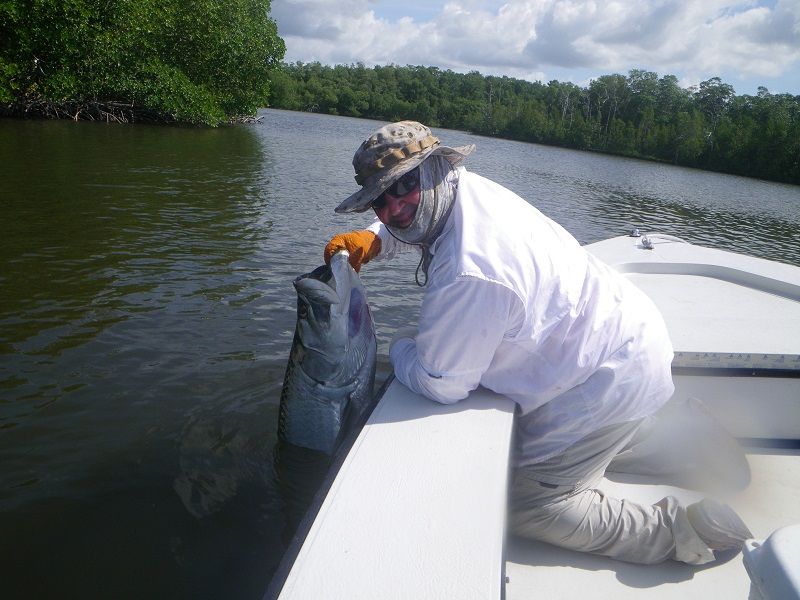 That fish was actually a bit bigger than the photo shows...
Along the way we got our first outside snook - a nice one on a live bait....
[img][/img][img][/img]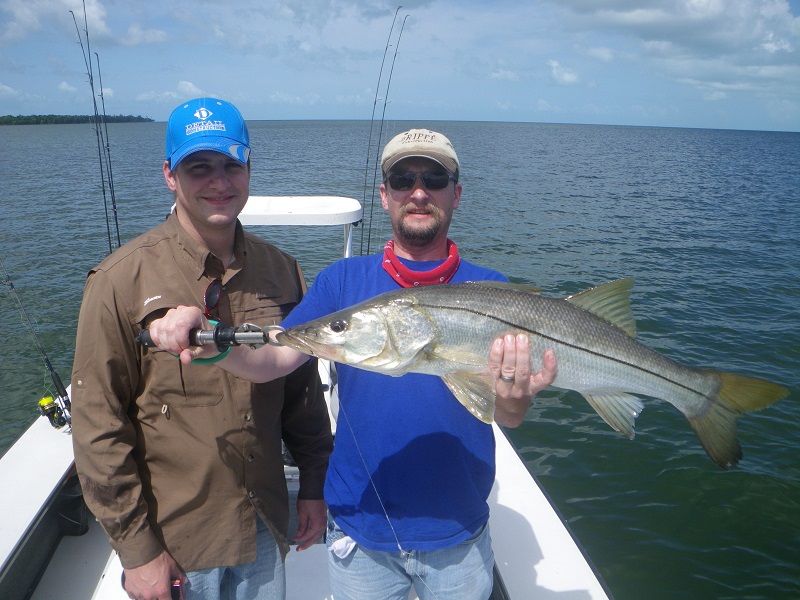 Closer to home in Biscayne Bay the night scene has been going strong with baby tarpon (some nights we laugh since along with the babies, we've been hooking and losing much, much bigger fish....) willing to eat any artificial shrimp that crosses their path while they're at the surface in the shadows under one bridge or other... Some nights the fish react so explosively to whatever they were hooked on that you'd think we were using hand grenades... More about the night scene on the fly fishing side of things...
Now for the flyfishing side... this is a great time of year for fly anglers -we're catching a bit of everything on fly, but the main target has been tarpon of every size. This first picture shows perfect form for pulling hard on a big tarpon that's taking most of your line....
[img][/img][img][/img]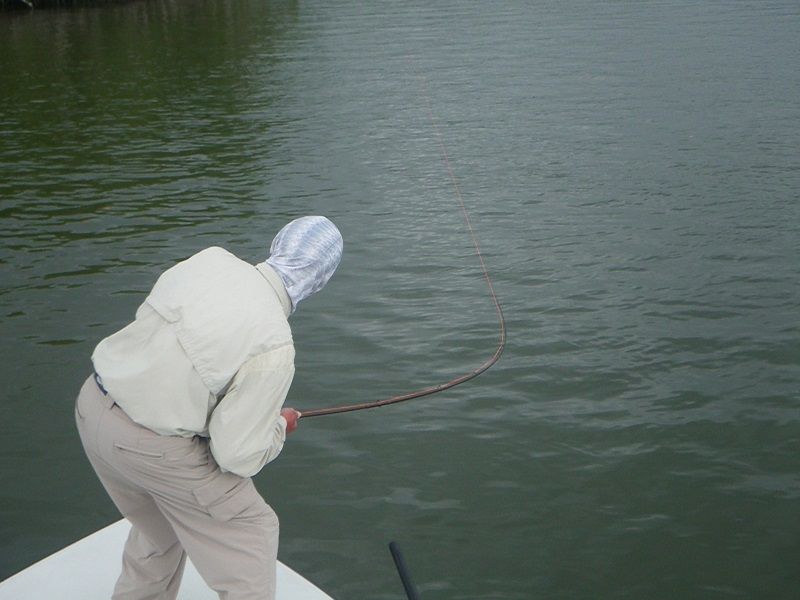 "Down and dirty" is the only way to go with a big fish on fly....
From great big tarpon on fly all the way down to small goliath grouper on the same fly pattern (and everything in between) -that was the way it went this past month... This little grouper ate a six inch Tarpon Snake fly that was presented perfectly to an 80lb fish along a river bank. We watched as the fly sank down to the tarpon -then this little guy beat the tarpon to it....
[img][/img][img][/img]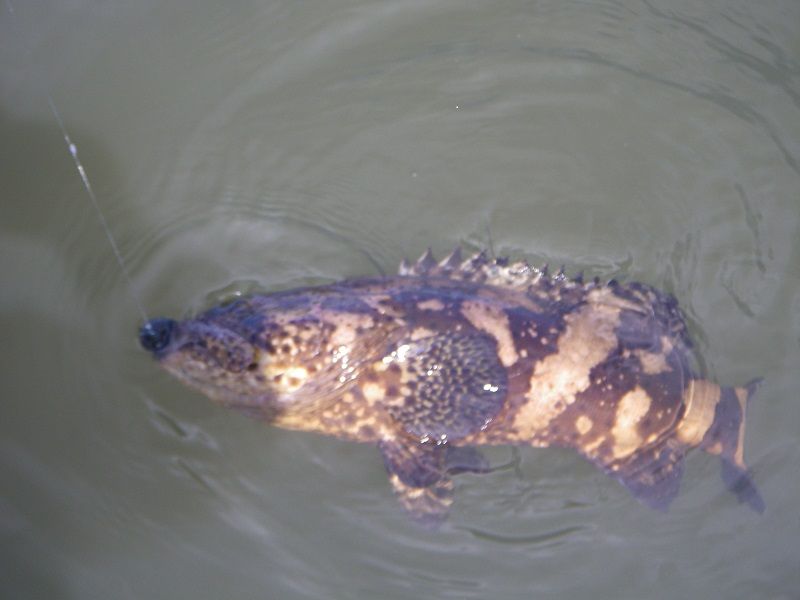 A few weeks later in a river full of tarpon that just ignored our flies Lee Brennan from Alabama cast to a black drum along a shallow river bank to take this 15lb fish - as usual on a 6-7" black fly meant for a tarpon...
[img][/img][img][/img]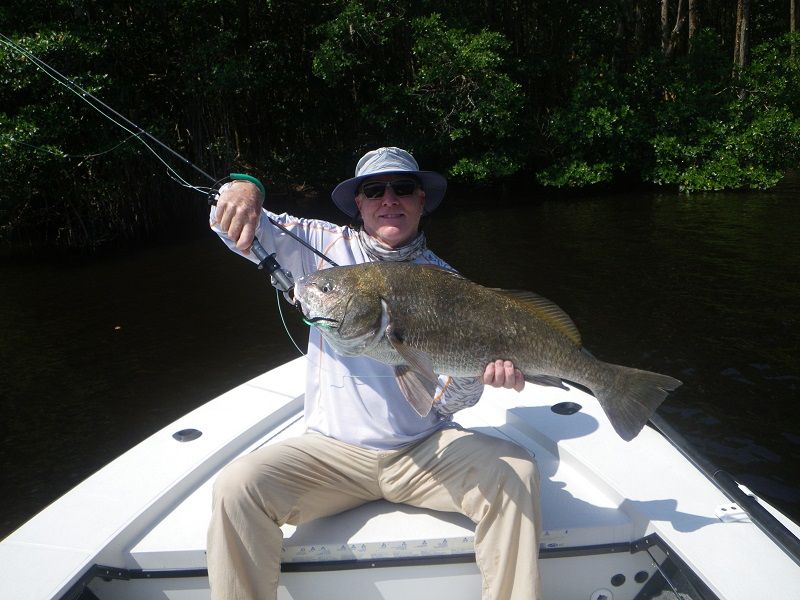 Earlier that day Lee hooked and fought his first big tarpon on fly up another river and came within about 20" of having the leader in the rod tip.... Minutes later that same fish ran up a small, closed creek with so many downed trees in it that we couldn't follow. The entire fly line as well as a few feet of backing were up there when the fish finally came free. You can imagine how surprised we were when we got everything back -including the fly... Here's a pic of Lee holding on with his first tarpon (brand new rod and reel as well....).
[img][/img][img][/img]
Our last night trip was this past Thursday where a first timer from England got taken to school by fish that ranged from 20 to 50lbs. John Turner jumped seven fish that night and they did all the releasing. I think he'll be back... This month we've broken one rod (a TFO BVK 10wt on a tarpon at the boat) and lost my fourth fly line (a brand new Rio intermediate 12wt) up a nameless river -with a really big tarpon on the other end...
Now for the bad news, water temps at Flamingo dropped ten degrees in five days as we found out on Saturday -and we were fishing in high winds.... It will take a few days before the tarpon come back but we saw only one in two days of looking for them this weekend... Earl Zagrodnik from Utah made the best of it, though with a 29" snook on fly....
[img][/img][img][/img]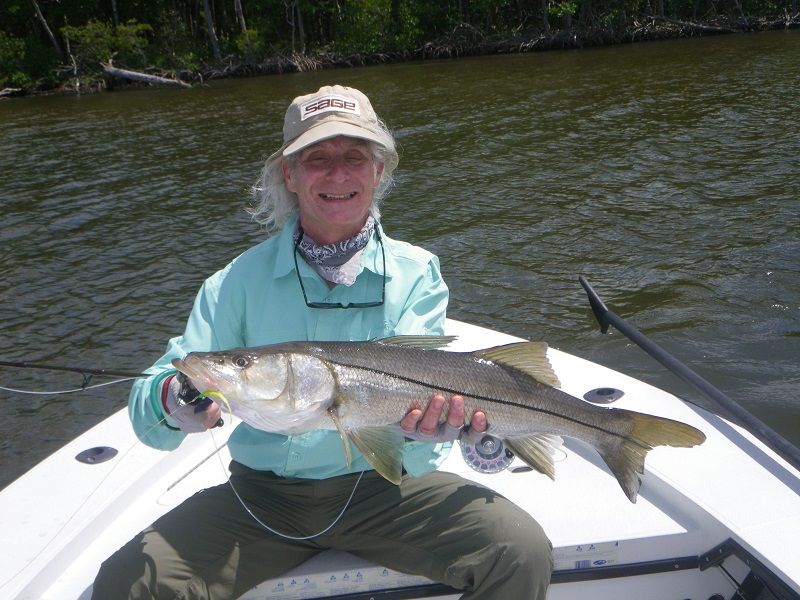 ** Be a hero, take a kid fishing**
Tight Lines
Bob LeMay
(954) 435-5666