Home
›
South General Fishing & The Outdoors
Fishing report, Everglades backcountry 10 March
lemaymiami
Posts: 4,455
Captain
After two months of "no reports" it's nice to be able to post one again. Not that we haven't been fishing but our catches have been spotty at best. Friends and other guides have said the same thing "a little slow or a little tough" either one has been an understatement. Lots of fish but rarely anything to brag about. Fortunately with a bit warmer weather things have changed in just a short time....
The big tarpon are inside at Flamingo now and we're finding them every day up inside small rivers that drain into the Gulf coast. On Saturday my two fly anglers had six bites in one spot, putting three in the air on a 10 wt and a 12wt. Our fish that day didn't stay connected very well - the first time a freshwater fly angler tangles with big tarpon the hookset takes some learning (no you can't "trout strike" a 70lb tarpon -it just doesn't work at all....). The next thing that happens is the angler realizes that you really need to strip strike -then you begin breaking fish off on the strike... I'm pretty sympathetic because everyone goes through the same learning curve. We're looking forward to a re-match with big silver that will hit a fly so close your feet get wet....
The next day (last Sunday) I had local angler Chris Sullivan aboard. It was his first time at Flamingo and he was looking to learn a bit about the area. The day, like many recent days, didn't have the best weather -it was blowing and rainy making the big bays like Whitewater tough to fish so we made the long run to those same, nameless rivers that are actually tributaries of the Shark River. As I poled up into position there were big silver fish rolling all around the skiff. Chris used a medium light spinning rod with a 40lb leader to toss a small jig in front of the nearest one and he was hooked up solid... At around sixty pounds that fish gave him all he could stand....
[img][/img][img][/img]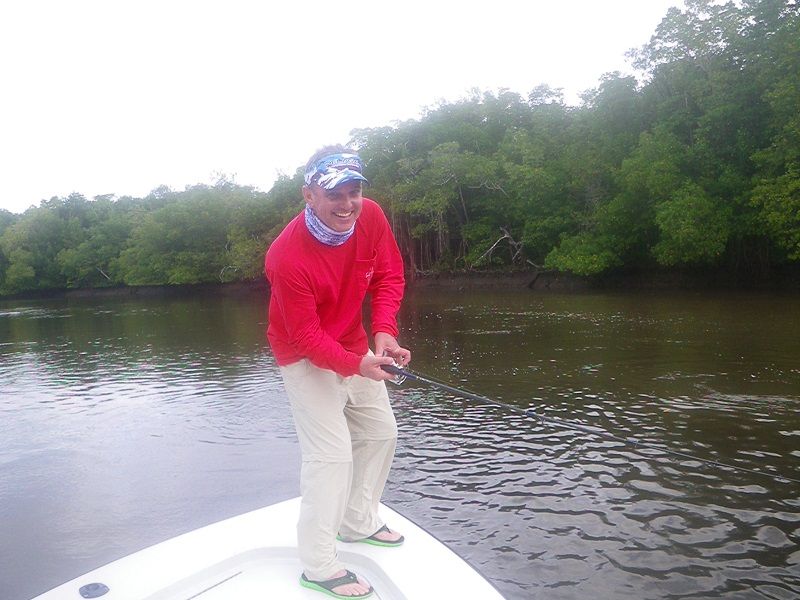 [img][/img][img][/img]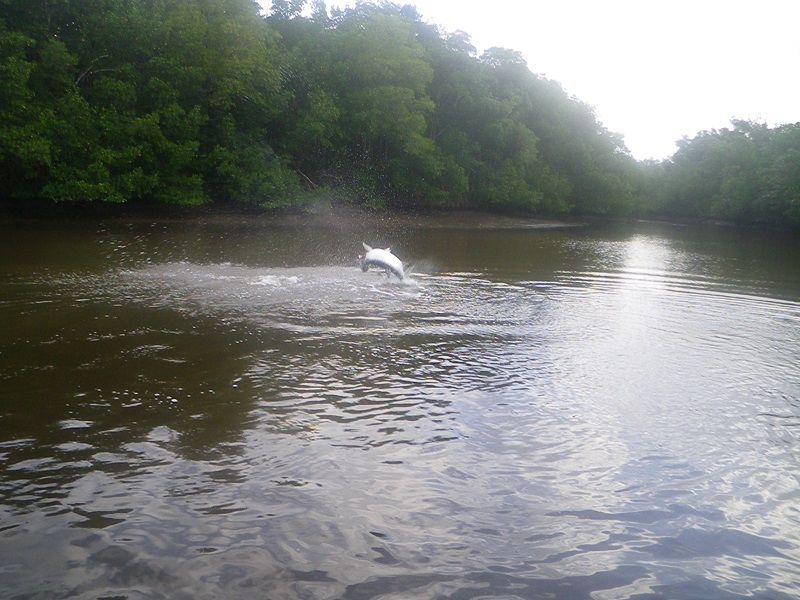 Several times during the 30 minute fight the fish was close enough for a leader touch but I stayed out of the way. Finally the fish wore through the leader and Chris looked like he'd run a marathon.... We switched gears a few minutes later and set out a live bait into the same area where there were a few less fish showing (a prolonged fight in a small river will encourage the fish to move away -but quite a few were still around...). That bait didn't last long and we were off to the races again. Here's a good pic of that fish near the end of the fight....
[img][/img][img][/img]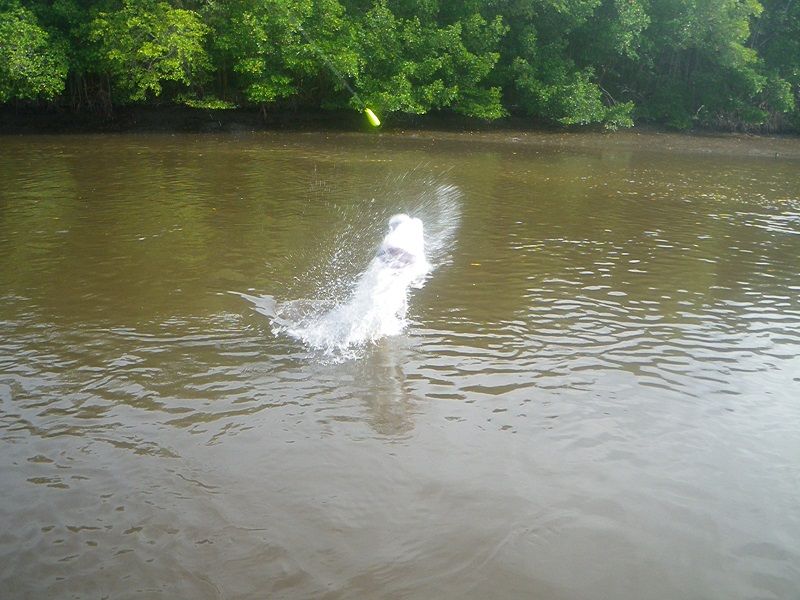 We did leader this fish before it released itself at boat side.... A solid 70lb fish, was at the boat repeatedly during the battle... We had a few other bites on both bait and lures then slipped away, leaving that particular river for another day. The next river held fish as well -but it was the end of that tide and the fish weren't having any.... A long run later, out along the coast we went looking for reds and snook but didn't score. The last big fish that day was a solid 80lb tarpon that picked up a bait meant for redfish in right around two feet of muddy water, gave us a few explosive jumps in a tiny creek near Lostman's river then shook the hook... As you can guess - Chris said he'll be back....
Not all of my trips last month were slow. Here's a pic of an outstanding catch on very light gear using a small jig in water less than two feet deep where spooky redfish are very tough to get a bite from....
[img][/img][img][/img]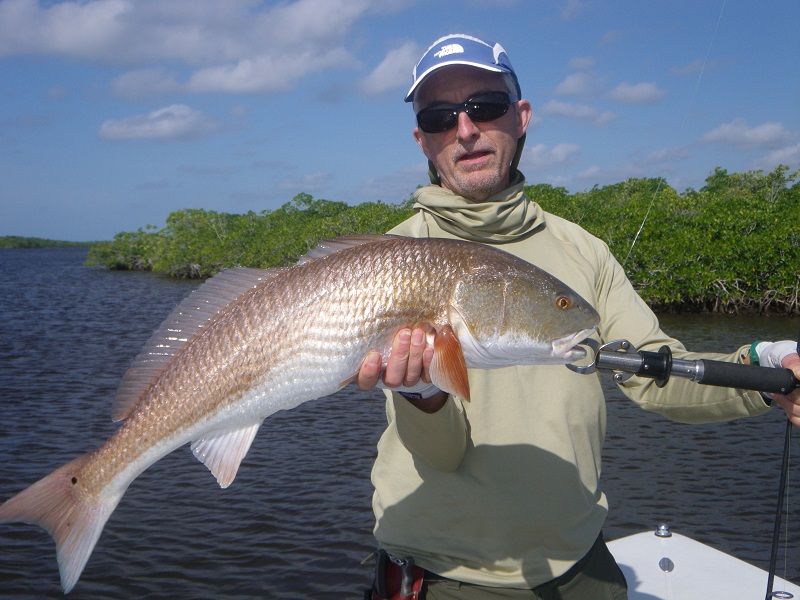 There are a fair number of this size and larger reds up in Whitewater (this one weighed exactly 10lbs on the Boga-Grip). Bigger reds like this one are tougher than a big bonefish when you find them in crystal clear winter waters inside. My angler was able to see a pair of them in around 18" of water moving along a shoreline. He made a perfect cast and got to see the fish chase the jig down.... It was very carefully released to fight another day....
Here's my forecast for the next few weeks... When the winds die down we'll be hunting laid up tarpon (some of them real giants...) up inside Whitewater Bay. If the wind is blowing we'll be up inside one river or other and knee deep in big silver fish... While we're working tarpon the trout, snook, and redfish will be getting lots of attention as well. The next six weeks will be the peak of the speckled trout for the entire year....
Be a hero! Take a kid fishing.
Tight Lines
Bob LeMay
(954) 435-5666