Home
›
East Central General Fishing & The Outdoors
#4....
duckmanJR
Posts: 21,265
AG
I know it annoys Tunaman for me to use the forum to track my slams per season...but i'm old and would forget if I didn't. :blowkiss
Started the morning with " No Shrimp " at the tackle shop. Well, I guess that makes it easy....plastic or nothing.
Chatted with Cap't Ryan (Final point) ...He was heading offshore. Ran south and started in a swash channel and did OK...Caught 5 small-Medium trout and had 2 others pull off on the CAL. Kept moving south and found a bunch of big snook in shallow water along with a couple reds and trout...but nobody was eating. Next spot I get "lucky"...get this little guy on a little dark bottom hole.
Feeling pretty good about a slam...seeing Redfish but no luck selling CALS. Tide is now flooding in...enough that I feel confident I can get the barge into one of my better bait spots. Get a decent toss of my new Tim Wade (Man, I love that net!) and get 7 fingers...plenty of bait in there and could have loaded up but know I won't fish tomorrow (important meeting) so I don't want to waste them.
Back to a couple spots on the flooding tide but am getting refused on the wigglers...till..
12:30 and that makes # 4
Kept at it and as luck would have it...get this sweethart 28 inch trout on a wiggler.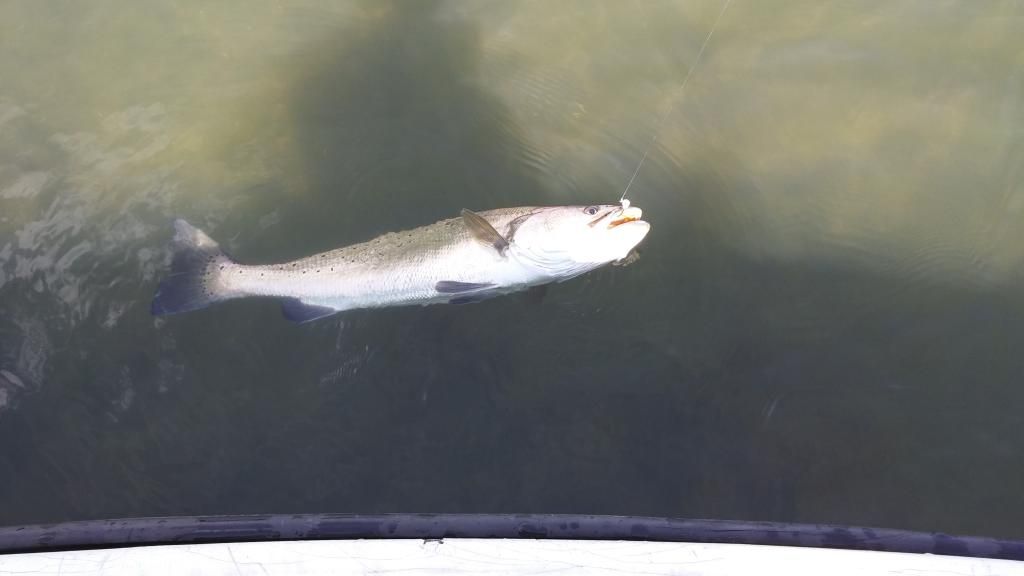 Last spot I get another Red...but somehow the picture didn't copy to the phone? :huh Probably "operator error"
Quit at 1:15 since the wind was really stiff and it looked like it wanted to rain. Had 6 Trout 2 Reds and a snook....
There are many roads to travel
Many things to do.
Knots to be unraveled
'fore the darkness falls on you