Home
›
Fly Fishing
Shad fishing the St Johns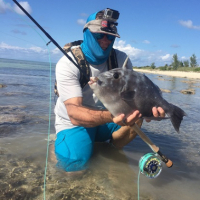 Docked Wages
General Fishing Administrator
Rockledge / Bahamas
Posts: 3,126
Moderator
Anyone else been Shad fishing the St Johns lately? I have been fly fishing on the St Johns between the Econ and Lake Harney off SR 46. Meet a lot of other fly fisherman, mostly in kayaks targeting the same species. Besides shads some stripped bass and sunshines have been showing up. The run is not in full forece yet so the best part of the season is still to come. I got my first shad on fly last week after a couple trips of getting shut out. Most have been 16-18" and came on small weighted flys. I did not have "shad" flies and was rotating what I had in my box. I am looking for a good recommendation for a good fly. Others were having success with orange patterns and of course chartrues. I straighten the hook on on fly and pulled the hook on several others before figuring out the right touch.
Mark Wilson
USCG 100t Master, Assist Tow, 200nm Coastal
Marine Surveyor, SAMS, ABYC, IAMI, FMIU
Wilson Yacht Survey, Inc.