Home
›
General Freshwater Fishing
Lake Henderson 11/31/2014
capt louie
citrus county
Posts: 10,161
Moderator
Fished a club tourney out of the Spivey ramp Sunday. Weather was cool but not windy and warmed up to around 75 by the afternoon Water temp started around 60.5 and was up to 64 by the afternoon.
I had found a school of fish that were eating shad offshore in the main pool a couple of weeks back and decided to start there trying to find them. Threw a lipless crankbait for a couple of hours but no bites. Made a move and checked another area but was fishless still at 8:45 so went back to the first stop. Had my father in-law and another member show up in the search area. They had spotted some birds working some schooling fish. I looked and seen them catch a couple so moved back and picked up the a-rig.
Second cast I get bit and a fat 2lb fish goes in the well. Sight checked my position and fan casted until I zeroed in the location. It was on ! Got my limit and started culling. Another two club members (bro-in-law and his son) came around the point and I caught another bass. Out came their a-rigs and we all started working the school and all started catching.
At the scales I had 14.6 and my father-in-law had exactly the same with BIL coming in with 13 and nephew with 11 lbs. All out of the same school of fish. They were little fat tanks and full of shad. My arms are sore from chucking that rig all day. I released/culled over 2 limits and had one double. My best a-rig day ever.
Here is the nephew with two of his fish.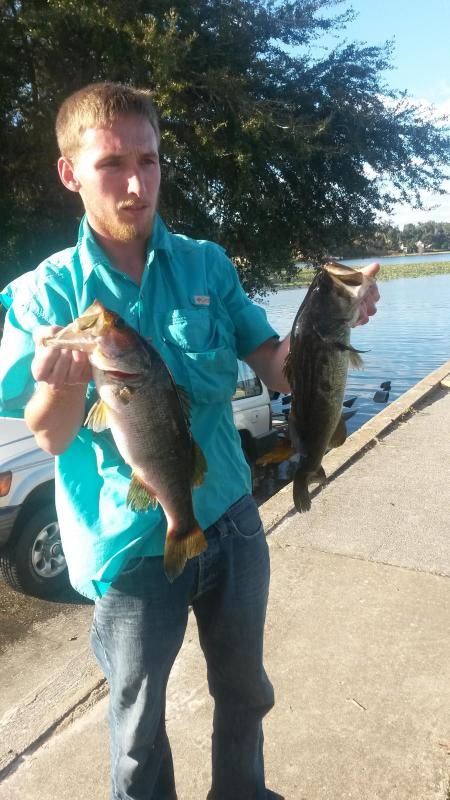 Split 1st and second money with father-in-law and BIL got 3rd and also a big trashfish pot.
Later, capt louie
"You'll get your weather"