Home
›
Southwest General Fishing & The Outdoors
Tampa Bay Slam Classic tournament
bonitabob
Posts: 675
Officer
Will Mallett and I left SWFL midday on Thursday to hit up Tampa Bay for some tournament pre-fishing. We were met later by Jim VanPelt and spent our afternoon at Gandy Bait and Tackle. Bill was a very nice guy and took the time to listen to my fishing plans for the tournament. He pointed out the areas along the way to check out the next morning. Early Friday we hit the NW side of Gandy bridge. There was a lot of bait around but not a lot of anything else. We worked our way toward the mangrove wall and started finding the trout. I caught a few to 20" and moved on. Before long I was on the flats (at low incoming tide) and tossed a gulp at a tree branch about 20ft off the mangroves. It was slammed and the fish started taking drag like it was nothing! I think it was my laughing loudly that got the other guys attention, and by the time they came over, he snapped my 20lb leader. I saw him and he was a BIG redfish. I retied and we started working the area. I scored with this fat red approaching 30".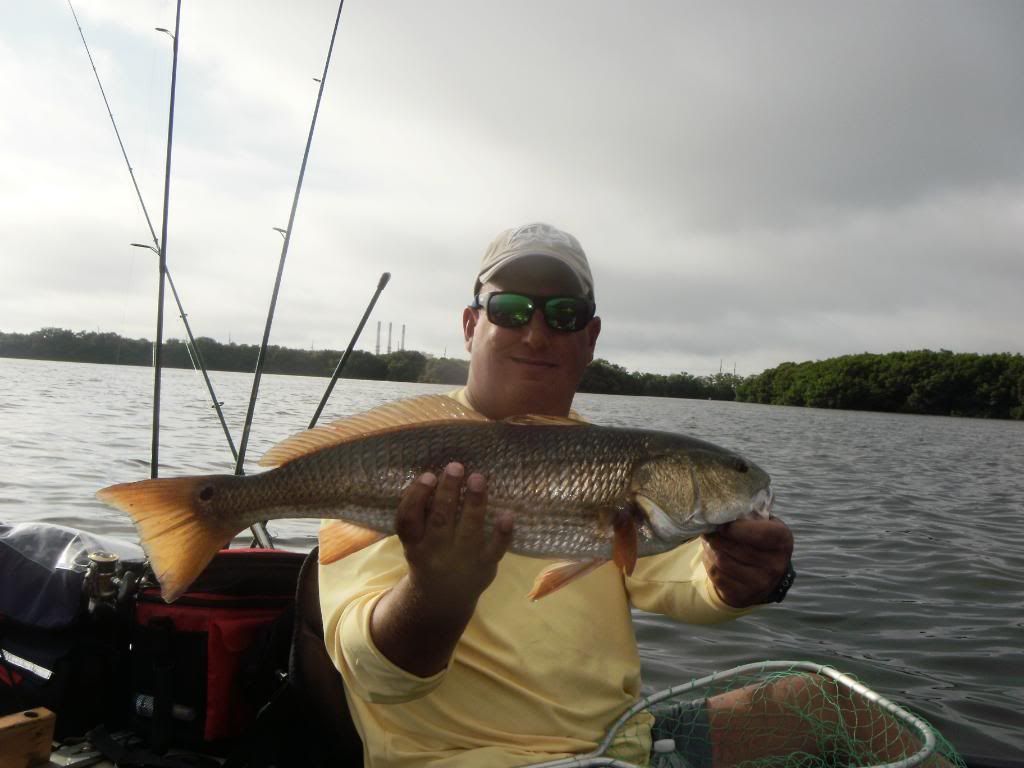 He was a horse and on light tackle was a lot of fun to bring in. Will got the next red fishing next to an oyster bed that was loaded with mullet.
It was obvious there were a lot of fish here so I suggested we take off so there would be some left on tournament day. Jim, who had not caught a fish yet graciuosly agreed and we were off the water by 9:30. We could hardly sleep knowing we left all those fish out there and by 4am, I was loaded up just waiting. We launched Saturday at 6:30 and took our time in the trout holes. I got a couple right off measuring up to 18 1/2" and started slowly working my way to the flat. There was more boat traffic and some wadefishermen in the area so I was there a little earlier than I wanted to be. Will and Jim got trout and soon joined me.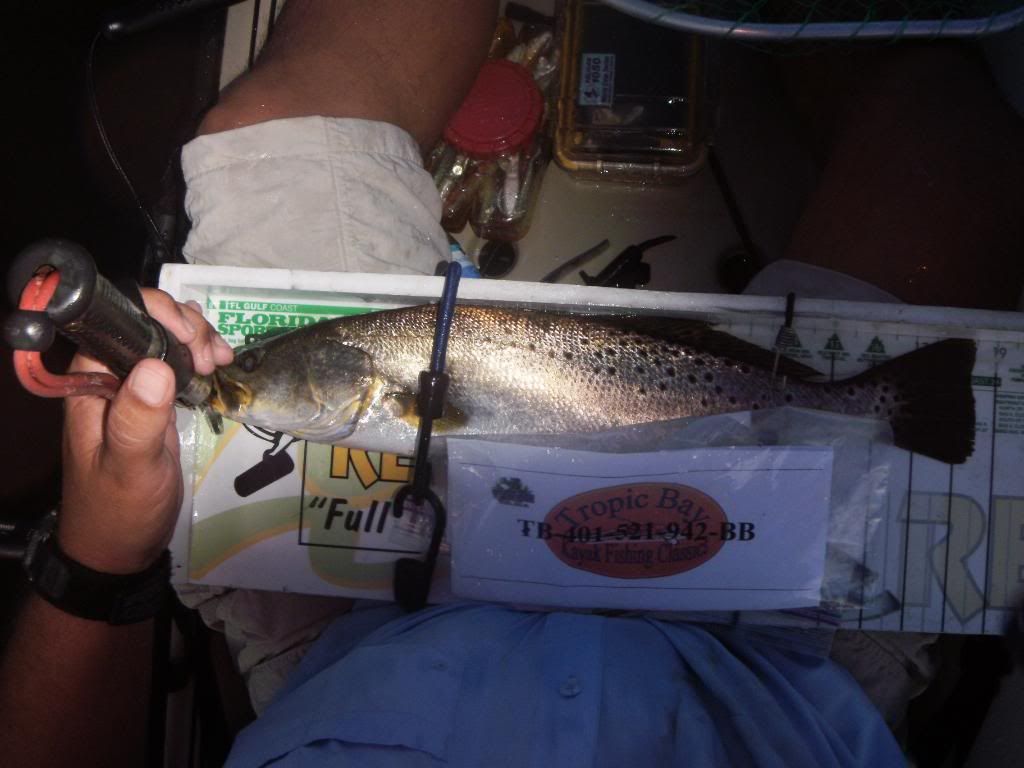 Jim's trout measured a little smaller which made all the difference later on.....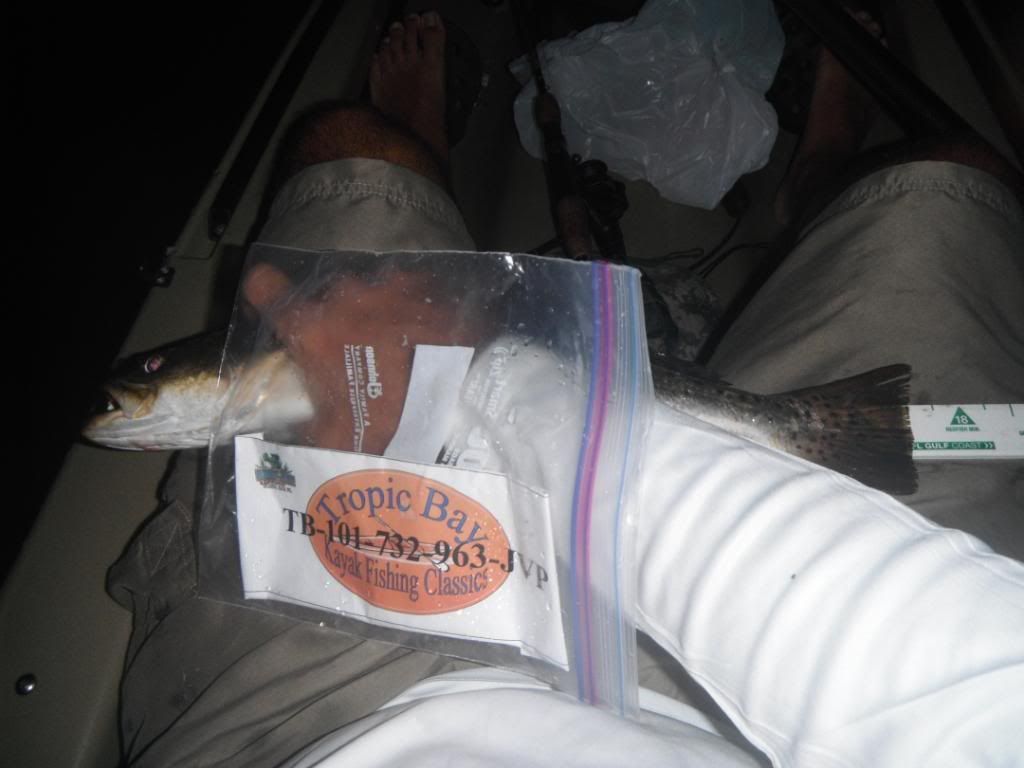 I started working a mullet school and hooked a respectable red at a little over 20" and began looking around for a snook. I spent a couple of hours working the mangroves, oysters and flat and never even saw one. I found out later all the snook were on the other side of the bridge around Wheedon Island and the power plant nearby.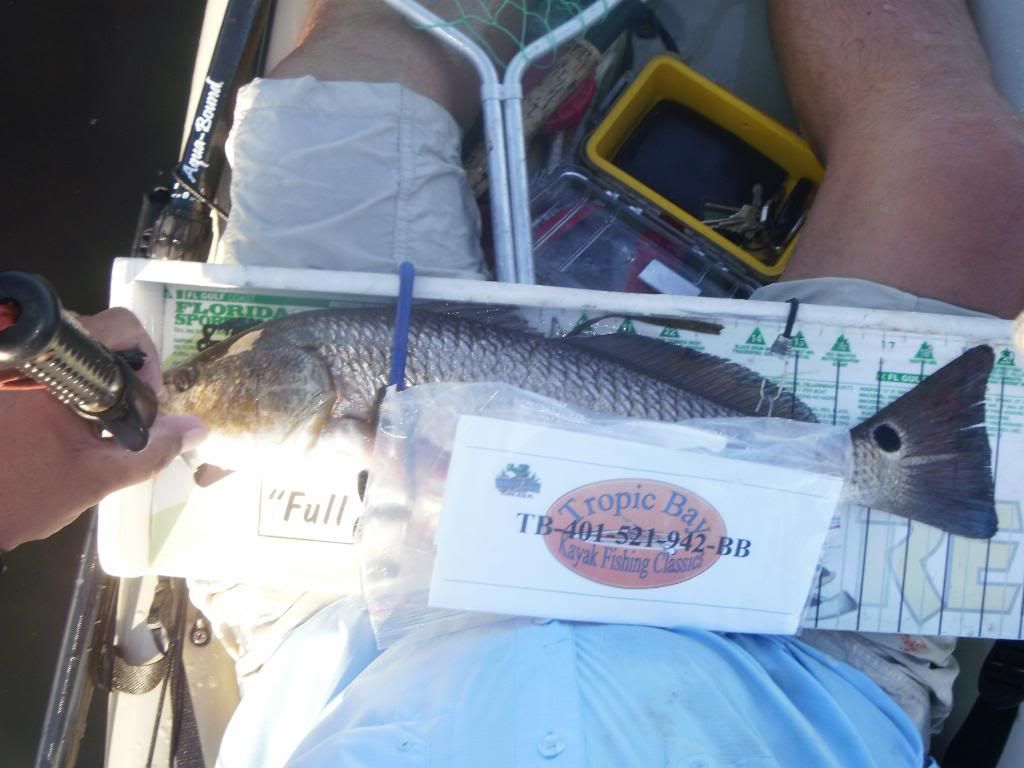 By the time I met up with the guys again, Jim had just landed a red measuring 21 1/2". Now we were both on the snook.
We worked mangroves and all the structure we could find and never found a snook. Will never found his red and we ended up packing in for the day. At the weigh in we were pleasantly surprised to find out only two slam were caught. Richard Smith and Marty Meakin won 1st and 2nd respectively, and I eeked out a third place win. Jim ended up with 5th. It was a great day for reds, especially in an area we have never fished.