Home
›
Ten Thousand Islands General Fishing & The Outdoors
Romp in the swamp tournament Win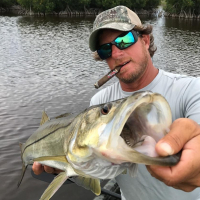 Joe Snook
Posts: 468
Deckhand
What a fun event and collection of great local captains and anglers. 63 teams went out of the port of the islands in search of three species. largest Snook, Redfish and Trout. At the end of the day the total inches will be added up and most total inches takes the win. The next part is where I caused myself unnecessary stress and drama by not educating myself properly on the rules wich were clearly stated I just read them wrong. ( mistake #1) in case of a tie the inches will be added to an exact measurement. This actually played out in the end because of another mistake I had made by not looking at all my pictures more thoroughly (this was actually mistake number one) the one thing I did do right (other than catching 3 big fish) was come in over an hour ahead of check in time because the rule is in case of a tie after exact measurement the higher place bracket goes to the person that brought their fish pictures in first to the check in table. 84" sounded like a number that would get tied so I came in early being satisfied with my total and hung out by the leader board watching very intently for hours seeing that I had $4800 riding on my number. Turns out 84 did get tied for first place as I suspected then re reviewed and I got first due to the gamble of sacrificing fishing time to come in early to get the decision in the case of a tie. In the end it all worked out but maan was it stressful for hours awaiting the decision (slamming beer after beer does not help in this situation mistake number three). The fishing was Awesome that day and should continue through the next two months. We got our fish on topwater, pilchards and DOA Shrimp. We got our trout and red on the outside and upgraded our snook in back. Topwaters n Doa' s first light and pilchards during the day.
this is the snook I registered but the bigger is the one I should have. My own dumb mistake and its un elligable and a non factor the day after looking through pics lol
I had a plan and It got interupted by torrential down pours in the morning and the afternoon. I was able to hit one spot I planned for reds but it was dead and didnt pan out so I just went through with a big snook and trout. readjusted trusted old spots and my instincts to sniff the biggens out and got to work. So blessed to be able to be out there and have it all work out the way it did after so many bumbles on my part. The bite is Awesome! Get out there n Tear Em Up!
celebrating with Jagermeister mistake number 4 ugh!
southwest florida fishing guide in the beautiful 10k islands, everglades and more
www.Joesnook.com