Home
›
Keys General Fishing & The Outdoors
Key Largo 9-21 to 9-27 report
stoutner
Posts: 255
Deckhand
After many years of reading and commenting on reports I finally get the chance to write my own. I must start off by saying that I am a rookie when it comes to saltwater fishing having maybe 12 -15 outings under my belt. I have learned almost all of what I know from reading threads on here, watching TV shows, and a couple of charter trips over the years. Even though I am a charter captain on Lake Ontario I have tons to learn as it is a completely different style of fishing.
We picked up our rental boat Sunday morning with a forecast of great weather for the day. Loaded up our gear, bait, chum etc and headed offshore. Made our way out to 300 - 400 FOW and tried trolling for tuna and whatever else we might find. Caught a few Bonita but didn't really see much else. We were pretty sure we would need to go out to maybe 600-800 FOW but one of our engines was knocking badly and didn't want to get stuck out there with only one engine. Worked our way into the reef and set up in about 45 FOW. Started the chum slick and immediately had all kinds of smaller fish at the boat. waited about 20 minutes and deployed one of those (now dead) Bonita with a pretty heavy weigh to get it to the bottom. Then rigged up some light tackle spinning rods for some Yellow tailing
Action was pretty non-stop and as time went on they kept getting larger and larger. Most were between 12" and 15" but a couple larger started to get hooked up. Ended up catching maybe 15 or so. Threw back most but kept just enough for dinner for the 4 of us.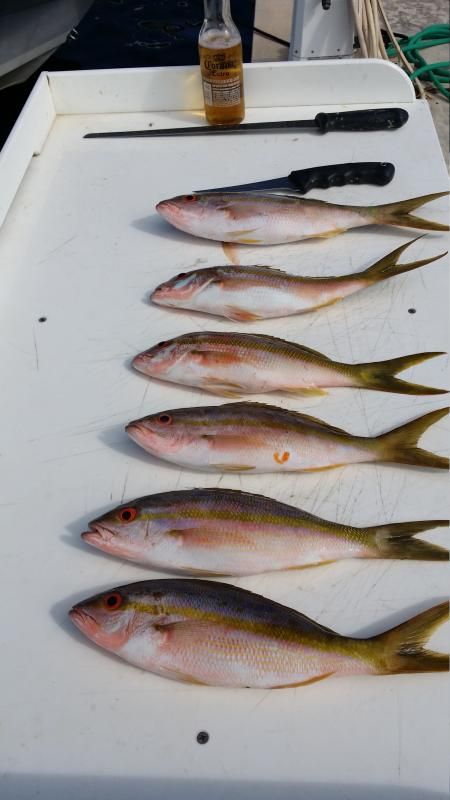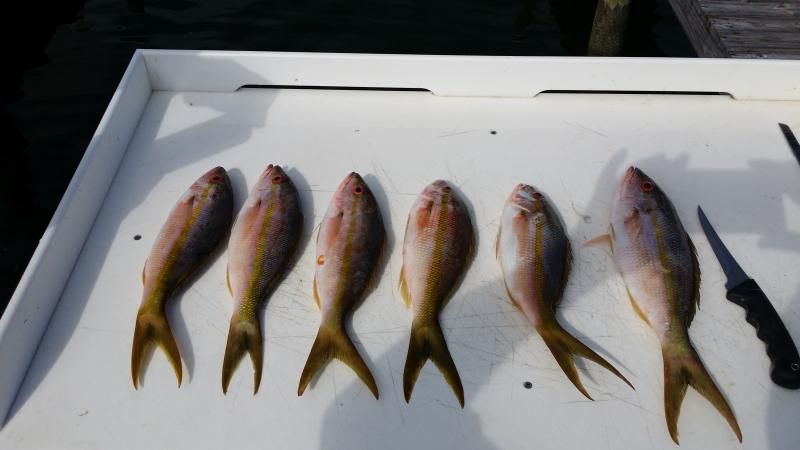 About an hour into fishing the whole Bonita that I dropped to the bottom gets hit. I grab the rod and begin to fight it. Made the mistake of using a medium spinning rod with 20 lb test on spinning reel. After a 10 minute one sided "fight" the unknown beast just about spooled me. With 5 wraps left on the reel I locked it down and it broke me off. I figured it had to be a big shark? He stayed right down and I could not get it to move up toward the surface at all. I truly don't think it even knew it was hooked. When picked up and headed in. About half way back in, the motor that was knocking made a loud bang and started knocking MUCH louder. Shut it down and worked our way in on one motor. Contacted boat rental company and they brought me a different boat right away.
With "new" boat loaded up on Monday morning we headed out at sunrise. Decided to try to go offshore a little farther this time. Worked out way out to about 550 FOW and caught a few Bonita. Decided to not go out any further because the boat/bilge wreaked of gasoline and that made me a pretty nervous. I was fairly sure it was spillage from when they fueled it up but since this was our first day out with this boat I didn't want to chance getting any further offshore without and help nearby. As we trolled back in we got to about 500 FOW and came upon a great weedline and good current rip. I assume this was Gulf Steam??? It was running about 3 - 4 miles per hour from South to North. Trolled that weedline for a little while but was running out of time because i had to be back by 11 am for noon meeting. As we were trolling back in about 350 FOW we take a shot on one of our smaller islanders. A nice little Black Fin Tuna. We turned and trolled over that area for about another half hour but couldn't get anything to go. We pulled lines and headed in for the day.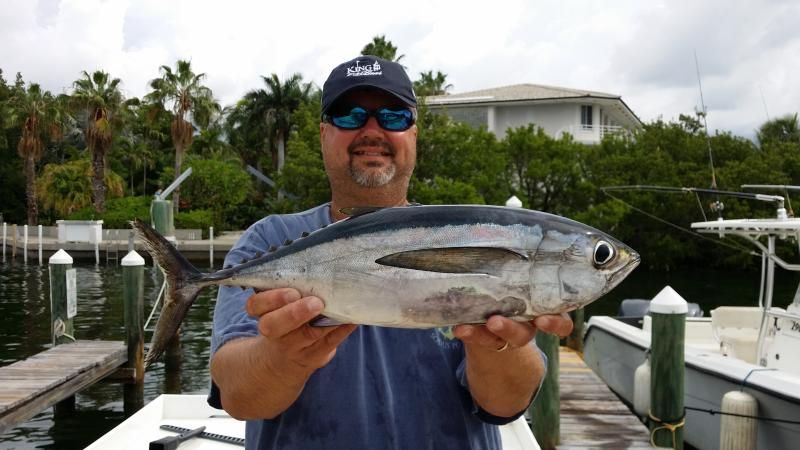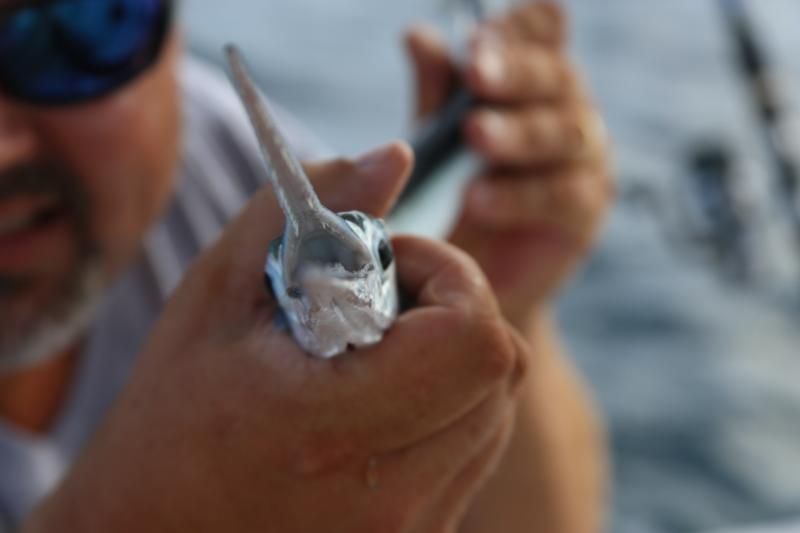 Most of the rest of the week was pretty uneventful. More reef fishing and some fishing off the dock.
On Friday we were ready to go again but the lightning and wind was making things a little sketchy. Decided to cruise over the Pennecamp park and check out the canals/rivers and just go for a boat ride. We did take out fishing gear and played around in the river coming out of the South end of Largo Sound. Caught all kinds of small Blue runners and snapper etc. It was pretty fun for a few minutes. On the way out of the river back in the ocean I decide to deploy a Mann's Stretch 25 Hardbait about 20 feet off the back of the boat just for kicks. Within 5 or so minutes a takes a shot! A HUGE Barracuda! I know for most of you guys this is probably no big deal but this was a beast for me. After a few jumps and a good battle I was able to get it to the boat. Once I got it in I didn't really know what I was going to do with it. Never occurred to me that I would catch this beast. Gaffed it through the bottom lip and brought it on board. Took a couple quick pictures and sent him back on his way. I know you are not supposed to hold them upright like that if you want to release but I had no idea what the heck I was doing. Released back into the water and it swam away. Hope it made it so someone else can catch it another day. I estimate it to be about 55-60" long. I am 6' tall as a reference.
Any idea how much it might have weighted?
It had much more girth than the photo shows. I had the fish at a funny angle in the picture.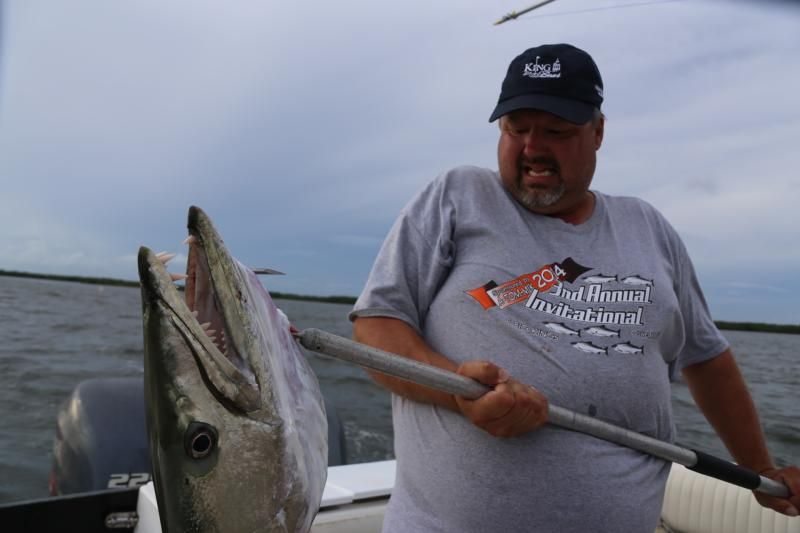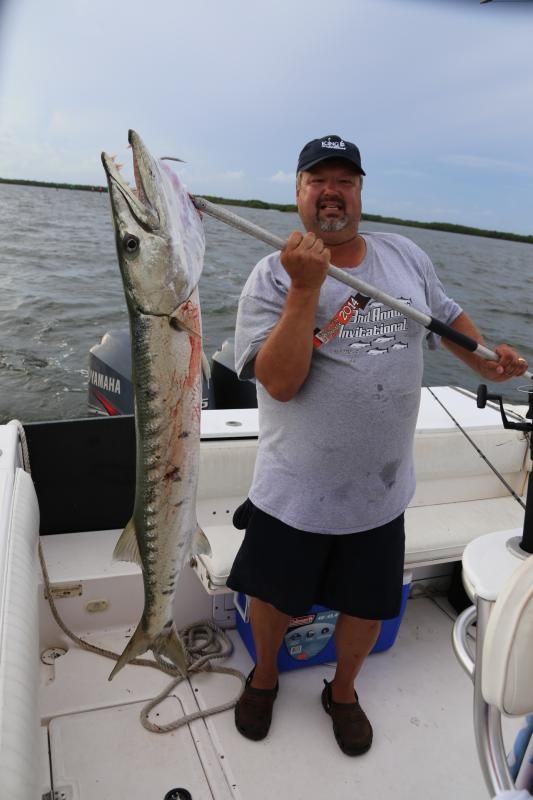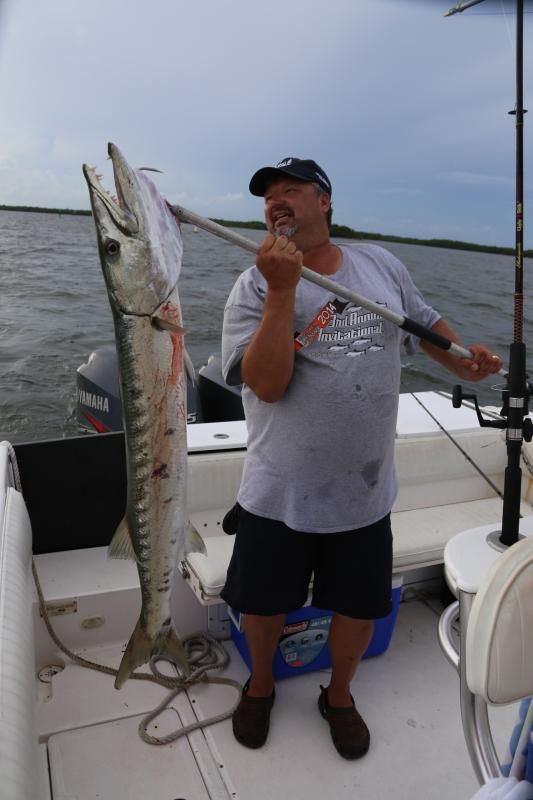 All in all it was a great week. We usually go to Marathon but we all enjoyed our time in Key Largo and might go back there instead of Marathon next year.
Capt. Wayne Stoutner
Reel Stout Sportfishing
Lake Ontario Salmon and Trout fishing
www.reelstout.com