Home
›
Ten Thousand Islands General Fishing & The Outdoors
Naples Take A Soldier Fishing Event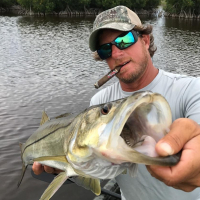 Joe Snook
Senior Member
port of the islands in Naples
Posts: 468
Deckhand
On Sept. 13 2014 there will be 130 active duty troops and some wounded warriors coming down to fish with 70 boat captains from sw Fl.
Come down and support the event and the troops starting at 11:00am. There will be music, food and beverages and also a kids zone.
The weigh in will begin at 2:00pm. There is both an inshore division and offshore division.
There will be some high profile fishing guides and a celebrity fishing talent among the 70 boats that have been arranged by an amazing group of people to take the soldiers out so I suspect once more you will see Lots of Big Fish going to the weigh in.
Hooters is a big sponsor so there will be plenty of orange shorts skippin around too. But seriously its for a great cause and 100% of all donations goes towards the funding of this event so support it and every year they will be able to keep this wonderful event going n growing.
The event is held at Bayside wich is across from tin city on 41 n goodlette frank. The morning is definitely worth getting up for. The troops are picked up from their hotel by huge buses and have a police escort to bayfront where they get on their boats ready for a day of fishing but not after the national anthem is sung in the peaceful quiet of the morning. Then the engines start and 70 boats all flying American flags go under the bridge to the end of the idle zone where its then off to the races with a shotgun start. Its hair raising and really gets red white n blue pumping through yur veins. Be there!
If youd like to help or want to know more go to:
www.NaplesTakeASoldierFishing.com
southwest florida fishing guide in the beautiful 10k islands, everglades and more
www.Joesnook.com