Home
›
East Central General Fishing & The Outdoors
Fat Sallys little sister....
duckmanJR
Posts: 21,265
AG
I got a little info thru the grapevine that a push of finger mullet came thru the inlet last night. I decided to start north with that in mind. I got to my first spot and was able to catch two slot trout on a white CAL (pic did not show up in my phone? :huh )
Caught two jacks so I moved on. Kept heading north but the water quality got worse and worse...My third stop I missed a hit...then as I'm moving along I see a Redfish...10 feet away against the Mangroves! I do a little backhand with the Chartreuse CAL and it rushes the lure...Talk about "short-lining" one... He never knew what hit him! Never really got going before it was over.
Nice fish though...
My next cast I catch a Snook...but I'm not too bright and even though the jig is inside its mouth... I try to lift it and it shakes..breaks the 30 lb leader and bounces off the deck into the water...a dumb move. since i had the net right there from landing the Red. A few casts later I catch this little fella.
It's now 7:40 and i'm done with #87 so I run south looking at a few spots...even poked my nose out the inlet to watch the croaker killers at the jetty. I left there and went to look for wigglers since I was down to three that were small and tired. I got lucky with that project and got two good throws on some and had a bunch.
Started looking around and got this Trout..
My crappy pics don't do it justice...It was a very nice one.
Kept looking around ..broke off a nice snook and jumped off another..:cry
BUT...Finally found a nice one....and it ate!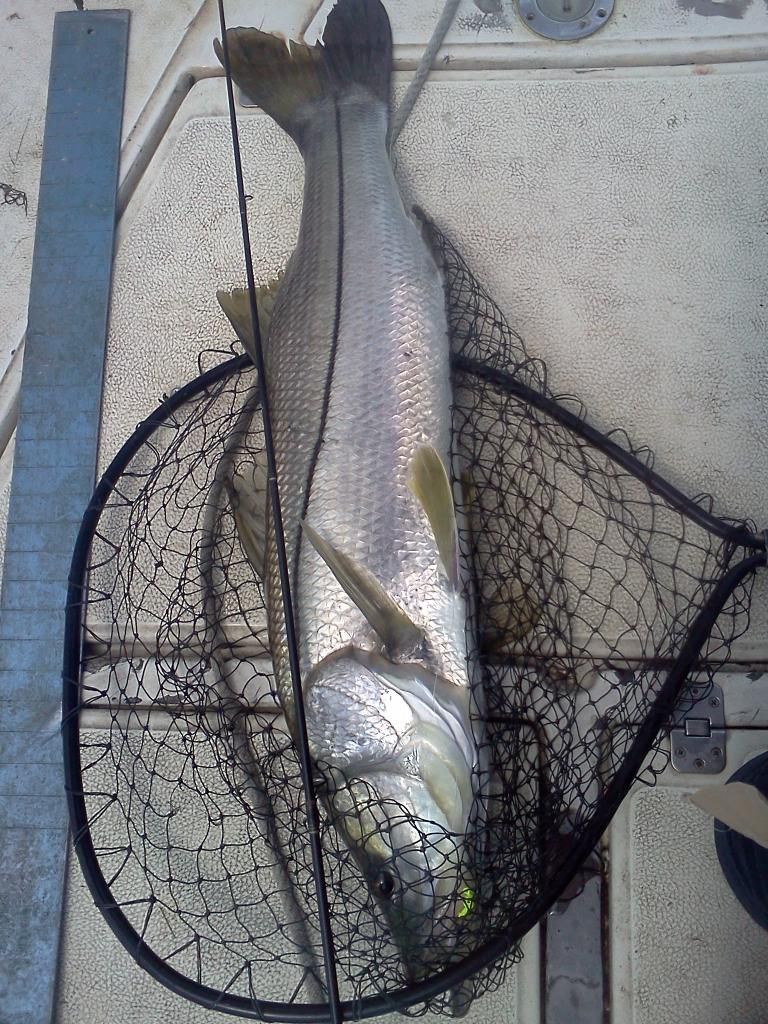 36 inches non pinched....
There are many roads to travel
Many things to do.
Knots to be unraveled
'fore the darkness falls on you