Home
›
East Central General Fishing & The Outdoors
Canaveral Kingfishing 8-23-14

Triple Threat 33T
Posts: 18,668
AG
Spent a few days at the beach last week but didn't get to use the boat due to an oil assembly seal that needed to be replaced so we were looking forward to getting out this weekend and doing a little fishing.
Weather forecast for Saturday was a light breeze and seas 1 ft or less and the weather man, NOAA, didn't disappoint. Weather was too perfect as there was almost no wind, it was hot as hell and seas were flat.
Game plan was to catch some live bait and then head out to the Kingfish grounds in search of Kings and hopefully a Cobia. Cleared the inlet and headed South. Bait was there but we had to work for it and spent a little more time than I had wanted throwing the net and making bait.
With the wells full of Pogies we headed North East, first stop 8A. With it being flat calm, it didn't take us long to get there. By the time we got the second bait out, the first bait got hammered and it was fish on. Within a few minutes the first King hit the ice. We continued to work up the reef for a couple hours but got tired of trying to stay out of the way of the parking lot boats that was out there and with no shots at any Cobia we decided to head back to shallow water to fish the bait pods.
The ocean gets a little smaller when it's flat calm and you can open it up so it didn't take long to get back into about 30' of water off the beach. Immediately started marking bait and it was non stop action from the time we got there until the time we left them biting. While having front row seats to the boat races that we're going on we weeded through Bonita after Bonita and Kingfish after Kingfish. We never got more than 3 baits in the water and the Kings we were catching inshore were a little bit bigger than the ones that came from 8A.
Key thing inshore was fishing the bait pods. If you you were marking bait, you were catching fish. The other key thing was fishing light tackle.
Several weeks ago I picked up a couple of GoPro knock offs made by Nabi and this was our first opportunity to try them out. And tips or suggestions on shooting or editing video would be appreciated. Picked these cameras up on Woot for $49.00 each and Amazon sells them for $179.00 and they came with waterproof cases and a bunch of accessories. By the way, turn the volume down as my older boys added the music.
[video=youtube_share;x34O2zDknUE]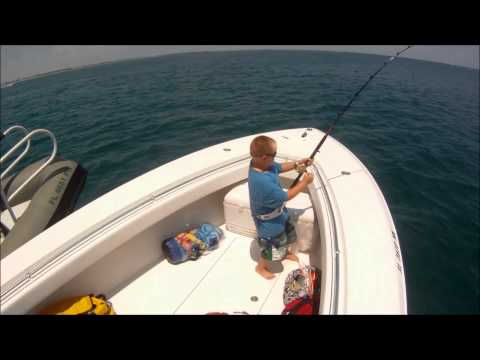 http://youtu.be/x34O2zDknUE[/video]
"Lord, hold our troops in your loving hands. Protect them as they protect us. Bless them and their families for the selfless acts they perform for us in our time of need. Amen."