Home
›
East Central General Fishing & The Outdoors
August Venice trip wit
the great wall
Posts: 254
Officer
This trip is our Annual August top water bite for YFT. Last year we caught 12, this year our goal was 13. The crew consisted of Dudley (Snaphappy), Jay (JayZILLA), Jimmy, Todd, Timmy (BigFish69). I had a Phenix Titan 800m built for this trip by Ray (Red Sea Rods) that I couldn't wait to fish with. We loaded up early Wednesday morning 5AM, and began our 2 hour drive to Dudleys house. We arrived at Dudleys around 7, and he looked like he was beat. This was the first time I've ever seen him like this. I told him I want us to catch more then last year. Last year's trip was fantastic, dare I say Epic! Dudley replied back with a southern twang, "Don't count your chickens until they're hatched". We'll see
Off we went, pretty uneventful except our ritual stop at Sonny's BBQ, where I pretty much shut the house down with the all u can eat.
Met up with Jay, Todd, and Jimmy at Todd's fish camp. And went to visit the Venice Marina at 5:30pm. Much to our surprise Hunter our charter captain was just unloading his days catch. I believe he had 8 or 10? Anyways He Said They Were chewing. And could have had a lot more if the 10 year old boy didn't loose so much fish. Then I asked the real question, How's the top water bite? Hunter replied back, "Top Water All Day Long". ETA 0530 tomorrow morning.
Morning came we met at the Marina at 5:20, Hunter arrived at 5:30, and the three new passengers Timmy, Jimmy, and Todd couldn't believe the size of Hunter's 41 ft custom hydra foil cat. The amount of space on the boat was so comfortable, we all understood the reason why the local guides call it the mothership. Off she goes cruising down the Mississippi River going 45 mph at 4500 rpm sipping 1.2 mpg. Rods are all rigged up and ready for action.
First stop was bait, loaded up with 45 blue runners and off to the floaters 33 miles offshore. Boat was consistently cruising at 42 mph, Hunter runs his boat hard, when we struck something submerged in the water. Must have been a log. It jacked up the right side hydra foil. And we limped to our first and only rig, Medusa. Upon arrival we immediately see boats hooked up on fish. Before the captain and mate could get the first live bait in the water Timmy immediately hooks up, then Dudley the next cast, then me. One of the live baits gets crashed and Jay is on as well. 4 on the same time. Dudley looses his big fish and his favorite Anarchy popper, but we have 3 in the boat within 5 mins. The other bait gets crashed and now Jimmy is on. After that I don't recollect much except my 90# YFT on the popper. Todd somehow broke my handle on the Stella 14k trying to switch from right to left hand retrieve. I was fighting the 90#YFT with a Stella with a broken wobbly handle. The rest was just a blur. 2.5 hours later the captain called the day saying we ran out of ice and he needed to get his boat looked at. 2.5 hours and 15 tuna in the box. Easily could have gotten 3 more and went off to do some daytime deep dropping but more then satisfied with our catch we headed in at 10AM! Some where somehow the hydra foil corrected itself as we were humming home. Hunter thinks a log must have gotten caught up under the right hydra foil and fell off. Boats running perfect again. Back at the dock by 11:45 AM. 9 fish by poppers, 6 by bait. Hunter mentioned that this was the best crew he's ever had on the boat. Cleaned and bagged and iced the catch and afterwards had a chat with Hunter and his Mate about what our float plan should be the next day on Todd's boat. He mentioned Medusa during Day, and the deep floaters and drill ship by Mars at night. Float plan checked. Back in to ****, shower, eat, and sleep.
Day two woke up late around 8 am fully rested ready to eat breakfast and break off to the boat ramp. 11Am, the rods are rerigged. I switched out my Stella with a Saltiga 4500h. Coolers full on ice and drinks. Kill box topped off and off we went. Back down the Mississippi at noon. Loaded up on live bait, around 55 BR. Off we went. Tried deep dropping at Moxie, nada off we went to tuna grounds. Timmy was on fire catching multiple fish in a row upon arrival, I catch one, Dudley, Jay get hooked up as well. Live baits get whacked, Jimmy's on, Todd's on. Same Ole same Ole story as the first trip. Only 9 in the box, night time arrived YFT stopped chewing at Medusa and off we go to Mars. We catch 4 more, once again Timmy with the hot hand, and Jimmy hooks onto a stud on a shimano butterfly jig. 40 mins later a 80# YFT is on the deck flopping around. We moved around to other rigs and drill ships but Mars had the best action. Flyers were attracted to the rigs lights and smacked head on to the rigs columns, where the YFT were crashing on the stunned flyers as the fell down. If only one of us had brought a Yumi or Angry flyer...
Made it back to Medusa and slept till day break. Caught two more tunas and ran out of ice. Heading back home at 7 am back at the dock at 9 am with 16 fish. Big thanks to Mark Fischer at M FISCHER Plugs, for letting us test your prototype poppers. Caught more tuna 3 to 1 then any other popper we used.
After the dust settled we caught 31 YFT, most fish came by poppers. Now we have stories and memories that will last a lifetime.
M FISCHER POPPER
Jimmy's YFT on a Butterfly jig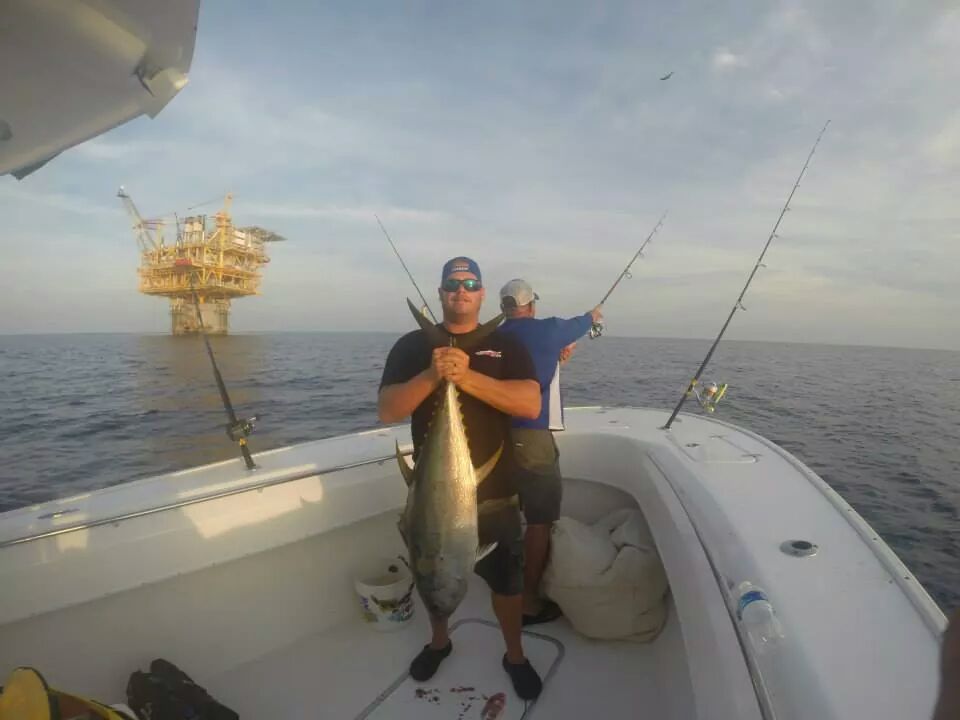 She Swollowed it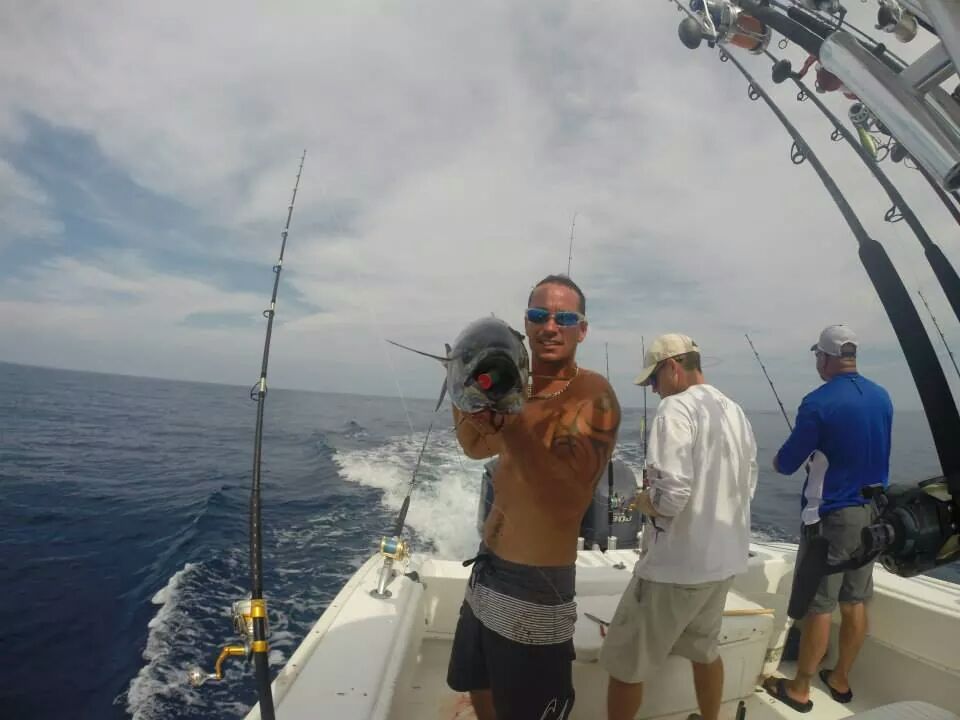 Safely Released
Todd's sled 2013 31T Cape Horn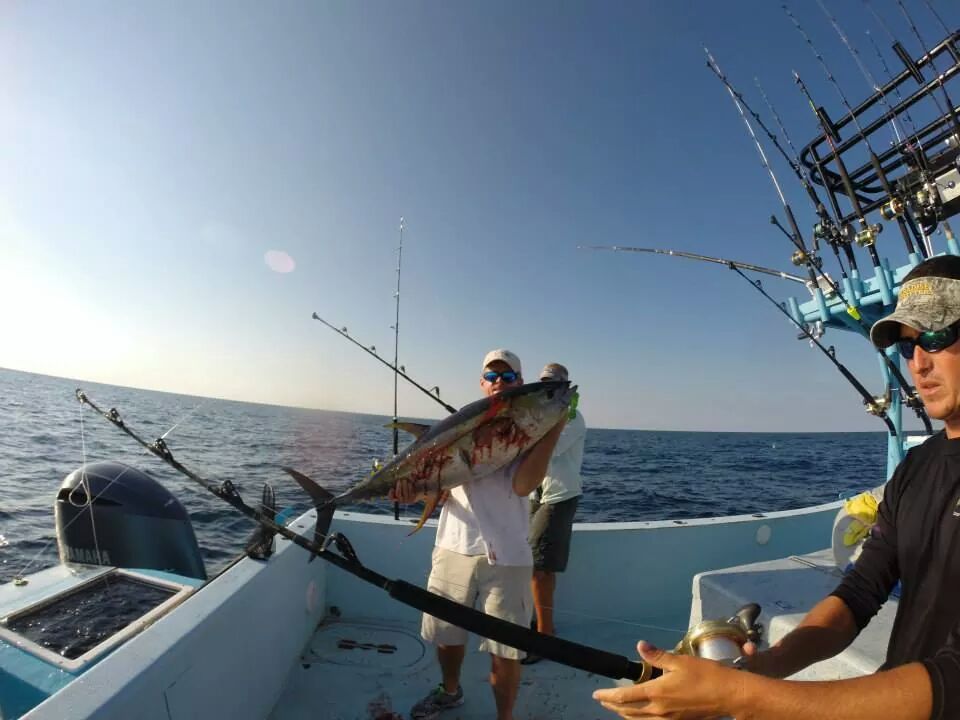 Drill Ship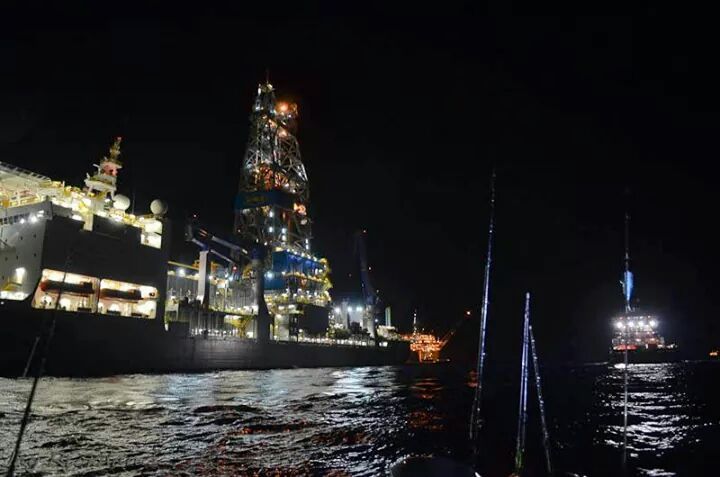 Mars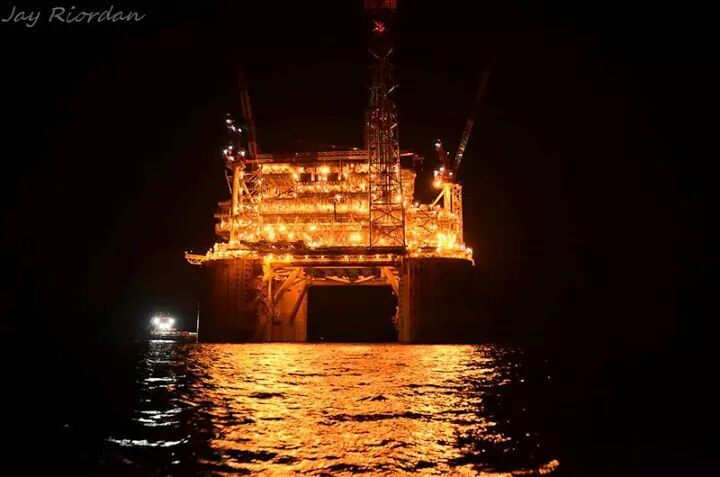 Day 1
http://www.youtube.com/watch?v=dDx4K_pCvnA
Day 2
http://youtu.be/1fuPPz136Dc